26 Aug 2002
Louise's acute lymphoblastic leukaemia (ALL) story
Louise was diagnosed with acute lymphoblastic leukaemia (ALL) when she was 14. Following gruelling treatment which included taking part in a clinical trial, Louise went on to complete her studies, develop her career and is now a proud mum. Here, she shares her inspiring story
A speedy diagnosis
It was October 1999 and I was 14. As a typically quiet, academic teen, I'd started to find myself in a love of indie music – and had my first boyfriend. But after a trip with my parents to Gothenburg, I realised I hadn't felt right in weeks. After a cold I struggled to shift, I started to experience random nose bleeds. When I was in the bath I noticed bruises appearing, but I hadn't injured myself.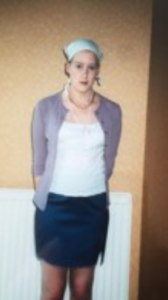 As another week went by, I started sleeping during the day. I remember looking in the mirror and seeing how orange my already pale make up had started to look on my face as it has become translucently pale. I even found walking around hard – getting out of breath just getting out of the car and walking to the shops. At this point my mam decided to take me to the doctors – we assumed I had anaemia or glandular fever. But when the GP examined me, she told us to go to A&E for a blood test straight away. We still didn't feel there was anything too serious at this point – but it turns out the GP could feel my enlarged liver and spleen on examination and suspected my diagnosis straight away. We found this out after I was diagnosed and the GP came to visit us at home because she felt so emotional about what had happened.
I remember the exact words the doctor used when they gave me the diagnosis of acute lymphoblastic leukaemia just hours later… 'A little bit of leukaemia' he said. I remember thinking it mustn't be too bad in that case. And as my parents sat there in floods of tears, all I was worried about was getting my Macbeth coursework finished. When the nurse said I wouldn't be doing it, I was struck by the idea that I really didn't know what was coming.
An exploratory, long treatment journey
I was transferred straight to the specialist teenage cancer ward at Newcastle's RVI and started intensive treatment in the next few days. I remember seeing a consultant doctor for the first time early on – he was wearing a grey suit and told me in no uncertain terms that I would lose all of my hair. I instantly disliked him and found that incredibly difficult to take. When treatment started I stopped washing my hair and clung on to every strand in protest until it was a battle I knew I couldn't win.
My treatment protocol was fairly new at the time (ALL 99 protocol) and I was put on a clinical trial for one of the drugs. The significance of being part of the future of successful ALL treatment completely passed me by at the time, but I am hugely proud.
The biggest thing for us to get our heads around at first was the length of the treatment. I always had every confidence that it would be a success because it seemed so comprehensive! Before the internet as an information source really took off, I remember being given an A4 bound folder with pages and pages of the treatment protocol, each page with a week number at the top. The pages went into the hundreds! I remember thinking, when will this end? In total, I had 3 or 4 rounds of intensive chemotherapy (IV) in the first year, interspersed with 'maintenance' treatment (tablets and injections) – this latter type of treatment would continue into the second year.
The intensive treatment was the most challenging. Spinal injections caused the most crippling headaches imaginable in the days following the procedure. The steroids made me put on weight one week which I would lose the next as the weekly dose of chemotherapy which my parents had to learn how to inject at home caused instant vomiting.
Keeping up with school 
Infections were common and expected during treatment, and I was admitted to hospital each time to have those treated. I tried to treat this as a holiday from home – there was always something to do, TV, DVDs, computer, pool table. Mainly, I used this time to catch up and keep up with school work. One day I remember a teaching assistant coming in with a trolley full of really useful textbooks for my work as a beavered away hooked up to medication. I used my quarantine period with shingles to request a laptop to finish my IT work.
I used school work to help me cope with what was happening, there's no doubt about it. I could control it and falling behind wasn't an option. I did have time off, particularly at the beginning and when in hospital, but I ended up sitting my GCSEs as normal with my peers. I did turn up to most of them slightly late and took painkillers throughout, but I did it. To my surprise I ended up leaving secondary school with the best GCSE results in the whole school and my treatment hadn't even finished!
The future is bright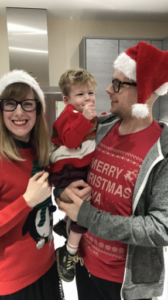 I finished treatment in February 2002 – I had my Hickman line removed and got my first hair cut in 2.5 years! The first six months felt like someone had taken away my emergency blanket as I was terrified of relapsing. But the longer time went by, the less likely it was that this would happen.
Since my treatment, all of my hard work paid off. I got a degree in Philosophy from York University and started my career in brand strategy in London. I now run my own insight and strategy consultancy, Always Ask Why.
I also got married in 2013 and have a little boy, Gene, who was born in 2015. These are incredible achievements given what I have been through, particularly having my son.
As my treatment was very new at the time and the long-term side effects are not that well known, I have to have my heart checked every few years. I also have a direct contact to the long-term care service at the Royal Victoria Infirmary and can call with any questions whenever I need it…even now over 20 years later.
Lessons learned in time
If I could give any advice to my 14 year old self it would be to chill out and rest. It's OK to have a day off, a week off, a year off if you need it as part of caring for yourself. Over 20 years later, I still find it incredibly difficult to give myself permission to down tools, chill out and go with the flow. Taking each day as it comes is a hugely important and mindful lesson to take from my experiences because treatment can be so long and overwhelming. It's all about focusing on the 'wow in the now'. The future can wait.
We are extremely grateful to Louise for sharing her story and wish her all the best for her future.
Read more leukaemia and other blood cancers stories.
Leukaemia UK is to be a part of the IMPACT stem cell transplant clinical trials initiative. Find out more about this partnership which aims to bring new drug and cellular therapies to patients.
You can help us support others affected by a blood cancer by donating to our cause or fundraising for our charity.