17 Mar 2023
Scott's acute lymphoblastic leukaemia story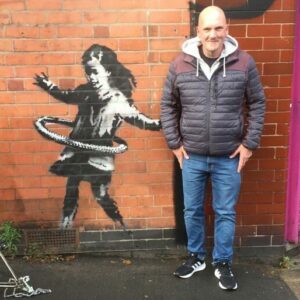 Although Scott Davies had been unwell for five months, it wasn't until he collapsed at a work event and was rushed to A&E that he received the shocking diagnosis of acute lymphoblastic leukaemia (ALL).
Scott, 54, who lives in Nottingham, had been battling a variety of mysterious and stubborn symptoms in the latter half of 2015. These had included weight loss, poor appetite, constant tiredness and swollen glands in his neck that became so big that Scott had trouble eating.
"Repeated visits to the GP from October 2015 yielded only repeat prescriptions of antibiotics for what was thought to be a viral infection," said Scott. "I hadn't been to the doctor in over five years – it was something I avoided. But now I was there frequently. When the tablets didn't appear to be working I was given blood tests which unusually for leukaemia didn't show anything of concern.
"The spectre of actually having blood cancer first entered my life on the 24th of March 2016. I work in the adult education field, delivering training courses for drivers on behalf of police forces all over the country. I was at a work event at a city hotel and I collapsed. A visit to Nottingham's Queen's Medical Centre for an overnight stay got me given an instant referral to Nottingham City Hospital's haematology department. Within 24 hours I was told I had ALL.
"The consultant clearly gave me a road map to recovery. I was in no doubt that I could be saved, but that it would require a great deal of compliance and effort from me in addition to the actual treatments I was to face. I put together a five year plan, as I'd always done with work, only this time my survival was the end goal."
Scott's treatment started immediately with steroids and other medication to essentially prepare his body for the rigors of the first month of daily chemotherapy. He was put on a cocktail of drugs including Methotrexate, and a continuous saline drip for two weeks to help his kidneys get rid of the chemicals. After the chemo, Scott received a successful stem cell transplant on August 3rd 2016 using cells donated via the Anthony Nolan Trust.
"A stand-out moment on leaving hospital after five months were the trees, visible from my hermetically sealed window," said Scott. "When I arrived in spring the leaves had presented a verdant hue, still in bud and waiting to explore a new beginning. Now they were all round my feet in a myriad of browns, reds and yellows. It was a poignant reminder about the journey I'd been on."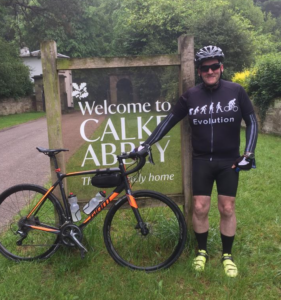 Scott returned home and started to work out a recovery plan which focused on exercise to regain some of the 70lb in weight he'd lost during his treatment. For Christmas that year his wife Clare and two sons gave him a bicycle. After a 30 year gap, Scott found himself getting into cycling once again, soon recording long rides and feeling much fitter and stronger.
But early in 2018 Scott felt something wasn't right. He was taking longer to recover from his rides, and had started to feel tired and unwell again. A biopsy in February confirmed the worst; Scott had relapsed.
"My choices at that point were very limited," said Scott. "Basically it was just a repeat of what I'd had in 2016 but with a much less unsure outcome. However, the consultant did offer a glimmer of hope. A trial was taking place at University College Hospital London with CAR T-Cell therapy. It was my only realistic hope of a workable solution. Three days later, the train pulled into St Pancras International and Clare and I headed off down the Euston Road full of hope that maybe, just maybe, I might have an out."
During CAR T-cell therapy, T-cells, a type of white blood cell, are moved from the patient, changed in a small way and then put back into the blood stream where they recognise and attack cancer cells. Meeting the head of the trial team Dr Claire Roddie left Scott and Clare in no doubt this was the way he wanted to go. Scott received conventional chemotherapy in Nottingham until he was ready to receive the T-cells at the hospital in London. He was only the ninth person in the UK to go through the trial.
"At 12 noon on July 31st a team of seven arrived at my bedside, pushing a stainless steel drum which when it was opened sent a plume of nitrogen high up onto the ceiling," said Scott. "If I was in any doubt as to the fact I was involved in cutting edge medical science, that was quickly dispelled at that moment as I watched the gas curl around the light fitting. Thankfully the news came back within a week that CAR T-cells had been detected in my blood and were on their seek-and-destroy mission attacking my leukaemia."
Three weeks later Scott was back home in Nottingham and returned to his recovery plan of fitness and positive thinking.  He regularly cycled 100 miles a week and in June 2019 achieved a personal milestone of doing The Great Nottinghamshire bike ride with over four thousand other cycles. He also challenged himself to learn chess in order to stretch himself mentally and prepare for the his goal of returning to employment. A chance call from a colleague saw Scott return to work for a former employer which now delivered courses online.
"In March 2022 I won a national company award for excellence in delivery in the online space, voted for by colleagues," said Scott. "The certificate hangs in my home office. I look at it occasionally and consider the journey.
Leukaemia no longer occupies all of my thoughts, actions or decisions. In fact some days I forget it completely. "The main message I have taken from the last few years is most definitely one of hope – that flicker of light in the cloak of darkness, that idea that good things are on the way. Hope and the chance for positivity in whatever situation we find ourselves in, is a strong motivation. Advances in medical science have achieved much for me, along with the most basic of all human emotions – the will to survive."
Discover more personal stories from people affected by leukaemia.