Our
people
Find out more about the team behind Leukaemia UK and how we're working together to stop leukaemia devastating lives.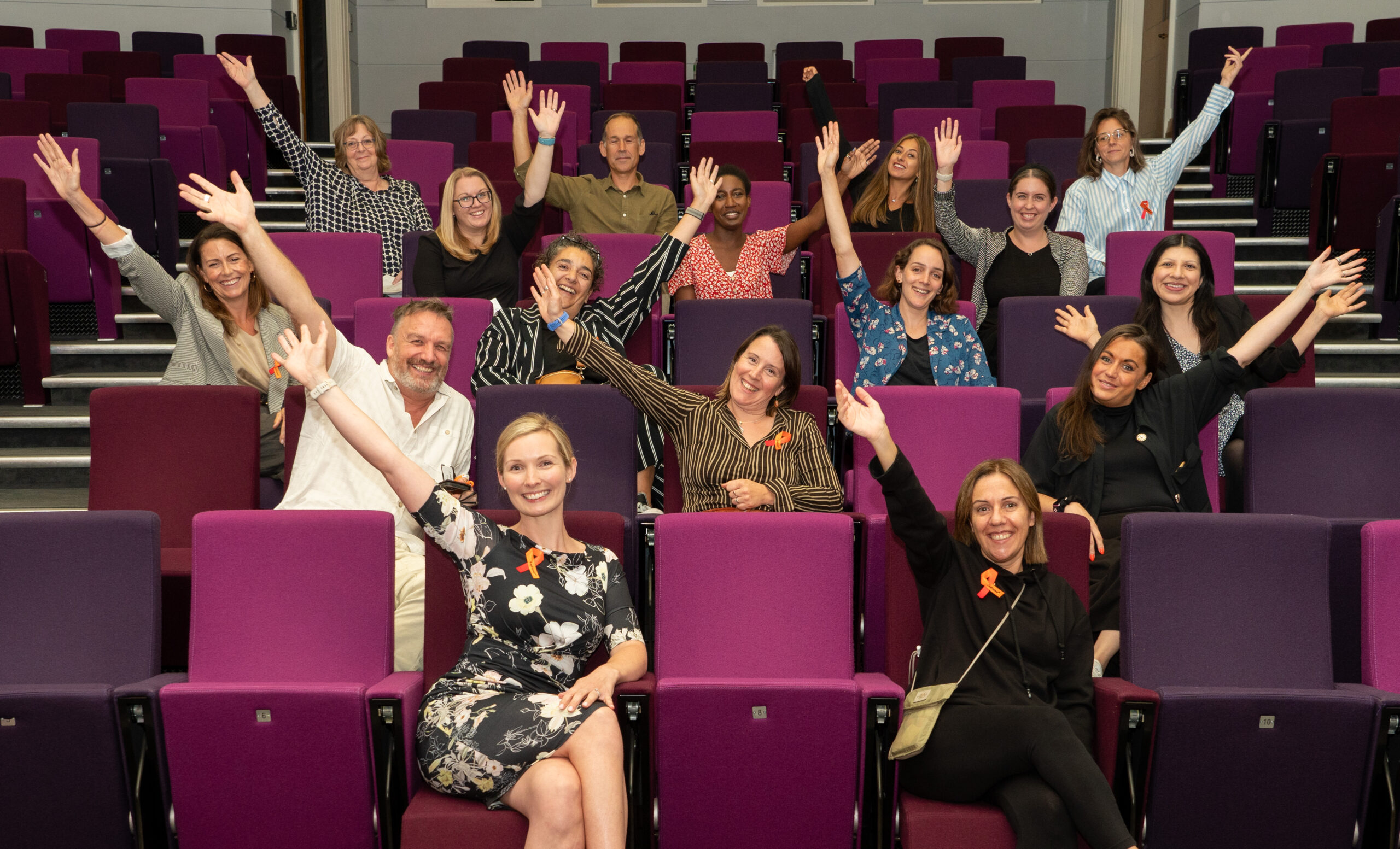 Meet the team behind Leukaemia UK
Paul joined Leukaemia UK in July 2021, initially on an interim contract. However, he loved it here so much that when an opportunity to become permanent arose, he jumped at the chance. Paul has 15 years' experience leading Fundraising Teams. He recently developed Leukaemia UK's first five year fundraising strategy – to grow income so that Leukaemia UK can invest more in finding and funding life saving research.
Simona has worked in event organisation and customer service for many years. She has always been driven by a strong sense of altruism and love for helping others, having previously worked for the Royal Marsden Cancer Charity. Now she is a vital part of Leukaemia UK's Community & Events Fundraising team, where she enjoys looking after our wonderful supporters.
Sam joined Leukaemia UK in June 2022 and brings a wealth of experience in developing strategic partnerships with businesses, philanthropists, and institutions; creating collaborative partnerships that bring mutual benefit, sustainable impact, and real change. Sam lives in the Brecon Beacons with her family and shares the Trusts Fundraising Manager role with Birgitta. She is delighted to have joined Leukaemia UK as we launch and develop our bold new strategy to stop leukaemia devasting lives.
Birgitta absolutely loves working for not-for-profit organisations and has done this for over 25 years. Every single organisation has been different in approach but all are linked together with a goal to strive to positively make transformational changes for people of all ages who really need them. At Leukaemia UK, which she joined in 2018, she lives and breathes day to day collaboration with her job-share partner Sam, working together as the Trust and Fundraising Manager, a role which supports like-minded funders to explore and engage with boundary pushing research for the leukaemia community.
Hanna is passionate about giving supporters the best event experience and loves bringing people together using her wealth of experience in events management, marketing and customer service.
She manages our events portfolio which includes a mix of the challenge classics – like the London Marathon and Great North Run – plus our virtual 28-Day Lunge Challenge and Great Easter Bake-Off. Whether you're organising an event for us or giving in memory of someone special, Hanna will make sure you're always looked after.
Chris has a family connection to leukaemia, so was drawn to the charity's ambition and mission. Passionate about the third sector, he has worked as finance and resources lead for small and medium sized charities for the past 15 years, and has extensive volunteer experience. Before following his heart into the charity sector, Chris worked in audit, financial services, and project management.
Dawn joined Leukaemia UK in 2016 (previously Leuka) and has played a role in the development and expansion of the Charity's research funding portfolio. Dawn leads the research, policy and advocacy team, working with the scientific and clinical research community, to ensure that Leukaemia UK's precious donated funds have the greatest impact for everyone affected by leukaemia and other blood cancers.
Following a career in accountancy, Dawn returned to academic studies and obtained a BSc in Biochemistry and a PhD in Molecular biology from the University of Essex, then spent almost 13 years working in cancer research.
Emily joined Leukaemia UK in July 2023. Before starting at Leukaemia UK, Emily completed a masters in Politics and International Studies at the University of Cambridge, where she researched how celebrities can support charities and humanitarian organisations. Emily is looking forward to developing and strengthening Leukaemia UK's relationship with celebrities.
Fiona brings a strong track record in not-for-profit leadership, most recently helping lead two mergers to create the UK's largest breast cancer charity, Breast Cancer Now, as well as securing critical policy and campaigning successes for those affected by cancer, in her role as Director of Communications, Engagement & Influencing. Fiona worked for Camelot, The National Lottery Operator, KPMG and the BBC, before joining the charity sector. She is also Vice Chair of the charity, Safer London. She lives in North London with her daughter.
Having joined Leukaemia UK in September 2020, Fiona leads Leukaemia UK to drive progress for all those affected by leukaemia and other blood cancers – the UK's third biggest cancer killer.
Suzie joined Leukaemia UK in November 2022 from UK Research and Innovation, the national funding agency investing in science and research in the UK. She has previous experience in the charity sector having worked for Cancer Research UK and Macmillan Cancer Support at earlier points in her career.
Suzie assists our Chief Executive in leading Leukaemia UK to drive progress for all those affected by leukaemia and other blood cancers.
Georgia joined Leukaemia UK in September 2021 and has worked in the charity sector for over 6 years. She has experience of working in supporter engagement and care, events, and administration.
She is looking forward to working in the supporter care department at Leukaemia UK and is excited to speak to the incredible supporters who are the backbone of the charity.
Holly joined Leukaemia UK in March 2023. After graduating from the University of St Andrews, Holly worked agency-side for several years before joining the charity sector at Meningitis Research Foundation. She then went on to lead the Communications team at Make-A-Wish UK. As PR & Communications Manager, Holly works to heighten the profile of Leukaemia UK; telling meaningful stories, raising life-saving awareness of symptoms, and shining a light on the power of research.
Lewis joined Leukaemia UK in October 2022 in the role of Policy Officer. Prior to joining Leukaemia UK, Lewis completed a masters in Population Health from UCL with a focus on health inequalities. As part of his role, Lewis monitors the external policy landscape affecting leukaemia and other blood cancer patients. Lewis is excited to support the work and development of Leukaemia UK's Patient Experience Advisory Panel and is committed to developing engagement with relevant policy and advocacy stakeholders.
Kate joined Leukaemia UK in June 2022 as Research Communications Manager. Our cutting-edge research is crucial to discovering kinder, more effective treatments for leukaemia and working towards a cure for the disease. Through her work, Kate will create engaging, compelling narrative so that everyone can understand the power of our research.
Louise joined Leukaemia UK in July 2021. She has worked in the charity sector for over seven years and has experience working across a wide range of digital marketing disciplines.
She works with the Communications and Fundraising teams to develop audience-focused digital communications. She is also focused on increasing Leukaemia UK's online reach and engagement and creating effective fundraising and awareness campaigns.
Candice joined Leukaemia UK in July 2023. She started out her career as a journalist, working on local newspapers and women's magazines, before joining the charity sector at DKMS UK in 2019. Since then, she has worked in the social media teams at Shooting Star Children's Hospices and the Royal British Legion.
As the Social Media Officer at Leukaemia UK, Candice works to grow and engage our audiences through diverse and exciting content, while telling impactful stories and raising vital awareness of the signs and symptoms.
Tom has been Leukaemia UK's Research Manager since July 2022. Throughout his career, Tom has been committed to supporting and enabling research that changes lives for the better, and he enjoys working in areas that he believes can make a significant contribution to improving lives. Tom works towards Leukaemia UK's mission to stop leukaemia and other blood cancers devastating lives, and towards making a positive change for those whose lives are impacted by leuakemia.
Sarah joined Leukaemia UK in June 2022 as Head of Public Fundraising. Sarah has worked in fundraising for over 20 years, for a range of charities including Bowel Cancer UK, Diabetes UK and Samaritans.
She is responsible for appeals and regular giving, in memory fundraising, legacies and community and events fundraising. She is focused on growing the Public Fundraising programme at Leukaemia UK, by bringing the charity to new audiences and providing an excellent supporter experience.
Katie joined Leukaemia UK in August 2022 as Legacy and In Memory Manager. Katie has worked in fundraising for nearly a decade, for charities including Guide Dogs and Shooting Star Children's Hospices.
She is responsible for gifts in wills and in memory fundraising, and is always happy to answer any questions about leaving a gift in your will or how to set up a tribute for a loved one.
Katie is excited to join Leukaemia UK at such an important time in our new strategy
Anna joined Leukaemia UK as a job-share in October 2022 with Lizzie Afonso, after ten years at housing and homelessness charity Shelter. Anna started her career as a graduate trainee at PR agency Fishburn Hedges before moving into the charity sector at Cancer Research UK. After spending six years in the PR team there, Anna joined Shelter as head of media in 2010. During their time at Shelter, Anna and Lizzie led several functions within the organisation including media, strategic communications, brand and marketing, recently working on their 2021 rebrand and accompanying awareness campaign.
Lizzie joined Leukaemia UK as a job-share with Anna Wilson in October 2022. Beginning her career in TV production, Lizzie made the move into public relations, initially working agency side for clients including Disney and Cadbury. From here she took on her first role in the charity sector as part of Shelter's in-house media team. Having worked as part of a successful job-share for several years, she is delighted to be able to continue with this model at Leukaemia UK. Their focus is on delivering impactful, innovative and insight-led campaigns to build awareness across all elements of the charity's work.
Photo credit (above): Jeff Moore