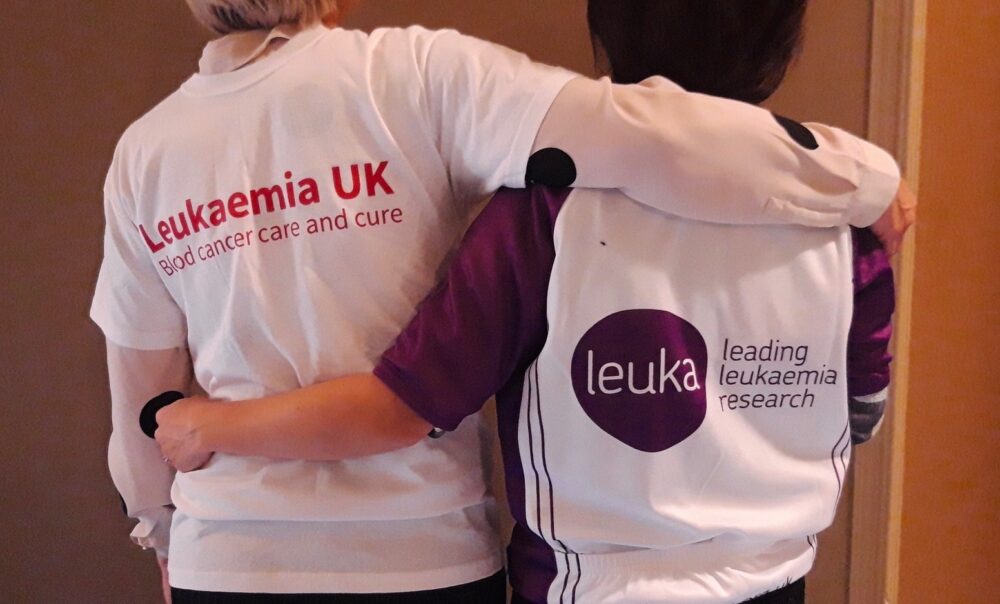 Our work is positively life-changing. We're compassionate, rigorous and detailed in our approach and determined to accelerate progress.
Our Trustees contribute their time and experience to the Board on a voluntary basis and are responsible for the governance of the charity, whilst helping lead Leukaemia UK's work to stop leukaemia devastating lives.
Our Board's expertise and their range of professional and personal experiences, help us to progress our ambitious priorities. Many of our Board members have lived experience of blood cancers, helping the charity's leadership to focus on what matters most to those whose lives have been impacted by a diagnosis.
Leukaemia UK's Board of Trustees
Chris Corbin OBE
Chairman

Chris is our Chair of Trustees and co-founder and host of Leukaemia UK's flagship fundraising event, 'Who's Cooking Dinner?' A Director of Corbin & King, he was awarded an OBE in 2014 for services to the hospitality industry and his work with Leuka.

Chris is also a leukaemia survivor – he was diagnosed with chronic myeloid leukaemia (CML) in 1990 and underwent a bone marrow transplant in 1994. A Trustee since 2009, Chris became Chair in 2014, after the death of Professor Goldman.
Amanda Stewart
Leukaemia UK Vice Chair

Amanda is a solicitor by training and has spent most of her career working for blue-chip multinational companies and as a FTSE company secretary.

She is a passionate supporter of Leukaemia UK, having seen friends and family affected by blood cancer.
Oliver Spark
Leukaemia UK Treasurer

Oliver was diagnosed with acute lymphoblastic leukaemia (ALL) in 2015 and received a stem cell transplant in December 2015.

He originally qualified as a chartered accountant with PriceWaterhouse in London and has been involved with various retail businesses.
Alastair Adam
Leukaemia UK Trustee

Alastair is an accountant, running his own practice and specialising in the outsourcing of the finance function and the supply of part-time Finance Directors to SME.

Alastair was diagnosed with acute myeloid leukaemia (AML) in June 2004 and became a Trustee of our charity at the end of 2005 after attending a golf day at Shooters Hill. Since 2007, Alastair has organised an annual ELF/Leukaemia UK Golf Day. Alastair was Chair of Leukaemia UK until its merge with Leuka in November 2019.
Luke Cripps
Leukaemia UK Trustee

Luke was part of the pro bono work that led the Elimination of Leukaemia Fund (ELF) to be rebranded as Leukaemia UK and joined the board shortly afterwards.

Luke is a healthcare marketing and communications professional with a focus on strategy and planning in multichannel marketing and brand awareness. He sits on the the Leukaemia UK Nominations and Remuneration committee.
Caroline Evans
Leukaemia UK Trustee

Caroline worked for Derek and Isobel Mitchell, in whose memory our charity was founded. Her dad, David, was a founder trustee and she joined the board of what was then the Elimination of Leukaemia Fund (ELF) to continue the family connection.

Caroline is a communications professional with a background in STEM publishing and more than 20 years' experience of strategic leadership in the third sector as a CEO and Trustee for charities including the Royal Academy of Engineering and The Pearson Teaching Awards. She chairs the Leukaemia UK Nominations and Remuneration committee.
James Fairclough
Leukaemia UK Trustee

James is CEO of AA Cars, having spent most of his career in marketing and commercial roles at leading consumer companies, including P&G, Virgin Media and Sky. James is also an advisor and Non-Executive Director to digital start-up companies.

His passion for Leukaemia UK stems from seeing a close family member's life saved as a direct result of cancer research.
Professor David Linch – FRCP, FRCPath, FMedSci
Leukaemia UK Trustee

David is Professor of Haematology and Head of the Department of Haematology at University College London (UCL). He qualified in Medicine from Cambridge University and the Middlesex Hospital Medical School in 1975, before entering Haematology.

His research has been in the field of myelopoiesis and myeloid leukaemias and the development of high dose therapy strategies in leukaemia and lymphomas.
Jonathan Neal – LLB(Hons) FFA, FMAAT, ACEA, FAIA
Leukaemia UK Trustee

Jonathan is a qualified accountant and professional non-executive director, and a founder of NED Solutions, a company whose chosen charity is Leukaemia UK.

Jonathan originally joined the board of what was then the Elimination of Leukaemia Fund (ELF) because blood cancer had affected many people in his family, and many of his friends and colleagues, and he wanted to use his professional background and connections to help. ELF is now Leukaemia UK, and Jonathan is a Trustee and a member of the Finance & Risk Committee.
Professor Antonio Pagliuca – MB BS, MA, FRCP, FRCPath
Leukaemia UK Trustee

Antonio Pagliuca is a consultant haematologist and Professor of Stem Cell Transplantation at King's College London, and Medical Director, Networked Care Division at King's College Hospital. He is also the National Clinical Lead for Regenerative Medicine at NHS England and a Trustee at Leukaemia UK and the Anthony Nolan Trust.

As Transplant Director, King's has become a Centre of Excellence and one of the largest unrelated, cord, haplo-identical transplant and cellular therapy programmes in the UK. King's was recently commissioned by NHS England to deliver CAR-T therapy, becoming the first centre in the UK to treat both adult ALL and NHL. He has published widely on haematological malignancies, stem cell transplantation and infections in this group of patients.
Scientific and Medical Panel
Our Scientific and Medical Panel members provide expert advice to the Board of Trustees and our senior management, in relation to the granting of Leukaemia UK charitable funds for the purposes of medical and scientific research.
Prof. Nick Cross, Faculty of Medicine, University of Southampton (Chair)
Prof. Francesco Dazzi, King's College London (Vice Chair)
Prof. Dominique Bonnet, Francis Crick Institute, London
Prof. Jackie Boultwood, University of Oxford
Prof. Richard Clark, University of Liverpool
Dr Steve Devine MD, CIBMTR, Minneapolis, USA
Dr Amir Enshaei, Newcastle University
Prof. Tariq Enver, Cancer Institute Director, University College London
Prof. Maria Figueroa, University of Miami Miller School of Medicine, Miami, USA
Prof. Francesco Forconi, University of Southampton
Prof. John Gribben, Queen Mary University of London
Prof. Olaf Heidenreich, Newcastle University
Dr Vignir Helgason, University of Glasgow
Prof. Robert Hills, Cardiff University
Prof. Anastasios Karadimitris, Imperial College London
Dr Karen Keeshan, University of Glasgow
Prof. Ulf Klein, University of Leeds
Prof. Nicolaus Kröger, University Medical Centre, Hamburg, Germany
Prof. David Marin, MD Anderson Cancer Centre, Houston, USA
Prof. Mary Francis McMullin, Queen's University Belfast
Dr Sharon McKenna, University College Cork, Ireland
Dr Alison Michie, University of Glasgow
Prof. Ken Mills, Queen's University Belfast
Prof. Emma Morris, University College Hospital, London
Prof. Katrin Ottersbach, University of Edinburgh
Dr Kim Orchard, University Hospital Southampton NHS Foundation Trust
Prof. Chris Pepper, University of Sussex, Brighton and Sussex Medical School
Prof. Uwe Platzbecker, Technical University Dresden, Germany
Prof. Katy Rezvani, MD Anderson Cancer Centre, Houston, USA
Prof. Simon Rule, University of Plymouth
Dr Lisa Russell, Newcastle University
Dr Satyajit Sahu, University Hospital Lewisham, London
Dr Bipin Savani MD, Vanderbilt University Medical Center, USA
Dr Claire Seedhouse, University of Nottingham
Dr Bronwen Shaw MD, Medical College of Wisconsin, USA
Prof. John A Snowden, Sheffield Teaching Hospitals NHS Foundation Trust
Prof. Alex Tonks, Cardiff University
Prof. Owen Williams, University College London, Great Ormond Street Institute of Child Health
Our Annual Reports and Accounts