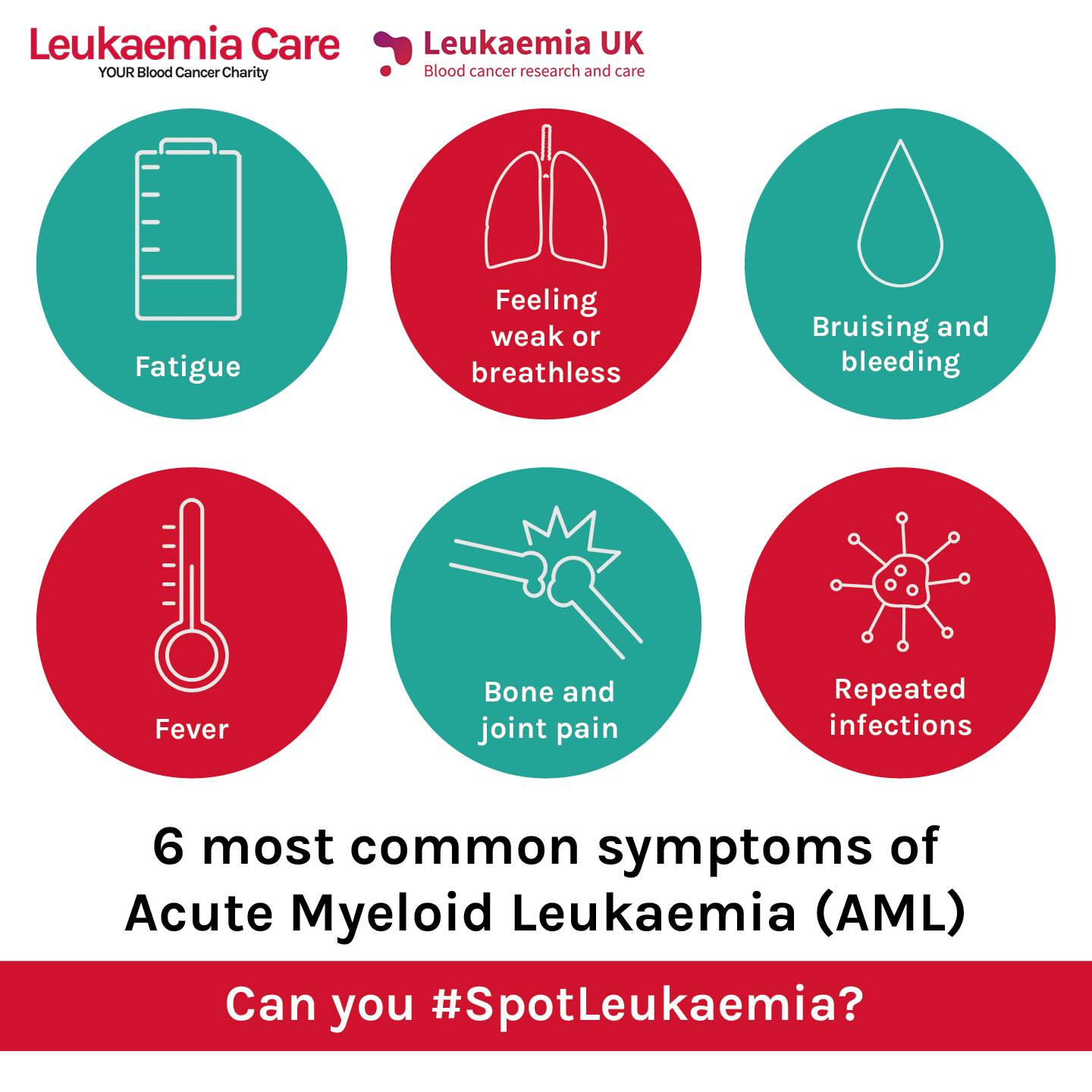 20 Sep 2021 Awareness raising
Leukaemia charities unite in Blood Cancer Awareness Month to improve diagnosis and the chances of survival
A recent survey revealed more than half of British adults cannot recognise a sign or symptom of the disease which kills 5,000 every year. The poll by Blood Cancer UK found that 56% of people could not identify any of the signs associated with blood cancer.
Leading UK leukaemia charities Leukaemia Care and Leukaemia UK have announced a new collaboration to increase awareness of the signs and symptoms of leukaemia and drive improvements in the diagnosis of the disease. The campaign, Spot Leukaemia, is running throughout September – Blood Cancer Awareness Month.
Over 10,000 people receive a leukaemia diagnosis in the UK every year, or 28 people every day. Nearly 5,000 die from the disease and overall survival stands at just over 50% – making it one of the most deadly forms of cancer.  Early diagnosis is key to effective treatment and improving survival. However, public awareness of the signs and symptoms of leukaemia are still extremely low across the UK.
Before the COVID-19 pandemic, leukaemia had one of the highest rates of emergency diagnosis among all cancers (averaging at 37%) than the overall cancer average (21%), showing a lack of leukaemia symptom awareness amongst the public, as well as a need for increased awareness among GPs. Emergency diagnosis is associated with a reduced prospect of survival.
Leukaemia Care, which provides life changing support and advocates for change, and Leukaemia UK, which funds world–class, life-saving research, are collaborating to amplify the Spot Leukaemia campaign, developed by Leukaemia Care, to increase awareness of the signs and symptoms amongst the public and healthcare professionals.
Zack Pemberton-Whiteley, CEO of Leukaemia Care said:
"The Spot Leukaemia campaign aims to raise awareness of the signs and symptoms of leukaemia within the public and in primary health care to help people recognise these and get diagnosed earlier.

The COVID-19 pandemic saw fewer referrals for suspected blood cancer than pre-pandemic levels meaning that some people's leukaemia will potentially be detected even later than before, which could impact their treatment options. The Spot Leukaemia campaign is needed now more than ever, and we've joined forces with Leukaemia UK to spread the message even further."
Fiona Hazell, CEO of Leukaemia UK said:
"We know that early diagnosis can save lives and following the pandemic, this is absolutely critical if we are to go further in improving survival and quality of life in leukaemia. Collaboration is critical to achieving this so we're delighted to partner-up with Leukaemia Care on their Spot Leukaemia campaign."
Zack Pemberton-Whitely added: "Leukaemia Care and Leukaemia UK believe in the power of collaboration to accelerate greater progress for those affected by leukaemia." Pemberton-Whiteley said, "Together, we are stronger. We can reach more people with our message and deepen the positive impact of the Spot Leukaemia campaign.
Fiona Hazell added:
"Pre-pandemic, there was already much to be done to improve leukaemia awareness and survival with many patients presenting in distress in emergency settings or experiencing numerous visits to their GP before referral. It is therefore vital to increase awareness of the signs and symptoms of leukaemia so that people can start to recognise these. We hope to be able to build on this in future years and we are keen to hear from businesses and organisations who could help us with the campaign and help tens of thousands of people diagnosed across the UK each year."
The Spot Leukaemia campaign offers simple messages to help people remember the signs and symptoms of the disease and gives them confidence to go to their GP if they spot anything unusual, rather than brush the symptoms aside. The NHS has said it is ready and waiting to help them.