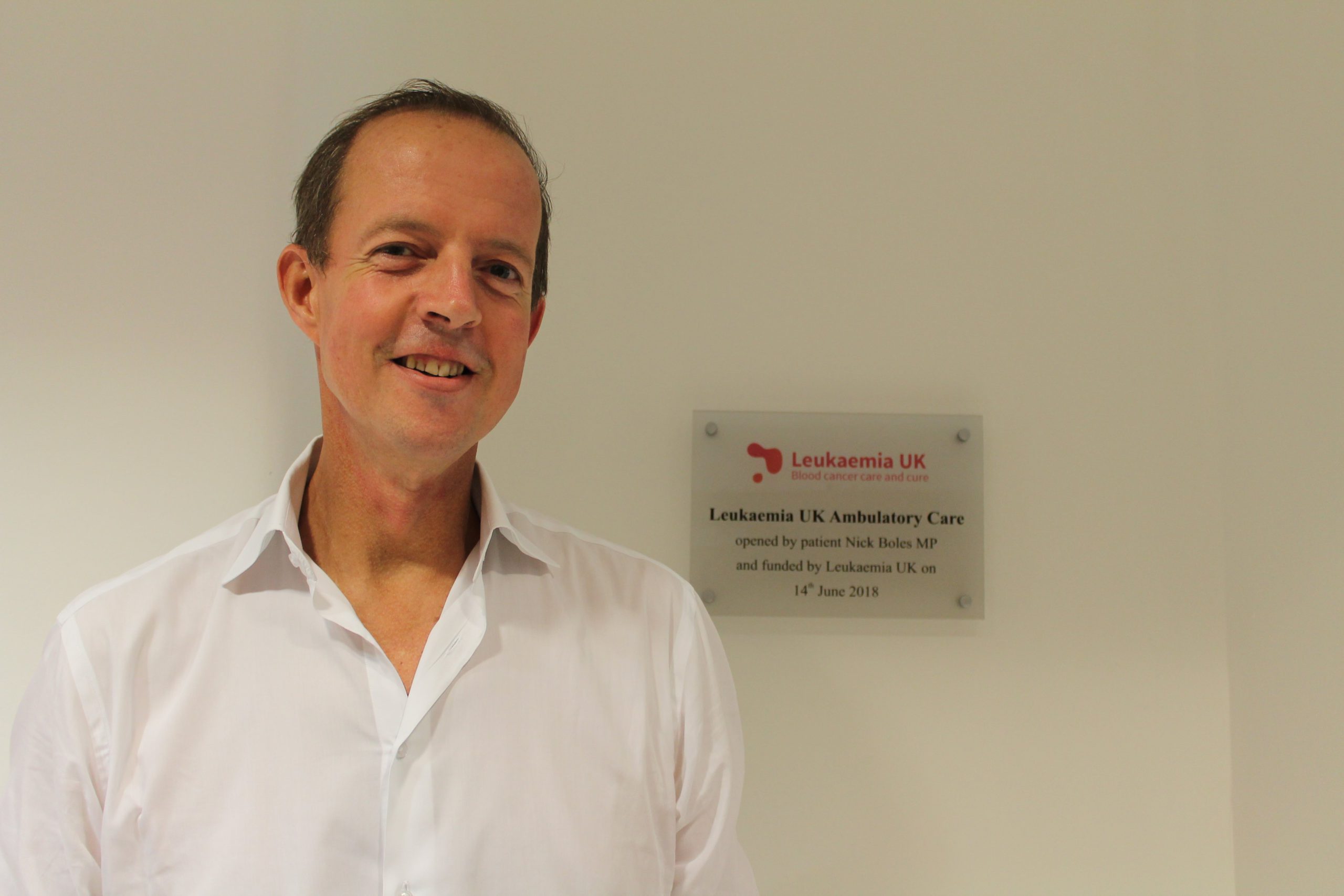 15 Jun 2018 Awareness raising
MP opens Leukaemia UK Ambulatory Care Unit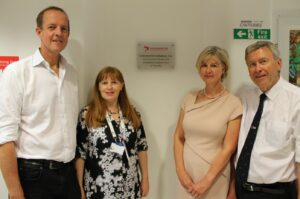 A unit funded by Leukaemia UK which allows people with blood cancers to have stem cell transplants as outpatients has been officially opened by its first patient, Nick Boles MP.
The Leukaemia UK Ambulatory Care Unit at King's College Hospital in London offers stem cell transplants and chemotherapy in an outpatient setting, enabling people to stay in their own homes or in a hotel nearby rather than having to be admitted to hospital.
Pictured above at the opening ceremony are, from left, Nick Boles MP, Dr Victoria Potter, consultant haematologist and bone marrow transplant director at King's, Angela Smith-Morgan, CEO Leukaemia UK, and Andrew Lodge, chair of Lions International Blood Research Appeal.
Mr Boles, Conservative MP for Grantham and Stanford, who lives close to King's hospital, became the unit's first patient when he received a stem cell transplant after he experienced a relapse of non-Hodgkin lymphoma.
Opening the unit, Mr Boles said: "I had this complete horror of the idea that I was going to possibly be in hospital for four weeks, and it just seemed to me so obvious that I should be allowed to go home and sleep in my own bed. I think it made a very significant difference to my mental health while I was going through that treatment."
The unit is a pioneering approach to delivering stem cell transplants which, as an inpatient, has traditionally involved long stays in hospital with limited contact with the outside world to avoid infection.
People treated as outpatients need to fulfil certain conditions, such as being well, walking and independent and have a carer to help when treatment is not taking place.
For anyone not local to King's it is possible to stay nearby in a hotel during treatment. Everyone is monitored very closely with space always kept free on a haematology ward, should any difficulties arise.
Orla Stewart, lead nurse haematology at King's, said: "This unit means that patients have some sort of normality, they're not just in 'patient' mode. I hope this is the model of the future and in five years' time being treated as an outpatient for a stem cell transplant will be considered the 'normal' way of doing it."
Leukaemia UK paid for the unit to be built and has also funded a part-time member of the nursing staff.
Since the unit opened in April 2016, hospital staff say people undergoing stem cell transplants and chemotherapy have found the procedure to be more a more positive experience and have appreciated the new setting, which is light and airy and looks out towards a nearby park.
The new unit has also saved the hospital more than 500 bed days during that period.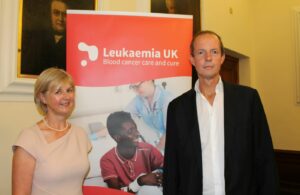 Speaking at the official opening, Angela Smith-Morgan, CEO of Leukaemia UK, said: "I am incredibly proud to see Leukaemia UK once again funding a real step-change in facilities at King's.
"We have funded a great deal of care initiatives in our 40-year partnership with King's which have led to fundamental change in practice for patients, and the Leukaemia UK Ambulatory Care Unit is another great example of this."
Ghulam Mufti, professor of haemato-oncology at King's, said: "The fact we are now offering ambulatory bone marrow transplantation is a huge achievement and it also shows how much of an evolution there has been in clinical care of patients.
"It is thanks to Leukaemia UK that we have the bone marrow transplant unit here at all and we are very grateful for their continued support."
Ambulatory unit sister, Val Corcoran, who has worked in the unit since it opened, said: "It does so much for patients' overall wellbeing. Although their treatment is the same as someone who is an inpatient, their whole outlook is a lot more positive.
"Rather than be by yourself as an inpatient, which can feel very contained, this unit means patients come in for treatment and can then go for a walk in the park or, if they feel well enough, go to a café. It is a very different experience."
Read an edited extract of Nick Boles' speech describing his experiences as the first patient of the Leukaemia UK Ambulatory Care Unit here.
The Leukaemia UK Ambulatory Care Unit official opening featured in:
Please help Leukaemia UK fund even more ground-breaking improvements in blood cancer care and treatment