16 Nov 2023 Awareness raising
Leukaemia UK appoints Hannah Peckham as newest Ambassador
Leukaemia UK has today announced its appointment of award-winning children's book author, Hannah Peckham, as its newest celebrity Ambassador. Hannah joins the likes of actor Dougray Scott, celebrity chef Francesco Mazzei and model Saffron Vadher in showcasing support for the charity. Her appointment comes on the one-year anniversary of son Bodhi's diagnosis with acute lymphoblastic leukaemia (ALL); a devastating form of blood cancer for which Bodhi is still receiving treatment.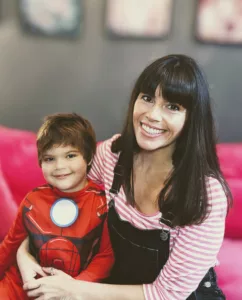 "The role of 'mum' is an honour we don't all receive and a task few are prepared for," said Hannah Peckham, reflecting on the day her son Bodhi was diagnosed. "Yet when your child is diagnosed with leukaemia, the role takes on a whole host of skills that you have to learn on the spot: nurse, carer, pharmacist, researcher, advocate, therapist, pacifier, negotiator, WARRIOR!" 
Bodhi was diagnosed with ALL on the 16th of November 2022, at just three years old. He endured months of gruelling chemotherapy before being discharged from hospital but will continue receiving daily medication, and attending regular hospital visits, for years to come.  
Hannah has been appointed as a Leukaemia UK Ambassador in recognition of her extraordinary fundraising, having raised over £20,000 after establishing the #PantsToLeukaemia initiative. Born after Bodhi put his pants on his head, Hannah's friends and family responded in kind to say 'PANTS to Leukaemia' and raise funds for Leukaemia UK. Celebrities including Gok Wan, Edith Bowman, Rochelle Humes and Holly Willoughby showed their support for Bodhi by posting pants-headed selfies to Instagram. In August 2023, Hannah hosted 'The Great Big Pants Party' near her hometown of Hurstpierpoint, Sussex, which united her entire community in a day of fundraising festivities. 
"The Great Big Pants Party was an opportunity not just for us, but for everyone to get involved. When you hear a child has cancer you just want to help. But unless you are a doctor, or scientist there is little you can do to help the diagnosis. The feeling of helplessness is one that is tricky to come to terms with and that is where the power of fundraising is born. It gives the gift of "doing something". It helps to eradicate helplessness and allows families, friends and communities to come together and make a change."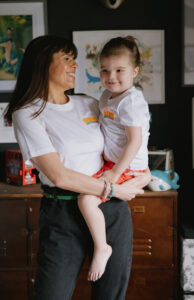 Leukaemia UK Ambassadors are asked to participate in at least four events or campaigns each year, using their influence and profile to raise awareness of the cause. Each Ambassador has been personally affected by leukaemia, and can therefore shine a light on the urgent need for kinder, more effective treatments.  
Fiona Hazell, Chief Executive of Leukaemia UK, said: "We're absolutely delighted that Hannah Peckham has graciously accepted our invitation to become a Leukaemia UK Ambassador. Hannah is a true inspiration to us all, channelling her understandable devastation after Bodhi's diagnosis into phenomenal fundraising, and hope for other families. We're very proud to have her on board, and we look forward to continuing to work together to stop leukaemia devastating lives."