03 Feb 2023 Fundraising
Team Bodhi goes viral with #PantsToLeukaemia campaign
A whole host of celebrities and members of the public are posing with their pants on their head for a new campaign, to show solidarity for a little boy with leukaemia and raise awareness of the need for more vital research.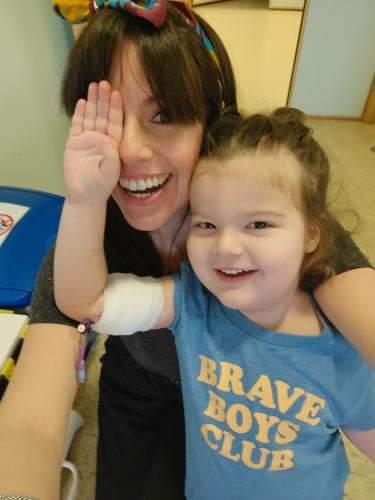 #PantsToLeukaemia, the viral fundraiser for Leukaemia UK, was set up by Hannah, whose four-year-old son Bodhi was diagnosed with acute lymphoblastic leukaemia last year. Several celebrities have been taking on the challenge, including Hannah's childhood friend Holly Willoughby, Jessie J and Gok Wan, to show support for Bodhi who has been bravely undergoing intensive treatment since November 2022.
"I set up a little Team Bodhi group to keep our friends updated and after another admission to hospital, I sent them a picture, in the moment, of his pants clad head… throughout the day they responded as only a good team would and I received pictures of all his pals, their dogs, mummy's and friends with pants on their head standing in solidarity with his plight".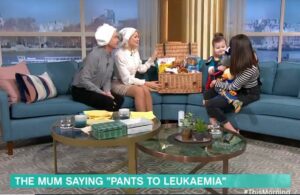 Bodhi and his mum Hannah were guests on This Morning, to talk about the fun and positive new #PantsToLeukaemia campaign, and why more research into leukaemia is so important. Bodhi's treatment has been described by mum Hannah as "really harsh."
"It's so important that Leukaemia UK can do more research so they can save more lives and make the treatments kinder. It's three and a half years, which is literally Bodhi's whole lifetime again that he'll be having treatment."
The donations raised by Pants to Leukaemia will go towards funding our life-saving research. Research like Leukaemia UK John Goldman Fellow Dr Simon Richardson's – he aims to improve treatment options for patients with B cell acute lymphoblastic leukaemia (B-ALL).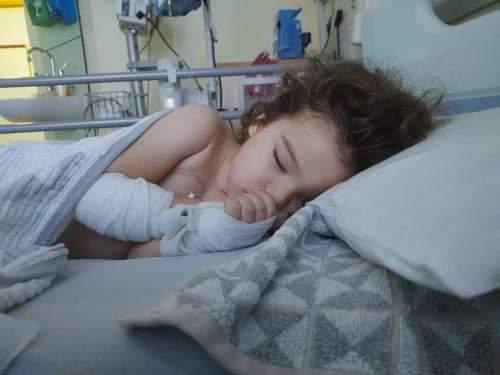 Fiona Hazell, Leukaemia UK's Chief Executive celebrates the Pants to Leukaemia campaign:
"Important discoveries are happening all the time within blood cancer research, and it's thanks to the amazing support of families such as Bodhi's that we can fund the world-class researchers across the UK who are continuing to accelerate this progress.
The Pants to Leukaemia initiative set up by Bodhi and his mum Hannah, and supported by their family and friends, is a fantastic example of how our community can work together to save and improve the lives of those who are impacted by a leukaemia diagnosis – and how we will continue to do so – through research, awareness and advocacy.
Whilst there are still many challenges to treating this disease and more progress is still desperately needed, at Leukaemia UK we know that research has the power to one day stop leukaemia devastating lives."
Show your support!
To take part in the campaign and join Team Bodhi, all you have do to is:
Take a picture of you or a willing subject wearing a 'brief Bonnet' aka pants on your head (the dafter the better)
Post or share on your Instagram story and tag @leukaemiauk and @h.j.peckham with the hashtag #PantsToLeukaemia and the JustGiving link
Donate £1 (or whatever you can afford) to help us fund research to stop leukaemia devastating lives
Don't forget to nominate your family and friends
Visit the Team Bodhi JustGiving page to show your support!