28 Mar 2023
What happened to the 10-Year Cancer Plan?
Last February to mark World Cancer Day 2022 Sajid Javid, the then Secretary of State for Health and Social Care, declared a 'war on cancer'. Javid used this speech to announce a 10-Year Cancer Plan for England. The ambitious plan promised to provide a new vision for how England could lead the world in cancer care.
To help shape the plan, the Department of Health and Social Care launched a call for evidence, encouraging those affected by cancer to provide feedback. They received over 5,000 responses full of ideas detailing how cancer care in England could be improved. Among the respondents were individuals affected by cancer, cancer charities, researchers and NHS staff.
The 10-Year Cancer Plan was expected to be published last summer.  Sadly, this turned out not to be the case. Over the subsequent months its arrival was greatly anticipated by the cancer community – many individuals and organisations, including Leukaemia UK, continually called for its publication. However, this January, the current Secretary of State for Health and Social Care, Steve Barclay, announced a new Major Conditions Strategy. Designed to cover six major conditions, of which cancer is one, the announcement of this new five-year plan signalled the end of the 10-Year Cancer Plan, almost a year after it was announced.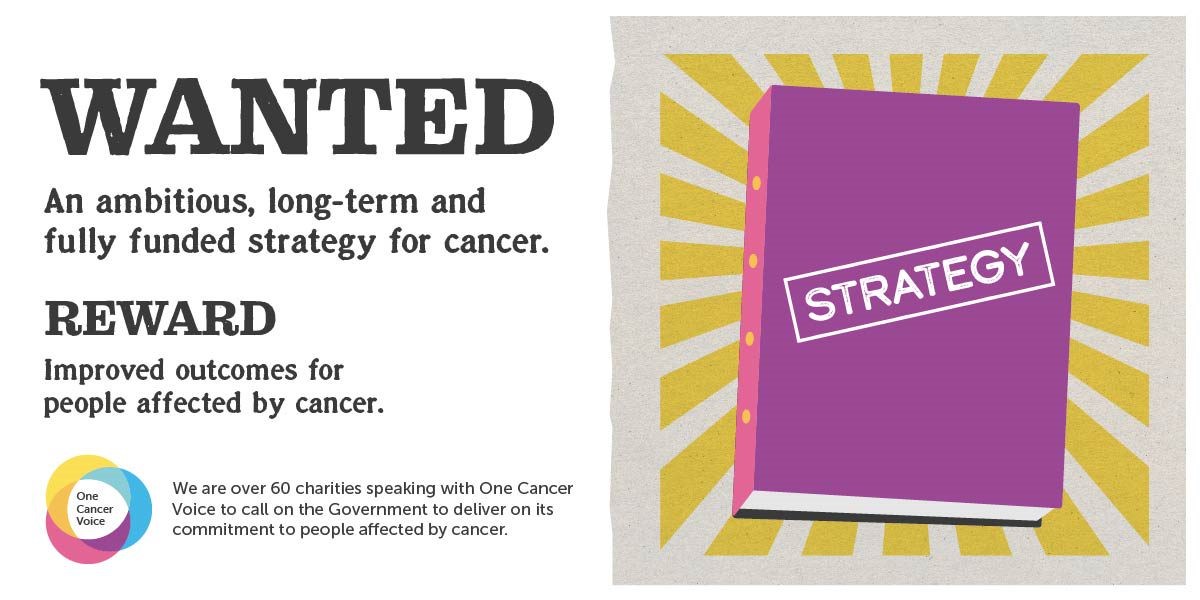 Why is a plan for cancer important?
Studies have identified a link between consistency in cancer policy over time and cancer survival – countries with a more consistent cancer policy are found to have better cancer outcomes.[1] This shows how a detailed, dedicated, long-term plan for cancer, like the 10-Year Cancer Plan, is integral to improving cancer outcomes in England.
It's positive to see the Government working on a five-year plan that includes cancer, and we realise there is a need for a "whole-person care" approach to affectively address the health needs of the country. However, we are concerned that the abandonment of a cancer-specific plan implies a dilution of ambition and detracts from some of the specific asks and issues raised by people affected by cancer.
There is a general feeling of frustration among the cancer community that we have gone from anticipating an ambitious 10-year plan, entirely focused on making England a 'world leader' in cancer care, to being a component of a shorter-term strategy covering a wide range of conditions.
Since the 10-Year Cancer Plan was first announced, nearly 9,300 people in England have been diagnosed with leukaemia[2]. Far too often leukaemia is diagnosed late – the rate of emergency diagnosis is significantly higher than the overall cancer average, at 37% and 21% respectively.[3] Late diagnosis can lead to fewer treatment options, and consequently a reduced chance of survival.
What has happened?
Last month, in recognition of the anniversary of the 10-Year Cancer Plan announcement, we came together with over 60 cancer charities as part of the One Cancer Voice Coalition. Together we launched a petition addressing the Prime Minister. The petition, hosted by Cancer Research UK, acknowledged that England is in the midst of a cancer emergency and called on the Government to put the needs of cancer patients first.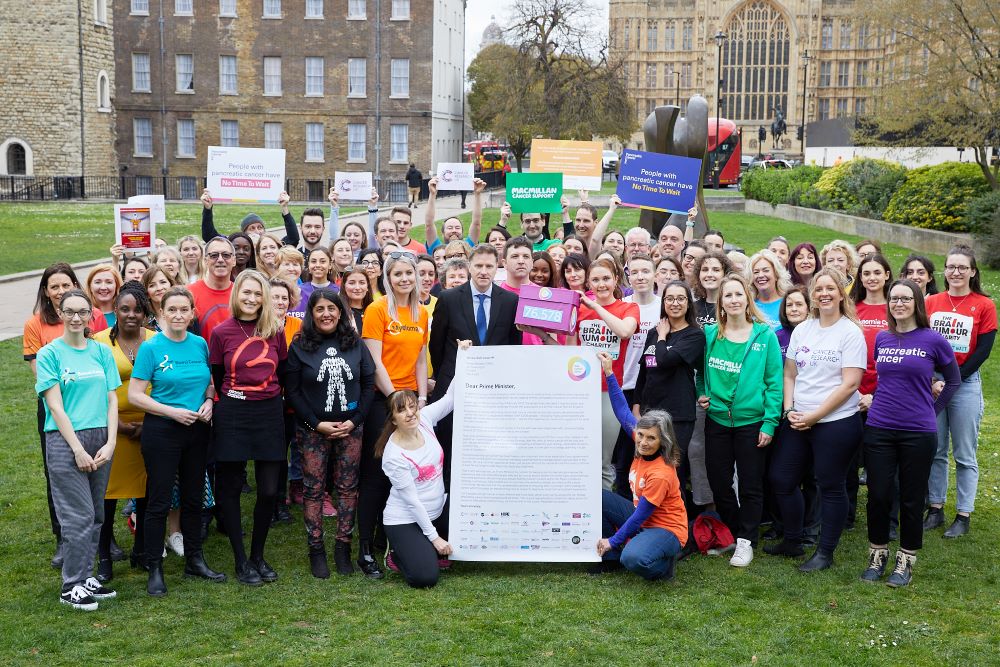 The petition encouraged the Government to ensure that the cancer content within the Major Conditions Strategy is ambitious, fully funded, and incorporates the ideas, evidence and learnings provided by the cancer community in response to the 10-Year Cancer Plan. It reiterates the need for a longer-term strategy for cancer that is focused on transforming cancer research, diagnosis, treatment, and patient experience.
The petition ran for a month from the 7th of February to the 7th of March, during which it attracted 76,578 signatures. On the 22nd of March we all came together as One Cancer Voice on College Green outside Parliament, and then marched to Downing Street to officially hand the petition in. The hand in was attended by several parliamentarians, notably the chair of the Health and Social Care Committee Steve Brine MP. The photo on the left shows blood cancer charities at the hand in.
We look forward to seeing how the Government responds, and hope this will highlight the need for the Major Conditions Strategy to deliver for people affected by cancer.
Lewis Miller, Policy Officer at Leukaemia UK
[1] The Lancet Oncology: Exploring the link between cancer policies and cancer survival: a comparison of International Cancer Benchmarking Partnership countries.
[2] https://bloodcancer.org.uk/news/latest-statistics-released-number-blood-cancer-cases-england/
[3] National Cancer Registration and Analysis Service (NCRAS). Routes to Diagnosis workbook 2006-2016,
Related posts
World Blood Cancer Day interview with Dr Pramila Krishnamurthy
World Blood Cancer Day interview with Dr Pramila Krishnamurthy
On 28th May the global blood cancer community comes together to mark World Blood Cancer Day, this campaign calls for support of those with blood cancer and encourages people to become stem cell donors.