05 Dec 2004
Supporting leukaemia research for Rosemary
It is only thanks to the generosity of our supporters that we are able to make a difference to those affected by leukaemia and other blood cancers.
Here, long term supporter Neil shares his story on why he supports our leukaemia research in memory of his wife Rosemary.
My talented wife Rosemary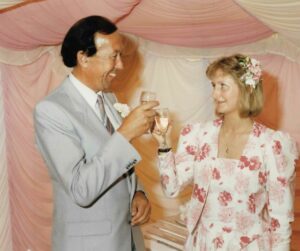 My wife Rosemary had a great musical talent and was an inspiring music teacher, working at the Royal College of Music, the Birmingham Conservatoire and Wells Cathedral School.
Highlights in her career included playing for the Royal Family in Buckingham Palace and playing with the BBC Symphony Orchestra in the "Last Night of the Proms."
Rosemary and I married in 1986 and had our daughter Alicia in 1992 and son Laurence in 1997.
On 6th April 2000, Rosemary, Alicia and I celebrated our son's Laurence's 3rd birthday. Life was so good for us as a family and in our music profession, that we had no idea of how our world would be turned upside down so suddenly.
Suddenly, our world was turned upside down
The morning after Laurence's birthday, Rosemary woke up feeling unwell with a number of bruises on her body. We visited our GP who diagnosed Rosemary with a blood condition and arranged for her admission to Lister Hospital, Stevenage on 10th April for further tests.
However, on 9th April Rosemary was feeling increasingly poorly and she was taken to Lister Hospital by ambulance.
On 10th April after undergoing further tests, Rosemary was diagnosed with acute myeloid leukaemia. That afternoon she was transferred to The Royal Free Hospital in London.
When I visited her in London on 11th April, she talked about funeral plans if she did not survive and little did I know at the time, that his was our final conversation, because the next day she was in an imposed coma in order to begin treatment. It was a massive shock, that we had "parted" in just six days.
I visited her each evening, just to sit at her bedside. All the hospital staff were truly wonderful, a dedication which continues to this day, as we all note at a time of coronavirus. She passed away on 30th April at evening time, surrounded by her loving family.
Making a difference in memory of Rosemary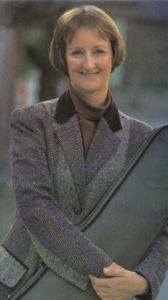 Alicia and Laurence were just 8 and 3 years of age when she passed away, but I have loved and cared for them and they now live independently with fine careers. Our lives are full of happy memories.
Since that time, I have come to realise the vital importance of leukaemia research and would like to thank all those involved in this work, which now means that the survival rate is improving.
I have taken any opportunity to encourage donations to support leukaemia research. Younger family members have run the London Marathon and most recently The Musicians Union have donated to support leukaemia research, with Royalties earned by Rosemary when she was a musician.
As an organist, when I deputise for other organists, I donate my fees to Leukaemia UK.
Why I support Leukaemia UK
I often think of the wonderful influence Rosemary could have had on so many people, if leukaemia had not taken her away at such a young age. It is so important today to cure those with this illness, so they can influence and enrich the lives of people around them, as Rosemary would have done.
On reflection, her departure from good health to leukaemia, which took her away from family and friends in just six days was a tragedy. For me it has underlined the importance for those of us that survive, of being strong and caring for our loved ones who may be diagnosed with this illness and to do anything we can to encourage our scientists and doctors to find a cure for leukaemia.
We would like to thank Neil, his family, colleagues and friends for all their support over the years, which is helping us fund vital research and care for those affected by leukaemia.
If you have been inspired by Neil's support, take look at ways you can get involved to help us make a difference.