11 Feb 2021 Governance
Why I became a Leukaemia UK Trustee
This Trustees' Week, Caroline Evans – Leukaemia UK Trustee and Projects Consultant – reflects on why she became a Trustee for the charity and what drives her in the role.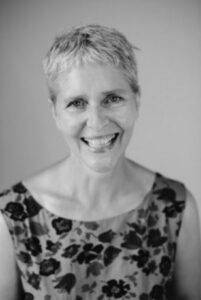 My family – like many others – has been affected by leukaemia. In 1967, when I was five, my stepbrother, Ashley, died from leukaemia. He was eight years old. Later, as a teenager, I was working in our local pub when the landlady – Isobel Mitchell – was diagnosed with leukaemia and was treated at King's College Hospital in London. And just two years ago the daughter of a very close friend benefited from innovative and pioneering CAR-T therapy at King's. Very happily, she has recovered and is now halfway through her second year at university. Our understanding of, and treatment for, leukaemias and other blood cancers have come a very long way in 50 years.
My connection to the cause
My connection with Leukaemia UK started in 1977 when, following Isobel's death, my dad was involved in establishing a charity to support the work at King's College Hospital. That charity, then called ELF, later evolved into Leukaemia UK. Dad continued as a trustee for nearly 40 years (which, if I'm honest, is around 30 years too long to be a trustee at the same charity!).
Drawing on insights and expertise
When dad stood down, I applied to join the board to continue the connection and I've been a trustee of Leukaemia UK since 2016. Professionally I'm a projects director with a background in education, publishing, engineering and communications. Over the years I have set up and run small businesses and charities. I now focus mainly on the charity sector and I hope to support Leukaemia UK by drawing on the insights and expertise that I've developed through my work.
Serving as a trustee gives me immense personal benefit too. One of the great pleasures is the opportunity that it brings to work with people from different sectors and with very different expertise. I enjoy the variety of our board and the challenge that arises from our mix of perspectives. I've learnt a great deal from all my colleagues at Leukaemia UK – both trustees and the executive team
Brilliant and loyal supporters
It's an exciting time for Leukaemia UK. A merger in 2019 brought together two of the UK's leading leukaemia and blood cancer charities (Leuka and Leukaemia UK) to create a new charity with greater profile, depth and reach. The merger has given us the opportunity to reflect and reset our vision and strategy to ensure that we make the best use of our resources to meet the needs of the sector. Resetting our strategy is a delicate balance, however, because we need to ensure that we continue to inspire and engage the brilliant and loyal supporters and partners of both historic charities, while also reflecting the changing needs of, and opportunities in, the sector.
Looking to the future
We've come a long way in the 40 or so years since the foundation of our two historic charities, but there's still work to be done. Thanks to advancements in research progress is being made, but further research is still urgently needed to develop kinder and more effective treatments for blood cancer. I feel privileged, as a trustee, to be able make a small contribution to the work of Leukaemia UK and its ambition to improve the experience of everyone affected by leukaemia and blood cancers.
Caroline Evans, Leukaemia UK Trustee and Projects Consultant