06 Nov 2001
Rebecca's acute promyelocytic leukaemia story
Rebecca was 21 years old and working as a Police Officer when she developed excessive bruising in early 2019. This led to her acute promyelocytic leukaemia diagnosis in March 2019. Here, Rebecca shares her story in her own words, to help raise awareness
Symptoms and my diagnosis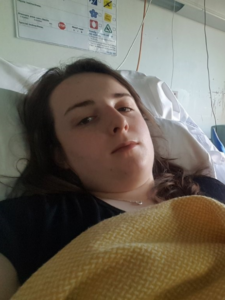 A few weeks before my diagnosis I had started developing excessive bruising. I bruise easily but I just thought I had been a bit clumsy. The bruising got worse where I started to have huge bruises the size of tennis balls on the back of my legs and in places I wouldn't usually bruise. I also developed blood blisters in my mouth and a sore throat.
On the day of my diagnosis I had originally planned to go to work. I woke up at 05:30am and my mouth ached from a huge blood blister, approximately the size of a 20p coin, which had developed in my mouth. With all the symptoms and my gut instinct combined I took the decision to go to A&E.
In A&E they took my bloods. I was then taken through and they said I was lacking in most of my blood products like platelets and white blood cells. They started me on a course of antibiotics and said they would need to keep me in overnight for observation. I had started to worry; I had never been this ill. I then had the haematology specialists come to examine me. They told me I may have leukaemia but they wanted to do some more tests and had a bone marrow biopsy. I was then transferred to the haematology ward and where I diagnosed with APML.
Months of treatment
I then stayed in hospital for 5 weeks. I was very ill but I didn't really feel or looked it. I had been working full time. I had struggled a bit at the gym in the week before my diagnosis but I didn't think much of it. I had to have a lot of transfusions and they started my chemotherapy treatment the next day. The treatment's side effects made my skin feel more sensitive and my hair thinned a little but I didn't lose my hair. I was neutropenic which increased the risk of infections. As a result, family and friends that came to visit me had to be careful they didn't pass any infections.
All I wanted was to get better and to get back to normal life. I experienced a few complications in hospital but they all got resolved.
The next 8 months consisted of 4 rounds of chemotherapy. It was quite structured because I would have 4 weeks of intensive chemo then 4 weeks off. I would have a bone marrow biopsy at the start of each cycle. I always felt ill after the chemotherapy. It make me feel achy, tired and a bit queasy.
My advice for those receiving blood cancer treatment
The following is my advice to anyone going through leukaemia or any type of cancer or treatment. Especially for the younger cancer patients out there.
It's okay to say to someone "leave me alone" or "can I have a few minutes to myself". People will understand that you need time to yourself but they won't know when. You're the only one that can decide that. Your family or friends have got each other to talk to because, even though your experience will affect everyone differently, they are all in the same position. You on the other hand are the only one with the cancer. Don't feel like you have to look after them and you have to console them. This is your journey; your experience. It is your life. It's up to you how much you let cancer control you.
On the same note the doctors obviously have the medications and the medical knowledge to fix you but I think what helped me recover quicker was my positive mind-set. I tried to keep a positive mind-set as much as I could. I had a lot of friends and colleagues visiting me in hospital. Bringing me magazines and food and bits to do. My sisters decorated my room and I had a board that I could put letters on to make up quotes.
Life in remission
It was a scary time for me, my family and my friends. You never think it's going to happen to you. Unfortunately, I have been affected by blood cancer.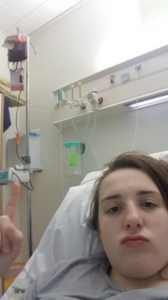 I'm now 5 months into remission but it can sometimes still make me sad. I cope with this by maybe having a little cry or writing about it. I wrote about my experience from my first week being admitted. My full story is at www.myljourney.com.
I am doing well now but will still need to go for hospital check ups. I am still working for the police and I am enjoying every moment of life.
We are extremely grateful to Rebecca for sharing her story and wish her all the best for her future.
Read more leukaemia and other blood cancers stories.
You can help us support others affected by a blood cancer by donating to our cause or fundraising for our charity.