11 Nov 2016
Jasmine's acute promyelocytic leukaemia journey
Jasmine was back from a dream holiday and enthusiastically training for the London Marathon when she was diagnosed with a rare form of leukaemia. Now in remission, she shares her story
In October 2018 I was sat in the airport coming home from a big once-in-a-lifetime holiday in Orlando in Florida with my family when I received an email saying I'd got a place for the London Marathon through the ballot.
As soon as I got home, I threw myself into a vigorous training programme. I'd spent the past two years losing five stone and was in the best shape I'd ever been in. But I was tiring easily, so I requested a blood test in November.
Symptoms and diagnosis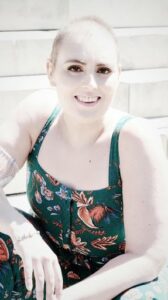 The doctor said some levels were low but it was nothing to worry about. Then I went back in December with a bad ankle and they prescribed rest.
Throughout January, I seemed permanently run down with a cold. My running times were getting progressively worse and I couldn't understand it. At the start of February I felt really ill. I had so many bruises, nosebleeds and had bleeding gums, with a temperature of over 39.
I requested a home visit from my doctor but at 26 was told I was too young. I almost didn't go to my GP appointment, I felt that ill. When I arrived, he did my bloods there and then and sent me home to bed with antibiotics for glandular fever. He rang me seven hours later and told me to pack a bag and go to hospital because he thought I had leukaemia.
The diagnosis was acute promyelocytic leukaemia (APML), a rare sub-type of acute myeloid leukaemia which, according to my consultant, affects less than one in a million people.
My hospital journey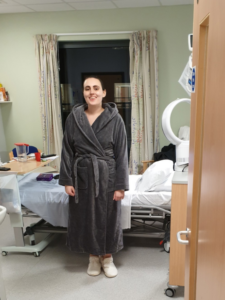 I spent an entire month in isolation on the haematology ward at Pinderfields hospital near Wakefield. When I arrived, my platelet count was six (the normal range is 250 to 450). If I'd not attended my doctors appointment I'd probably have been dead within a couple of days.
Within the first 18 hours, I'd had three bags of plasma, six bags of platelets, 25 blood samples, a chest X-ray, an ultrasound, my first bone marrow biopsy and my first dose of chemotherapy.
During my stay, I had more than 50 blood transfusions (around 35 platelet transfusions, eight red blood cells and 12 cryo/plasma).
I barely got to see my own children due to the infection risk and how neutropenic I was. My youngest little boy turned three while I was in hospital too. I also had a large blood clot in my PICC line in the second week, so as a result had to inject myself daily with blood thinners for around five months.
In remission and looking to the future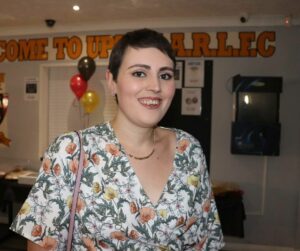 I was put into remission from my first round of chemotherapy, but I still had to go through three more hefty rounds of chemotherapy. There were plenty of hospital stays, infections and four more bone marrow biopsies.
I'm now seven and a half months in remission and I have my sixth bone marrow biopsy next week. I will have one every three months for the next three years. I'm now back at work and looking forward to watching my beautiful boys grow up.
Thanks for allowing me to share my story, it was quite therapeutic to write it all down, and it's thanks to the research charities like yourself do that I'm able to watch my children grow up and I'm so grateful.
We are grateful to Jasmine for sharing her story to raise acute promyelocytic leukaemia awareness and wish her and her family all the best for their future.
You can help us support others affected by a blood cancer by donating to our cause or fundraising for our charity.
Read more stories from our community.