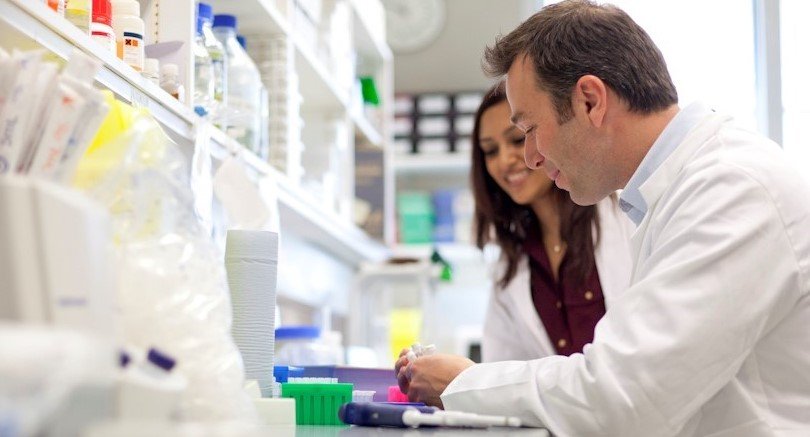 04 Aug 2020 Other
Our life-saving work must continue
During this unprecedented time which is affecting every aspect of our lives, we strive to continue funding ground-breaking research and care for those affected by leukaemia and other blood cancers.
Leukaemia and other blood cancers don't stop for COVID-19. Families affected are not only having to worry about blood cancer but now COVID-19 too. Our vital research to find better treatments and care must continue, and your support makes this possible.
In direct response to this crisis, to support those in most need we have just opened our 2020 Helping Hand Fund designed to ease financial concerns for those living with a blood cancer during the pandemic.
Our research
We are pleased to report that most of our research projects continue and we look forward to funding new potentially life-saving projects through our prestigious 2020 John Goldman Fellowships. Find out more about our ground-breaking research and care projects.
We are also delighted to announce that as part of our IMPACT Clinical Trials Partnership, we are now working with Great Ormond Street Hospital to study patients who have had a stem cell transplant in the past and have severe COVID-19. This study will see how these individuals respond to treatment and how this can be improved for this very vulnerable group.
Some of our clinical researchers and nurses have been redeployed to focus on COVID-19 related work we are happy to be able to support this essential effort.
How you can help us make a difference
COVID-19 is having a significant impact on charities across the UK, including us. The outbreak has unfortunately already affected many of our key fundraising events and activities. But our vital research and care must continue, so we have created a range of home-based fundraising events and activities for those wishing to get involved. 
You can also support our cause by donating. We are truly grateful to all our brilliant supporters.
We proud that we are able to continue making a difference during these difficult times and we are grateful to our supporters for enabling us to make this difference. Thank you.