12 Jan 2023
Overcoming leukaemia to reach marathon success
Running the London Marathon to raise money for Leukaemia UK was a fitting pinnacle of achievement for Brogan Hough – completing it 20 years after she went into remission for leukaemia as a child. Brogan chose the charity because she has seen first hand the devastation leukaemia causes to families. She wants to do all she can to raise funds for research into kinder and more effective treatments, and raise awareness of the symptoms and impact of leukaemia.
Brogan, who comes from South Yorkshire but now lives in London, was diagnosed with Acute Lymphoblastic Leukaemia (ALL) when she was five years old.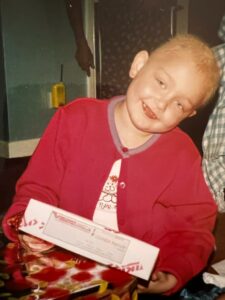 Little Brogan's Mum had spotted lots of bruises on her in unusual places and noticed she was getting tired more quickly than usual. At first she thought she might have been getting them from school. She booked her in for a standard check up with her local GP, assuming she had some sort of mild iron or vitamin deficiency.
"I remember everything about my cancer journey, from the way I felt emotionally and the tantrums I would have after bouts of chemo and steroids, to the pain in my back from weekly lumber punctures. I used to play a game of 'fight the anaesthetic' and try and stay awake for as long as possible when they used the gas mask," said Brogan.

"It is only recently that I have been able to recognize that this is something that happened to me rather than my parents  – they are the ones that dealt with the fear and decision making. I was always shielded from that and am incredibly grateful to my wonderful family to only ever have known what it is like to be inundated with love, never seeing stress or panic despite the fact that I now recognize how much of that they must have felt. My parents had to juggle learning about leukemia, as well as caring for me and raising my little brother who was only a six month old baby when I got diagnosed."
After agreeing to be part of a new treatment trial founded in London, Brogan was given two intense blocks of chemotherapy in hospital with longer term chemo via a portocath across a two year period. There were daily hospital visits and she spent a lot of time in the hospital school room listening to stories – an early love of reading which she believes led her to study English Literature at university.
"My mum and dad used to refer to our regular family hospice stays as our 'adventures' but I know not everyone is as lucky as access to the treatment and support I had and that is why want Leukemia UK to continue their work," said Brogan.
Although she went into remission shortly after the two year chemo plan, her family didn't really feel the change of the all clear until she had managed to maintain it for five years and was told she didn't need to visit the hospital again for 12 months. Up until then she had still being going for check-ups anything from every week to every other month. The moment they got to book their first family holiday abroad was the moment Brogan's parents really felt like they got their life back. She now only has to have a telephone call every year, and a heart scan every two to three years.
Brogan started running in 2018 and couldn't do more than 2km without having to catch her breath! She completed the London Marathon in 2022 in 5 hours despite getting a stress fracture a few weeks before the big day and has raised over £3,000 for Leukaemia UK.
"A motivation for choosing the London Marathon is that for a long time my family and I didn't think I would ever really be able to maintain cardio or high impact exercises due to long term side effects on my bone density and heart from the treatment I had. I feel really lucky that these side effects haven't transpired as we thought they would and I am physically able to do this now.

"I want to share my story to help parents of children going through what I went through to see that the illness doesn't need to define you or your future. Leukaemia UK funds research into kinder, more effective treatments.  This disease devastates families as I know only too well, and the support and hope that this charity's work gives is so important. I want more children and families will be able to have the happy ending that I have had."