20 Sep 2018
A day in the life of a senior staff nurse
The Leukaemia UK Ambulatory Care Unit at King's College Hospital in London allows people with blood cancer to have stem cell transplants and chemotherapy as outpatients. Senior staff nurse Katherine Fernandez (pictured) describes a typical day on the unit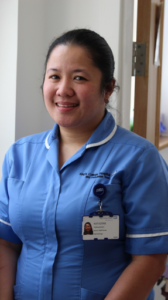 I arrive for work at 7.30am. There are usually two or three nurses on duty. Our first job is to make sure the unit has been cleaned, then we check that all six chairs are working. We carry out safety checks on oxygen, the suction machine and the crash/call bell, just in case there is an emergency.
We study the handover book so we know who is coming that day and put them on the system. We check blood tests have been ordered and that the medication is all there. Sometimes medication needs to be collected from the outpatient pharmacy. We make sure everything is in place and ready for the patients when they arrive from 9am.
We can have six patients at any one time on the Ambulatory Care Unit, but over the course of the day we will see up to 10 patients. Some patients will have long infusions but others will only come for a short period of time, depending on the treatment.
The benefits of ambulatory care
It is really good that we are able to see the patients for several weeks, especially if their treatment is every other day or twice a week. Because the patient comes regularly, we are able to get to know them better and they are then more willing to share how they are feeling and about their issues. Sometimes, when you ask your patient how they are, you can see that they are reluctant, as it is the first time they've met you, but then when they get used to us it is different.
I enjoy the rapport with them and they become more willing to share their experience and how they are throughout the day. Most are really anxious, especially if they have just started treatment, but when they get to know you more they feel relaxed and it definitely helps them in coping with the treatment.
I worked on a haematology ward before I came to this unit and I can see a difference between the patients. I think the Ambulatory Care unit helps their coping mechanism and how they view the treatment. With the patients on the ward, they tend to be admitted for two weeks or more, so they often get depressed or bored. But with our patients on the unit, their outlook is different. They're having treatment, but they're also able to do their regular activities, like going to the park or going out with friends or family. People always say it is different at home rather than staying in the hospital. They are happy that we have this approach.
How we offer excellent care
We don't have healthcare assistants on the unit, which is really good because it means we nurses do all the observations and assessments, such as blood pressure, ourselves. It is a good chance to interact with patients and ask them how they are feeling and talk to them.
Sometimes when you just ask them, you don't get the bits and pieces, but as time goes by they'll suddenly remember something they need to tell you.If they also want some clarification it is a good chance to ask and talk about their treatment. We swap around so each of us can interact with the patients and get to know them.
We have a break at lunchtime, but it is often late as the peak time for patients is between 10am and 2pm. Sometimes we have to prioritise and don't get our lunch – but we don't want the patients to miss their chemotherapy. Luckily it doesn't happen too often!
In the afternoon, we will probably get more patients arriving, depending on the treatments taking place that day. The unit itself closes at 8pm, so we're busy the whole day.
At the end of the shift we complete the handover for the following day and update the on-call registrar about our patients, so if a patient calls them in the night they are already aware of the details. We check the list for tomorrow's patients and prepare their medication as much as we can.
Why I love my job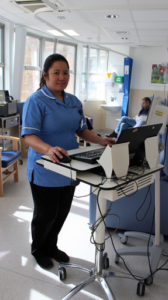 I like this job because the patient interaction is different from the wards. It is satisfying because you can see from the patients and their families that they have their everyday lives and, aside from having the treatment, they can still spend some time with their loved ones. The motivation is different. When you finish the treatment and go out, you have a breath of fresh air again rather than staying on the ward. It makes me feel good to get the feedback from patients that they are happy.
It's not surprising that inpatients can feel grumpy – on the ward they are woken at 2am to be checked and then again to do bloods at 6am. By contrast, my patients on the unit, whether they are staying at home or in a hotel, often come in and tell me that they've slept well, so their outlook and their energy are different. It feels so good to see your patients getting well.
We thank Katherine for taking the time to tell us about the Leukaemia UK Ambulatory Care Unit. You can find out more about it here.
Leukaemia UK relies on donations to continue its life-changing work. To support our work, please click here.