18 Apr 2023
A life-changing diagnosis of leukaemia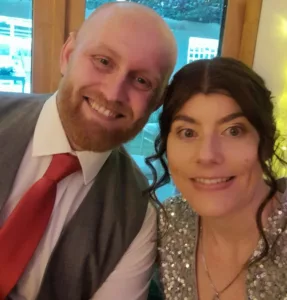 Professional baker Gwyn Warner would never have thought a sore throat would lead to a life-changing diagnosis of leukaemia.
Gwyn, 35, first noticed the painful throat and a general feeling of being unwell early in January 2023. He was treated for possible strep throat by his GP who prescribed repeated doses of antibiotics. But they didn't make any difference. Within a month Gwyn's lymph nodes and tonsils became swollen and he developed sores all over the roof of his mouth, along with a fever with uncontrollable shaking.
Father of three Gwyn, who lives at Crosskeys, Newport, was eventually diagnosed after taking himself to A&E at the Grange Hospital in Cwmbran.
"I was extremely ill by the time I'd plucked up the courage to go to seek help," said Gwyn. "I drove there myself. I had become so frustrated with the fact it was so difficult to get any appointments to see GP and the fact my illness wasn't responding to any of the antibiotics my GP had prescribed.
Gwyn was given blood tests and a bone marrow biopsy. On 8th February 2023 he was told he had acute myeloid leukaemia (AML) and was immediately transferred to the University of South Wales Hospital in Cardiff.
"Treatment to control the numerous infections which were by that time raging in my body began immediately," said Gwyn. "Only once they were under control could I begin chemotherapy. It was the hardest challenge of my life fighting this illness. I was constantly hitting fevers of 39 degrees and above. My liver enzymes had become elevated, and then once the chemo started I was completely exhausted. Luckily through the fantastic treatment of both hospitals my body is now responding well."
Gwyn underwent his second round of chemotherapy in hospital in March 2023. Fortunately his body continues to respond well. One of his siblings has tested positive as a match for a stem cell donation. But Gwyn is hopeful that he won't been a stem cell transplant.
"My hopes for the future are bright," said Gwyn. "But there's no doubt my experience with this illness has been incredibly tough. I experienced depression after constantly thinking of the negatives, wondering if I can beat it. I also put pressure on my family due to my wife Cassandra having to take control of everything like the bills and our two young children. Thankfully leukaemia also brought everyone closer in both sides of the family, mine and my wife's. They are all there supporting us every step of the way.
"The symptoms of leukaemia may not always make sense and can be mistaken for other illnesses. But I would say to people never ignore them and always look to medical professionals for advice because it could be something serious. Never put off pushing for more tests and help like I did."
Discover more personal stories from people affected by leukaemia.