11 Oct 2022
Gill's gift of Strength, Faith, Hope and Positivity
Gill had always been exceptionally fit. Being diagnosed with leukaemia came as a huge and unexpected shock to her. Find out about her journey from diagnosis to later running the 2022 London Marathon for Leukaemia UK.
She regularly went to the gym, ran, swum and went cycling and walking. But during lockdown in 2020, she noticed something had changed.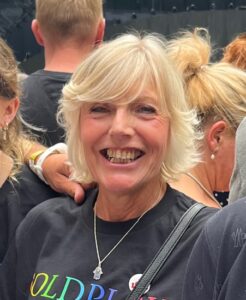 "My daughter, who is a personal trainer, had set up a circuit so we could exercise in the garden on my days off from work as a delivery driver with Tesco," said Gill, who's 63 and lives in Latchingdon, Essex. "I noticed I was getting out of breath but put it down to my fitness waning a bit.
"Then I had some work done in my garden and I was lifting earth into a skip. A few days later a lump appeared in my groin. I contacted the doctor who gave me antibiotics thinking my lymph node was up due to an infection. The lump was very painful especially when I walked and sat down. After a couple of weeks the lump was still there, although it wasn't so painful. But I went to see the doctor who recommended I had a hernia scan.
"I had the scan which was all clear but showed more enlarged lymph nodes so I was sent for a blood test. The next day I was called by the doctor and told to go straight to Broomfield Hospital which is my nearest A&E as I was severely anaemic."
Unusual reddish brown bruises
Gill was immediately given blood and platelets as her levels were so low. At that moment she also realised the reddish brown bruises that she had up her arms could also be a sign of something being wrong, as she didn't remember knocking them. Gill was kept in hospital for two nights and given a CT Scan and a bone marrow biopsy then sent home.
The next day, 21st August 2020, she received a call from the hospital to go in for results. They told her she had Acute Myeloid Leukaemia (AML).
Gill was admitted into St Bartholomews Hospital on 5th September 2020 to start treatment. She was given four chemotherapy cycles of Azacitidine – each cycle was two injections a day for seven days, and 28 days of tablets. She stayed in hospital for the whole month so her reaction to the treatment could be monitored. After the first cycle she had another biopsy and her cancer was all clear.
"I had another three cycles staying at the hospital's hostel for the injection days," said Gill. "My blood was tested on a regular basis to ensure all was ok. I felt well but obviously had to be careful as my immune system was still not strong.
"I had to wait six months of being in remission before I could receive my next stage of treatment which would be a stem cell transplant. Although I was in remission the consultant advised me that the cancer is less likely to return with a transplant as some of my good cells could have been affected by the chemo treatment.
Gill's stem cell transplant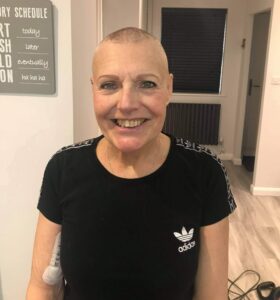 "In February 2021 I went back to hospital for a three week stay in which I had a stem cell transplant. I had not lost my hair with my previous treatment but knew at this stage that I would. I was given quite a strong dose of chemo before the transplant to bring my blood counts right down. On 1st March I received five of a total of nine bags of stem cells donated by a 100% match who was from America. I received the remaining bags the next day. I was put on a course of Cyclosporine which unfortunately reacted with my body and I had sickness and high temperature along with high blood pressure. So I was prescribed an alternative which luckily my body accepted. The Cyclosporine is to help suppress rejection. Once my counts started to increase I was sent back home.
"I did get a bit of Graft-versus-host Disease (GvHD) which is when the donated bone marrow or peripheral blood stem cells view the recipient's body as foreign and the donated cells attack the body. This is actually good as it means the donor cells are working though you don't want it too severe. I had some kind of deviation in the gullet but it soon passed as well as mouth sores. I was feeling more energetic each day and when I was in the hospital I used to go on the exercise bike and use weights every day."
Running for leukaemia research
Since then Gill has made a spectacular recovery, going back to work just 13 months after her diagnosis. She still has check-ups every nine weeks but they will be further apart as time goes on and she continues to remain healthy. She decided to run the London Marathon in 2022 on the second anniversary of being told she was in remission. Gill achieved her run in a time of 5 hours 22 minutes and raised over £3,000 for Leukaemia UK.
"I had tried to get into the London Marathon on the ballot many times before. I really wanted to take part this year especially as it was on the anniversary of being in remission. I had seen Leukaemia UK was one of the charities on the list so I decided to raise money for them. When I was first diagnosed I took part in a study to see if Leukaemia can be diagnosed in someone's breath sample. I'm hoping that more research can be done so that leukaemia can be detected early and more treatments are available.
"I met some other sufferers who I became good friends with. Unfortunately two of these people had complications and didn't make it through. This made me realise how lucky I have been with my recovery."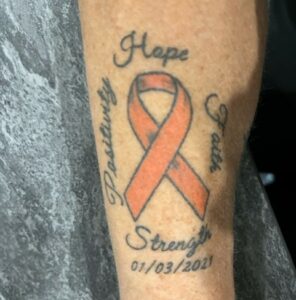 Channelling 'Strength, Faith, Hope and Positivity'
When Gill was given her first cycle of chemotherapy she decided to give herself a special gift. She had a tattoo which she designed saying 'Strength, Faith, Hope and Positivity' with the date of her stem cell transplant.
"To anyone who has been recently diagnosed or has a family member or friend with leukaemia I would say keep positive. There are new treatments being found all the time. I am now thinking of taking part in the London Marathon again for my five year anniversary – I will be 66 then. My outlook on life has changed now. If I want to do something I do it now as I think you never know what is round the corner."
Read more stories from our community.