07 Nov 2022 Governance
Leukaemia UK appoints Ian McCafferty CBE as their new Chair of Trustees to support new strategy to stop leukaemia devastating lives
Ian McCafferty CBE will take up the role in January 2023, from current Chair of Trustees, Chris Corbin OBE, and will lead the charity as it continues to grow.
Chris has been Chair since the merger with Leuka in 2019, of which he had been Chair since 2013 and Trustee since 2009. Chris will remain on the Board and continue to spearhead Leukaemia UK's flagship fundraising event, "Who's Cooking Dinner?", which has run since 1999 and raised over £7.5 million for blood cancer research to date.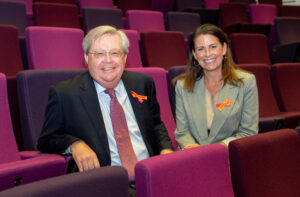 Incoming Chair, Ian McCafferty, is a leading economist with a career in central banking, government, business and financial markets. He has had personal experience of blood cancer, having sadly lost his wife to non-Hodgkin lymphoma in 2016.
Ian is currently a member of the Senior Salaries Review Body (SSRB), which provides independent advice to the Prime Minister and senior ministers on the pay of many of the nation's top public servants. He is also a senior adviser to London Wall Partners, a firm of independent financial advisors, a senior adviser to Oxford Economics, and a Visiting Professor at King's College, London.
Ian McCafferty, incoming Chair of Trustees, said:
"It as an honour to be taking up the position of Chair of Trustees for Leukaemia UK at this exciting point in the charity's development. Together with my fellow Trustees and working closely with the Senior Leadership Team, I will seek to build on the charity's success and work closely with the blood cancer community to save and improve more lives, through research, awareness, and advocacy."
Prior to his appointment, Ian was a member of the Monetary Policy Committee at the Bank of England from 2012 to 2018 and had been Chief Economic Adviser to the CBI since 2001. He joined CBI from BP where he was Head of Macroeconomics. Ian previously held positions as Chief International Economist for both NatWest Markets and Baring Securities. Earlier in his career, he had worked for the CBI as Head of Economic Trends, following spells at The Economist newspaper and the International Chamber of Commerce, in Paris.
Fiona Hazell, Chief Executive of Leukaemia UK said:
"I know that our Board, led by incoming Chair, Ian McCafferty, will continue to strengthen Leukaemia UK's ability to accelerate progress for those impacted by a leukaemia diagnosis. As we continue our ambitious strategy to expand our research programme and increase our impact and influence, the strength of our Board, combining the expertise of both our new and existing Trustees, will help guide the organisation, encouraging us to continue to push boundaries and go further than ever before to stop leukaemia devastating lives."
Chris Corbin OBE, outgoing Chair of Trustees, said:
"I'm very proud of the work that Leukaemia UK, and previously Leuka, has achieved since I became Chair of Leuka in 2014. We have seen some amazing progress happen during that time and the breakthroughs that are happening will help to save and improve the lives of those diagnosed with leukaemia in the future.

I feel confident that the incoming Chair, Ian McCafferty, along with our new and existing Trustees, will continue to drive the organisation forward and will keep what matters most to those impacted by leukaemia at the heart of all their decisions. I'm looking forward to continuing my work with the charity through "Who's Cooking Dinner?" which I know will continue to go from strength to strength over the coming years."
Related posts
Leukaemia UK announces John Goldman Fellows for 2022
Leukaemia UK announces John Goldman Fellows for 2022
Leukaemia UK has awarded their prestigious John Goldman Fellow research grants to four outstanding early-career researchers seeking to advance our understanding of and ability to treat blood cancer. Leukaemia UK…