02 Jan 2022
Emma's acute myeloid leukaemia story
Emma is an English teacher and mother to two children aged 11 and 13. She was diagnosed with acute myeloid leukaemia (AML) in July 2021. She noticed that she had suddenly become tired and lethargic but as it was nearing the end of term didn't think too much of it.
A vital blood test
However, after collapsing and being taken to hospital, a blood test diagnosed her with AML inversion 16 and myeloid sarcomas on her pancreas, uterus and liver. Within days she was started on an initial course of chemotherapy and was told that she would need a stem cell transplant.
Emma shares her experience
I was diagnosed with AML last summer, literally out of nowhere having become tired and lethargic. As an English teacher and mother to a 13 and 11 year old I always get tired at the end of term and am due for a rest, and presumed that was the reason for my fatigue. A quick blood test diagnosed me with AML Inversion 16 but also with myeloid sarcomas on my pancreas, uterus and liver. This was a very unusual presentation according to my consultant and as a result I had to start induction FLAG-ida chemotherapy within days and my journey would involve a stem cell transplant.

At first I struggled to process the magnitude of the situation, I didn't know what AML really was and the thought of starting chemotherapy immediately terrified me. The thought of being away from me family was heart-breaking as I had to stay in for six weeks for the first round of treatment. Now, with the support of my family and the excellent NHS staff I understand what my journey entails. I feel there is hope for me and others in my situation due to the fantastic collaboration between charities and specialists treating blood cancers and the advancement of specific treatment options.

Later last year I underwent a second round of FLAG-ida consolidation chemotherapy and the treatment removed the sarcomas and got the AML into remission. Luckily, I was able to be matched with a stem cell donor and following a maintenance round of chemotherapy, I returned to hospital in December for my stem cell transplant.

Since diagnosis it has been a horrendous journey for my family, but although the treatment journey is challenging, there is hope that it will cure me of the disease and allow me to live a normal life, cancer free.
Giving hope to those with leukaemia
Whilst undergoing her stem cell transplant, Emma had to stay in hospital away from her family over Christmas whilst her immune system started to regenerate. She is now back at home with her family as she continues her treatment plan. Whilst there have been times when she has continued to struggle with fatigue and the ongoing impact of her leukaemia, overall Emma feels well and is enjoying life with her family. She is staying active and enjoys horse-riding and walking her dogs.
Emma said,
"My stem cell transplant has seen me go from strength to strength. My donor chimerism hasn't fallen below 100% and I am living a full and active life, only eight months post transplant."
As Emma's story shows, stem cell transplants (SCTs) are a vital treatment option for AML. Continued research into improving success rates for SCTs is crucial and gives hope to those who receive a leukaemia diagnosis.
Find out more about Leukaemia UK's research into acute myeloid leukaemia (AML) and other types of leukaemia.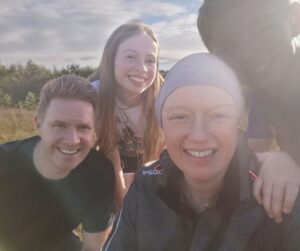 Related posts
New book 'Bronty's Battle Cry' supports Leukaemia UK
New book 'Bronty's Battle Cry' supports Leukaemia UK
'Bronty's Battle Cry,' an inspiring new picture book written by award-winning children's author and young person's counsellor, Hannah Peckham, has recently launched and Leukaemia UK are delighted that some of…