08 Aug 2022
Sinead's Story – from shock leukaemia diagnosis to painting for positivity
In January 2022, Sinead's world was turned upside down. At 30 years old, she had an exciting year ahead. She had just got married and was moving to Ibiza with her husband, Rob, and their dog, Chip, to start her dream job in Music & Hospitality Marketing & Events Management.
Then in the new year Sinead fell ill with Covid. Despite being usually being incredibly fit and healthy and being fully vaccinated, Covid hit her hard. After testing negatively, she was still very unwell, she felt tired and her temperature was still extremely high. Worried she might have an infection, Rob took her to hospital but her blood tests returned normal. A few days later things took a turn for the worst and they returned to hospital again. After a week in hospital, Rob and Sinead were considering leaving and returning to the UK to seek help there, when she was told by the haematology team that she needed a bone marrow biopsy. Two hours later the doctors returned and confirmed a diagnosis of acute lymphoblastic leukaemia.
The fact that Sinead's blood tests came back normal, and continued to do so even when she returned to the UK, is very unusual. She was given her initial bone marrow biopsy because the doctors suspected that she might have "sand fly disease". Luckily, this enabled them to detect the leukaemia which otherwise could have easily been missed.
Sinead said:
"When I received my diagnosis, the whole world crashed in front of me. How the next 10 days unfolded was a whirlwind. I flew home to the UK straight away and The Royal Berkshire Hospital were expecting me, where I received my full diagnosis. I can't describe the care I've received since then. It's gold standard. My medical team have given me hope through a treatment plan and knowledge, even though I'm only at the start of my journey."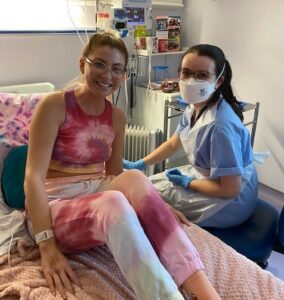 Now Sinead wants to raise awareness of leukaemia and is working with charities like Leukaemia UK to do so. She wants to draw attention to the importance of further investment into leukaemia research and the vital role of stem cell donors. Part of this has been starting a massive social media campaign to get people to sign up to the Stem Cell Register. She is calling on people to register, upload a photo and nominate 3 friends to do the same.
Sinead has also already raised over £23,000 for blood cancer charities in the short time since she was diagnosed. Previously, after her cousin was diagnosed with leukaemia 10 years ago, Sinead ran the London Marathon for Anthony Nolan.
Sinead said:
"I know I won't have this energy all the way through, but I want to share my story to give hope to others and raise awareness of this disease. When I first got to hospital I felt nothing but fear: I was in a dark place. But since receiving my diagnosis and knowing my plan, I feel hope. Knowledge is power and without the amazing research from charities like Leukaemia UK, I would have no hope. The light at the end of my tunnel would not be so bright."
Sinead has now successfully undergone her first cycle of treatment, involving an intensive 5 weeks of chemotherapy along with medication and lumbar punctures into her spine and brain fluid, and is now starting her second treatment cycle. The treatment is very demanding and puts your body through a lot. Due to the impact on the immune system, Sinead has to stay in high isolation a lot of time and was not allowed visitors for large amounts of her stay in hospital.
Nevertheless, Sinead stayed positive throughout.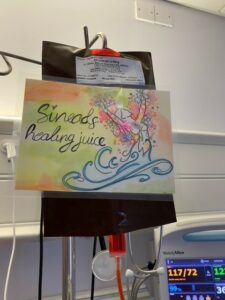 She loves art and painted a lot whilst in hospital. During her chemotherapy she wore an extra positive outfit to get her through and labelled her chemotherapy fluid "Sinead's healing juice".
She says, "I know this is the beginning of my journey and I'm aware this is going to get harder, but I'm mentally prepared for this. Mindset is everything and I'm trusting my body and my doctors to do the rest."
"I've always lived larger than life and I plan to continue doing that after this. But I see things from such a different perspective now. I'm ready to learn from this and live the most colourful life once this journey is over – and I want others to do the same."
Sinead is urging everyone who can to sign up to the Stem Cell Register. It is a huge lifeline for those who receive a diagnosis like Sinead's and a stem cell transplant is the only viable treatment for many – stem cell donors are vital.
Sinead's friends and family have really rallied around her and have some big fundraising plans to raise money for leukaemia research and care in the year ahead. These include sponsored super hero walks, coffee mornings and a Jamaican inspired bank holiday event to encourage people to sign up to the stem cell register and raise funds for research, not to mention a trip back to Ibiza in November to walk, kayak and run around the perimeter of the whole island to raise money and awareness for leukaemia.
Now, Sinead is concentrating on getting better and raising awareness, she is looking forward to spending more time with those she loves once she is out of hospital and celebrating the good things in life.