25 Aug 2017
Celebrating the life of Carl Hewson
When Carl Hewson died from leukaemia at the age of 27, his family and friends were inspired to raise more than £30,000 for Leukaemia UK in his memory. Here, we share their fundraising story
Keen sportsman Carl Hewson was 26 when he was diagnosed with acute myeloid leukaemia (AML) in the summer of 2015. A popular man, who made many friends while at school and at Oxford University, Carl worked for the structural engineering firm Arup.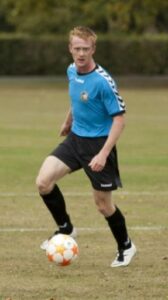 As a teenager, he ran cross-country for Kent and was a regular player for Coney Hall Churches United (CHCU) football team. He was also a talented artist, an accomplished French horn player and, according to his friends, irritatingly good at board games.
Most of all, he valued being a good friend – a quality driven by wanting to live out his strong Christian faith.
Carl's treatment for leukaemia took place at King's College Hospital in London, where he received a bone marrow transplant from his sister, Liana, who was a 100% match.
During Carl's treatment, his family and friends began supporting Leukaemia UK by carrying our logo on Coney Hall Churches United's football team shirts. Nigel, and Carl's friends Warwick Stockdale, Aston Stockdale, James Daplyn, Tim Orwell and Jack Coopersome, took part in Movember, raising £1,401.
CHCU teammate and friend Dave Daplyn ran the London Marathon 2016 in aid of our charity.
Unfortunately, a year later and more than 80 days after Carl's bone marrow transplant, his leukaemia cells increased and despite his medical team's best efforts, Carl died on 15 November.
Carl and his father Nigel had talked of one day running the London Marathon together. Inspired by Carl, Nigel and his friend Steve Burnett decided to run the marathon in 2017, again raising money for our charity.
"We ran the London Marathon to raise funds for a great charity. Nigel's family lost their dear son Carl to leukaemia, despite very good care from King's College Hospital. Leukaemia UK does a great job working closely with King's and other hospitals supporting patients, doctors and researchers in the area of blood cancers," says Steve.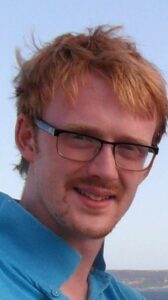 Nigel and Steve successfully completed the London Marathon and raised a staggering £18,579 for Leukaemia UK (under our previous name Elimination of Leukaemia Fund).
The fundraising in memory of Carl didn't stop there. We were humbled by the further support received from Carl's school, Eltham College, which donated £528.63 from a concert they held in memory of Carl. Arup, Carl's employers, also donated £500.
Carl's friends took on challenges for Leukaemia UK to raise yet more money. Gemma raised £415 by taking part in the Blenheim Triathlon and another friend, Charlie, swam 5km across a Cumbrian lake, which raised a further £693.75.
Also, the Bromley & Croydon Christian League donated £425 at its Annual General Meeting.
Five members of Carl's football team, Dave, Jack, James, Jonny and Stephen, completed the challenging Man vs Mountain Challenge, raising a fantastic £4,134.75 for Leukaemia UK.
On 11 November 2017, Coney Hall Churches United played Worcester College Old Boys in the first ever Carl Hewson Memorial Cup game, raising £575.80 for Leukaemia UK. Since then this match has become an annual event and in 2019 raised over £2,000 for Leukaemia UK. Carl's friends have continued to support the charity with two of them running the London Marathon in 2019 and others giving generously at summer fundraising events held in memory of Carl.
We are also grateful to Petts Wood Runners, the running club which Nigel and Auriol belong to, for raising more than £4,000 over the last 3 years in support of the charity both at fundraising events and from some members who have run marathons in aid of Leukaemia UK.
We are so grateful to Nigel, Auriol, Liana and Steve and all those who have been inspired by Carl to raise money for our charity. Together, they have raised more than £35,000 – a phenomenal amount which will help us make a real difference to those affected by blood cancers. Thank you, we are very fortunate to have your support.
Carl's family has kindly asked for us to set up a Memorial Fund for Carl Hewson for those wishing to make a contribution to Leukaemia UK in Carl's memory.
Read more stories from our community.