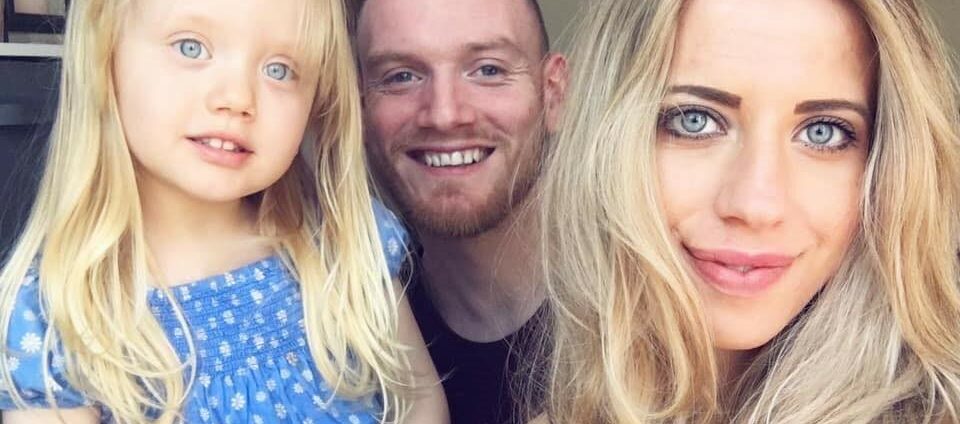 30 Mar 2022
Amy and Joel's acute lymphoblastic leukaemia (ALL) story
Amy spoke to Leukaemia UK  after the love of her life, Joel, was diagnosed with leukaemia at 30 years old. Joel and Amy wanted to share their story to raise awareness of blood cancer and the tremendous impact it has on people's lives. 
Joel was at first misdiagnosed with arthritis. Joel is an electrician and all his symptoms were blamed on having a very active job – the back and joint pain was always put down to his occupation. He grew very fatigued and that was put down to not being able to sleep from the pain. He was off his food and lost weight but there always appeared to be an answer for everything.  After countless GP appointments, calls to 111, multiple A&E visits and swapping GP surgeries, constantly challenging his diagnosis, Joel was finally given an MRI scan and a blood test. 
Due to the pandemic delays Joel had to wait 4 long months for the MRI. On the day he and his partner Amy were due to go and collect the results, Amy went into their bedroom to wake Joel, to find him lying in agony and that his lips had gone blue. They rushed to A&E and whilst they were on route, the consultant rang and told them: "Joel has blood cancer".  
Amy said, "I will never, ever forget Joel's face when those words were said.  Once we arrived in A&E, we waited for 4 hours. During this time Joel caught sepsis. He was rushed to intensive care. In 24 hours our world had been turned upside down."  
Defying all odds, Joel recovered from the sepsis and was out of intensive care after two days. Joel was diagnosed with acute lymphoblastic leukaemia (ALL) and Joel, Amy and their daughter, began Joel's cancer journey together. 
Joel went through his first round of chemotherapy and had a rare adverse reaction to a drug resulting in him developing pancreatitis and ending up in intensive care once more. Whilst still receiving treatment, Joel is now in remission but the challenges brought about by the leukaemia diagnosis and treatment continue. 
Amy said, "We have battled through the toughest of times as a family and Joel has been truly inspiring throughout, showing superhuman strength and amazing levels of bravery. At one point he caught Covid whilst in hospital and had three weeks when he was not allowed any visitors." 
Now, Amy wants to tell their family's story in order to make sure that the symptoms of blood cancer become more widely known. She said, "That's why we are working with charities like Leukaemia UK to raise awareness of this disease. More training should also be provided to healthcare professionals on how to spot blood cancer. We were never thinking cancer, but perhaps if we had been more aware of the symptoms of leukaemia we would have presented this to the GP and fought even harder for a blood test to confirm a diagnosis." 
Related posts
Spectacular sailing challenge in memory of Pat Buckley
Spectacular sailing challenge in memory of Pat Buckley
Royal Corinthian Yacht Club's 61st Endeavour Trophy fundraiser for Leukaemia UK A fleet of thirty boats displaying the Leukaemia UK logo on their sails will put on a spectacular racing…