31 Aug 2023 Research
"Henry's death cannot have been for nothing" says bereaved Mum as charities fund new research into devastating infant leukaemia
Callan Brett, a mother-of-two from Ipswich, has welcomed news of a pioneering new research project into infant leukaemia; having lost her youngest son to the rare form of blood cancer at just 14 months old. The new project, co-funded by Leukaemia UK and Worldwide Cancer Research, aims to uncover kinder and more effective treatments for infant leukaemia – a rare but devastating disease which affects babies under 12 months.
Katrin Ottersbach, a Professor of Developmental Haemotology at the Centre for Regenerative Medicine at the University of Edinburgh, has begun the new research project due to an urgent need to find new approaches to treating infant leukaemia.
'The treatment of infant leukaemia has not improved for decades,' said Professor Ottersbach. 'This research will allow us to investigate what makes blood cancer in infants unique, and how we can treat it more efficiently.'
Callan, 33, lost her son Henry to infant acute myeloid leukaemia in May 2021, after he was diagnosed at just 5 months old. 
'I was shellshocked when we were told that Henry had infant leukaemia,' said Callan. 'The only way I can describe it is total devastation. All I could feel was sheer panic. Later, I felt such guilt as well. If he'd been my first child, I might have worried sooner, but because he was my second – and because he was such a happy baby – I was more relaxed. I just felt so guilty.'
Leukaemia is a form of blood cancer which is caused by abnormal white blood cells. Infant leukaemia, which affects children under the age of 1, is rare and very difficult to treat. Despite progress made in treating leukaemia for older children and adults in recent decades, researchers have struggled to achieve the same success in treating infant leukaemia – with aggressive treatment methods largely unchanged since the 1960s.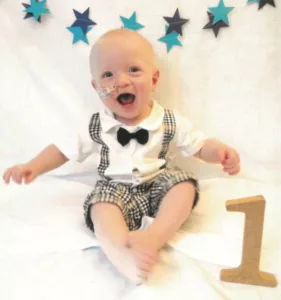 Henry spent over half of his life in hospital, enduring four rounds of brutal chemotherapy. Despite aggressive treatment, he sadly died on the 15thMay 2021. 
Callan said: 'His brain was full of abscesses at the end, and he was in a lot of pain. He developed a rash that eventually joined up all over his body and his skin began to peel. Towards the end, he had diarrhoea and started vomiting blood. It was brutal. And it was so unfair. There was nothing more that they could do. We were able to bring him home, where he stayed alive for 56 hours. It was the longest weekend of my life. I can barely remember it. I didn't sleep – I just wanted to look at him.'
Two years after Henry's death, Callan and her husband James are determined to tell Henry's story, hoping to raise awareness of infant leukaemia and highlight the urgent need for research.
'My baby cannot have died for no reason,' said Callan. 'His death has to mean something. If I have to live the entire rest of my life without him, then there has to be progress in that time. We cannot stand by knowing that more research could spare another family from his type of heartbreak.'
The Brett family are now hoping that Professor Katrin Ottersbach's new project will help to pave the way for kinder and more effective treatments into infant leukaemia. The project, which runs until October 2025, will specifically investigate two genes that are involved in the most common type of infant leukaemia.
Professor Katrin Ottersbach said: 'Both of these genes, SGMS1 and ELOVL1, are involved in regulating the fat content of cells, suggesting that infant leukaemia cells have specific fat requirements that are important to keep them alive. Maybe if you can stop the cancer cells getting the fat they need, you can potentially stop the cancer from growing. 

'Our research team want to understand how SGMS1 and ELOVL1 influence cancer development. We have an exciting new technique to study several biological pathways at the same time and work out which are involved. We then plan to test any potential cures that take advantage of these pathways, so that we can hopefully begin to find the treatments most likely to work best for infant leukaemia.'
Fiona Hazell, Chief Executive of Leukaemia UK, said: 'No child should have to suffer like Henry did, and no family should have to lose a child in this way. That's why we're funding over 20 research projects across the UK, all focused on delivering kinder, more effective treatments for leukaemia, and why we're very proud to have co-funded Professor Katrin Ottersbach's latest project alongside Worldwide Cancer Research. Together, we can find and fund life-changing research to accelerate progress and stop leukaemia from devasting lives.'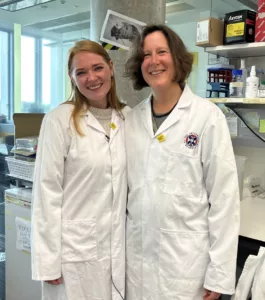 Dr Helen Ribbon, Chief Executive of Worldwide Cancer Research,said: 'We urgently need to better understand infant leukaemia to find new ways to treat this devastating disease. Infant leukaemia is particularly difficult to treat since it behaves differently to leukaemia in older children or adults, meaning current therapies do not work. Discovery research, such Prof Ottersbach's project, is critical to find out more about the biology of infant leukaemia, so that we can develop new cures to help families like Callan's in the future. Worldwide Cancer Research are delighted to be working with Leukaemia UK to help our supporters' donations go further and enable more life-saving research to be funded.'
Callan herself was able to meet Professor Katrin Ottersbach to learn more about the research in person. She said: 'It means so much to be here, and to meet the amazing, dedicated people who are working on defeating this disease. It just means the world.'