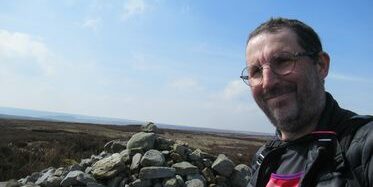 05 Mar 2022
Steve's hiking journey
"Hiking, it's in the blood!"
As an avid hiker, Steve has led walking groups for the last twenty years and climbed the highest peaks in forty countries. However, in February 2021 Steve was diagnosed with chronic lymphocytic leukaemia.
Yet Steve was determined to continue with his passion for hiking.
Since getting the diagnosis during the pandemic, it has changed my life, as it affects everything. The places I go and what I do. I had to change my job and avoid going out into crowded places due to my reduced immunity.
But I was determined that it would not change my love of hiking and the joy it brings me. A year later, I decided to take on the Lyke Wake Walk as a fundraising activity, as I wanted something positive to come out of my diagnosis.
I stepped up my usual walking routine by getting a few 20-mile walks under my belt, which was great as it gave me something to focus on. Something to aim for.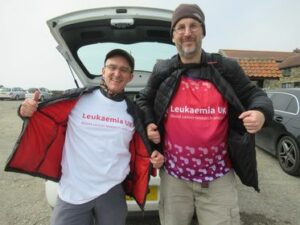 Then the day finally came for me to once again lace up my hiking boots and I was ready for the challenge. The Lyke Wake Walk is a 24 hour challenge, but I completed the 40.5-mile route in 15 hours. When I set off on my hike, I took in the scenery and enjoyed being back out on a hiking trail.
Along the way, I met up with my friend John at the RV points, which was a morale boost as he was always ready with a brew to keep me going. During the final 100 meters, he laced up his boots and joined me and we finished the Lyke Wake Walk together.
My fundraising target was £1,000 but I have now raised over £1,300 for Leukaemia UK, as I hope to continue to raise awareness of blood cancer.
Steve shares his advice for anyone who is considering taking on a challenge, "by helping others, you are ultimately helping yourself both physically and mentally".
We are so grateful for Steve's support and look forward to hearing what hike he will take on next.  
Read more of our stories.
Related posts
Leukaemia UK is looking for volunteers for their Patient Experience Advisory Panel
Leukaemia UK is looking for volunteers for their Patient Experience Advisory Panel
Leukaemia UK is committed to championing advancements in better treatments and care for all. We want to ensure the needs of patients are at the heart of everything we do, and that the voices of people affected by leukaemia and related conditions are being heard. That is why we are setting up a Patient Experience Advisory Panel.