24 Apr 2023
"The trip was marked by some strange heart fluttering symptoms": Stan and Sue's story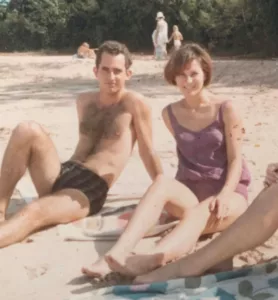 Returning to his birthplace of Trinidad for a family wedding in 2015 was a joyful occasion for Stan De Boehmler. He had met his wife Sue there in 1966 – Sue's father was also from Trinidad – and the couple had spent their lives travelling the world. But the trip was marked by some strange heart fluttering symptoms for former Shell Oil manager Stan, and as soon as he returned home he made a doctor's appointment.  
"A blood test was taken which revealed a high white cell count," said Sue, 77, who lives in Hardington Mandeville in South Somerset. "When he told me, I immediately contacted the surgery and requested to see a haematologist, only to be advised that it wasn't necessary, and the GP had already contacted one. I'm not a person to sit back and wait so I immediately rang BUPA – we were lucky enough to have private insurance. We arranged an appointment down at the Dorchester Hospital with the wonderful Dr Akeel Moosa. There is a history of leukaemia in Stan's family. His father died from acute myeloid leukaemia and his brother from bone cancer at the age of 42. So, l was not taking any chances."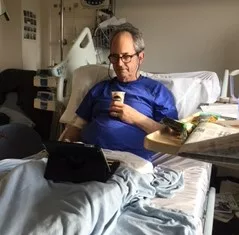 Tragically Sue's fears proved to be correct. Stan was diagnosed not only with AML but two other types of leukaemia – lymphatic leukaemia and mast cell leukaemia. He was immediately transferred to King's College in London to be seen by Professor Ghulam J Mufti and his team. 
"Stan continued to be seen at Dorchester and also at Kings College every six weeks," said Sue. "He was put onto Hydroxycarbamide plus a cocktail of other drugs. And he continued to do well right up to the end of 2016.  Playing golf, working in the garden, even a holiday to Sri Lanka with friends.  
Then the three leukaemias started to take their toll. It was January 2017 that he was admitted into King's College Hospital to start a prolonged course of chemotherapy. There was also hope that he would be able to have a stem cell transplant and we had found a donor."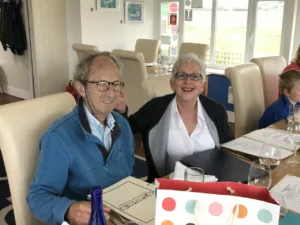 But Stan's health continued to deteriorate and his medical team made the heartbreaking decision that he was simply too weak to withstand the rigours of a stem cell transplant. Sue and Stan returned to their home. Stan was put onto Midostaurin and made regular visits to the hospital in Dorchester where he received blood and platelet transfusions. But after much thought and huge support from both teams of doctors and nurses, Stan made the brave decision to stop all treatment and spend his last ten days at home surrounded by his family. 
"We had wonderful help from St Margaret's Hospice and the nurses from Bluebird," said Sue. "My twin sisters stayed by our sides until the end. Stan died on the 16th October at the age of 70, at home where he wanted to be. Hurricane Irma was raging around the Caribbean at the time and we said 'the winds have come to take you home'." 
Five years later, Sue took her beloved husband back home to Caribbean. Together with her daughter Rebecca, Stan's niece Lisa, and Sarah her sister, she travelled to Trinidad and scattered his ashes into the sea as was his last wish.  
"His family goes way, way back in Trinidad," said Sue. "It was where he wanted to be. We met in 1966 and he joined Shell in 1969. Our whole life together was spent travelling and living in THE most wonderful countries among wonderful people. We also scattered some of his ashes in Oman with our son Guy as we had moved there when Guy was three months old – it was our children's first home.  
"He was brave to the end. King's College Hospital and the Dorchester Hospital threw everything they could to try and fight three leukaemia but sadly it wasn't to be. I know how much is needed for research to find ways of fighting blood cancer. I help when I can and hope that research will help those out there fighting leukaemia." 
Discover more personal stories from people affected by leukaemia.
Related posts
September is Blood Cancer Awareness Month
September is Blood Cancer Awareness Month
Blood cancer is the fifth most common type of cancer and the 3rd biggest cancer killer in the UK. Find out how you can get involved to help us make a difference