20 Sep 2023
Robert's journey to remission from AML
"Robert and I developed a special signal…..When we weren't able to hold hands we each raised our little finger and bent it and waggled it at each other from across the room, then, when we could get closer again, we clasped our little fingers together." 
Robert was 11 years old and enjoying his first year in secondary school in February 2000, when he first showed unremarkable symptoms of what would eventually be diagnosed as leukaemia. Here his Mum Karen recalls with powerful detail the gruelling journey the family went through before his eventual recovery.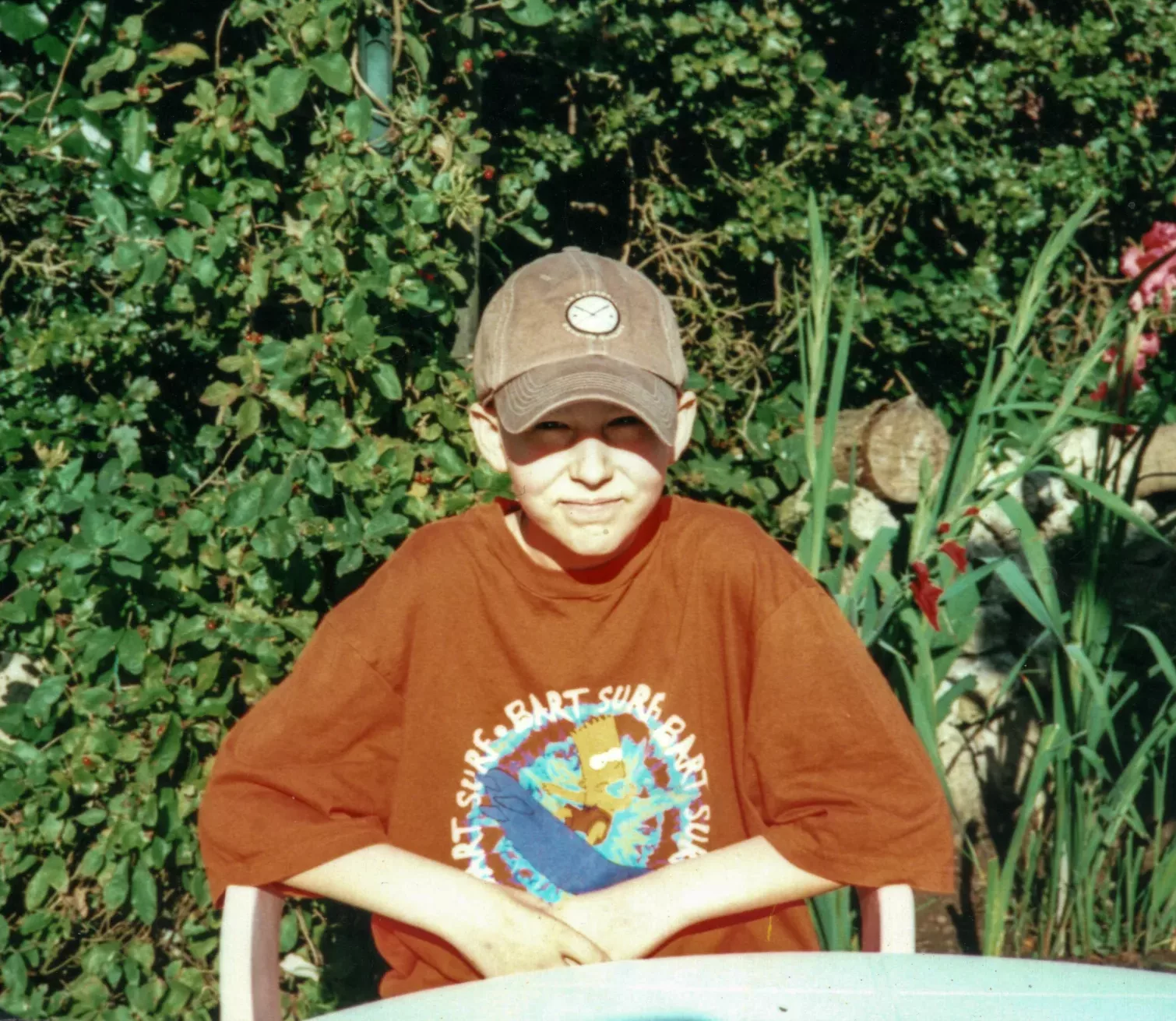 "Robert had a virus with a high temperature but recovered after a few days and went back to school," said Karen, age 63, who lives in Doncaster. "Then a few months after that he developed a small sore under his nose which scabbed over but didn't heal. I took him to the doctor's eventually and he was prescribed some antibiotic cream and the scab went away.  
"Robert went to the school where I taught English and drama. Over the next few weeks he started complaining of feeling sick sometimes at school and had several visits to the sick bay. He seemed fine other than that and I wondered whether he was avoiding some lessons in particular. I told the school nurse to just send him back to class if he turned up again. Then his science teacher caught me one day and said he was concerned that Robert seemed to be regularly asking to go to the sick bay.   
"At the time we had a static caravan in Weardale where we spent many happy times with Robert and his younger brothers Richard, 9, and Nicholas, 7. We spent a happy week there that Easter with the boys catching fish in the river, building dams, riding their bikes and collecting stones, a favourite pastime! But on Easter Sunday when the boys were sitting next to each other eating their Easter eggs it struck me that, compared with his brothers, Robert looked really pale. He had also developed some large mouth ulcers. 
"When we returned from Weardale, I took him to see our GP, who took some blood for testing.  Two days later, on 10th May 2000, the doctor rang me in the evening and said that he was coming round to the house to speak to me and did I have anyone with me? Gary, my husband, was on his way back from a business trip in London. I rang my best friend and she came straight round. The doctor said that the blood tests showed that Robert had leukaemia.  
"That night we had to act normal even though our world had just gone sideways. Once the boys were in bed we cried for the first of many times. We became experts in hiding our feelings from the boys so they wouldn't be scared. The next day Gary and I drove with Robert to Sheffield Children's Hospital. Robert's birthday is in July and when I was pregnant with him there were poppies everywhere.  As we drove past the fields, I looked at all the poppies and wondered how many birthdays Robert had left.  
"After more tests Robert was diagnosed with acute myeloid leukaemia (AML). The treatment would be harsh. His brothers were tested for bone marrow compatibility, and were devastated that they weren't a match, even though they were scared of what they would have to go through. I remember thinking at which point do I start screaming? How and why could this happen to our beautiful, lovely, bright, shining little boy?  
"We had to choose which sort of chemotherapy we wanted for him – the older sort, the 'pink one', or a newer one which was being trialled in the USA with promising results, the 'blue one'. How do you make a decision like that when your child's life depends on it? We chose blue.   
"Within four days, Robert had a Hickman line fitted into a large vein in his chest with a 'wiggly bag' round his neck to hold the ends through which the chemotherapy would be given. For the next eight months it was a cycle of chemotherapy, blood and platelets transfusions, symptoms and side effects including mouth ulcers, vomiting, hair loss, petechiae or tiny blood spots on the skin indicating that platelets were low, and allergic reactions to blood products that made his head swell so that he looked like a little alien. There were also lumbar punctures and countless blood tests. He was rarely out of hospital. Robert could hardly eat because of his mouth ulcers and feeling unwell. He lost a lot of weight.   
"On his 12th birthday in July we managed three hours at home before his temperature reached over 40° indicating that he had an infection, so it was back into hospital for strong intravenous antibiotics. Even though he was very poorly throughout, Robert never ever complained. On better days he managed to enjoy Warhammer, playing on the ward's computer and games consoles, and he also loved being read to by his Dad who would do all the voices for the characters in Brian Jacques' Redwall series and Philip Pullman's His Dark Materials. He also occasionally went to the ward's school, standing on his drip stand (the school bus!) which was pulled along by the amazing ward teacher as she headed for the schoolroom. She created so many imaginative distractions for the children, all being treated for different forms of cancer. Robert made some good friends, particularly Ben and Sarah, who both sadly died of their illness.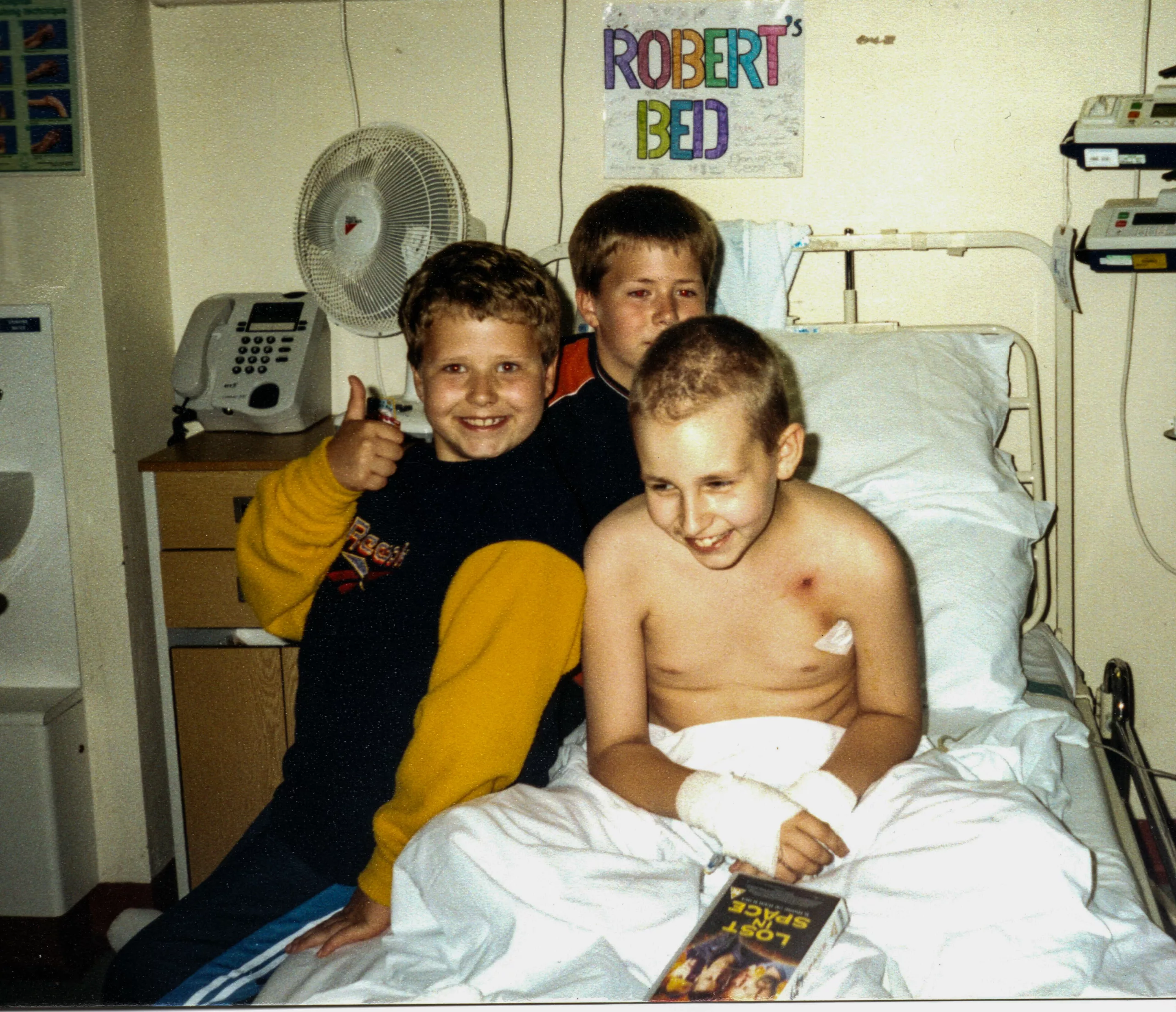 "After each round of chemotherapy, Robert's blood count took longer to recover to such a level where he could have the next round. One night after the third round, Robert's condition suddenly got worse and the crash team was sent for. His blood pressure had plummeted and he was taken to intensive care. That was the only time I had to leave his room. He was surrounded by medical staff and I could only watch from the side of the room. He was looking directly into my eyes and was scared and I couldn't even hold his hand. I didn't want him to see me scared and crying so I went out. The ward sister found me and told me that at that moment my child needed me and to get back in that room. I did. She was right. He recovered thanks to the expert care of the doctors and nurses and a very expensive drug which raised his blood pressure. 
"After this crisis Robert and I developed a special signal for if this happened again, which unfortunately it did several times. When we weren't able to hold hands we each raised our little finger and bent it and waggled it at each other from across the room, then, when we could get closer again, we clasped our little fingers together.  
"After the fifth round of chemo Robert was very weak and very ill. The consultant met with us and said we had a choice at this stage, given Robert's increasingly weakening condition. We could agree to the sixth and final round of chemotherapy, or choose to stop now: another impossible choice. Gary and I sat that night in a room at PACT House, a facility next to the hospital provided by a charity which supports families whose children are suffering from cancer or leukaemia so they can stay there and have their other children with them for a while. We couldn't make the choice. So after a long agonising discussion, we let fate decide by tossing a coin. Heads: the treatment stopped now. Tails: we would continue with the sixth round of chemo. It was heads. It felt like the right choice; we were so worried that Robert might not survive the last round that there seemed to be more hope in avoiding it." 
Thankfully Robert's leukaemia went into remission thanks to the very strong chemo and he was allowed home before Christmas 2000.  
"Gary and I had been told that the few children who survived AML struggled to get back to their normal lives and it was easy to see why with the physical and psychological impact the illness and treatment had on them. Despite still feeling very anxious about Robert's health, we were very conscious about encouraging a return to normality. Fortunately, Robert was keen to get back to school and see his teachers and friends, especially his form group, who had sent a constant stream of get well cards, letters and gifts during his time in hospital.  
"He returned to school part-time in February, still very thin and tired. He had to go back to hospital for regular check-ups and this was very reassuring as we knew there was no guarantee that the leukaemia would not return. For me, this time was a bit of a blur as we were, as a family, trying to return to some sort of normality, but with the threat of relapse hanging over us. I watched over Robert anxiously, but Robert was determined to enjoy life to the full and immediately signed up to a school trip to Germany! Due to his tenacity and simply never considering an alternative, he eventually went on to achieve 10 GCSEs, 5 A Levels and a 2:1 in English and Drama at University.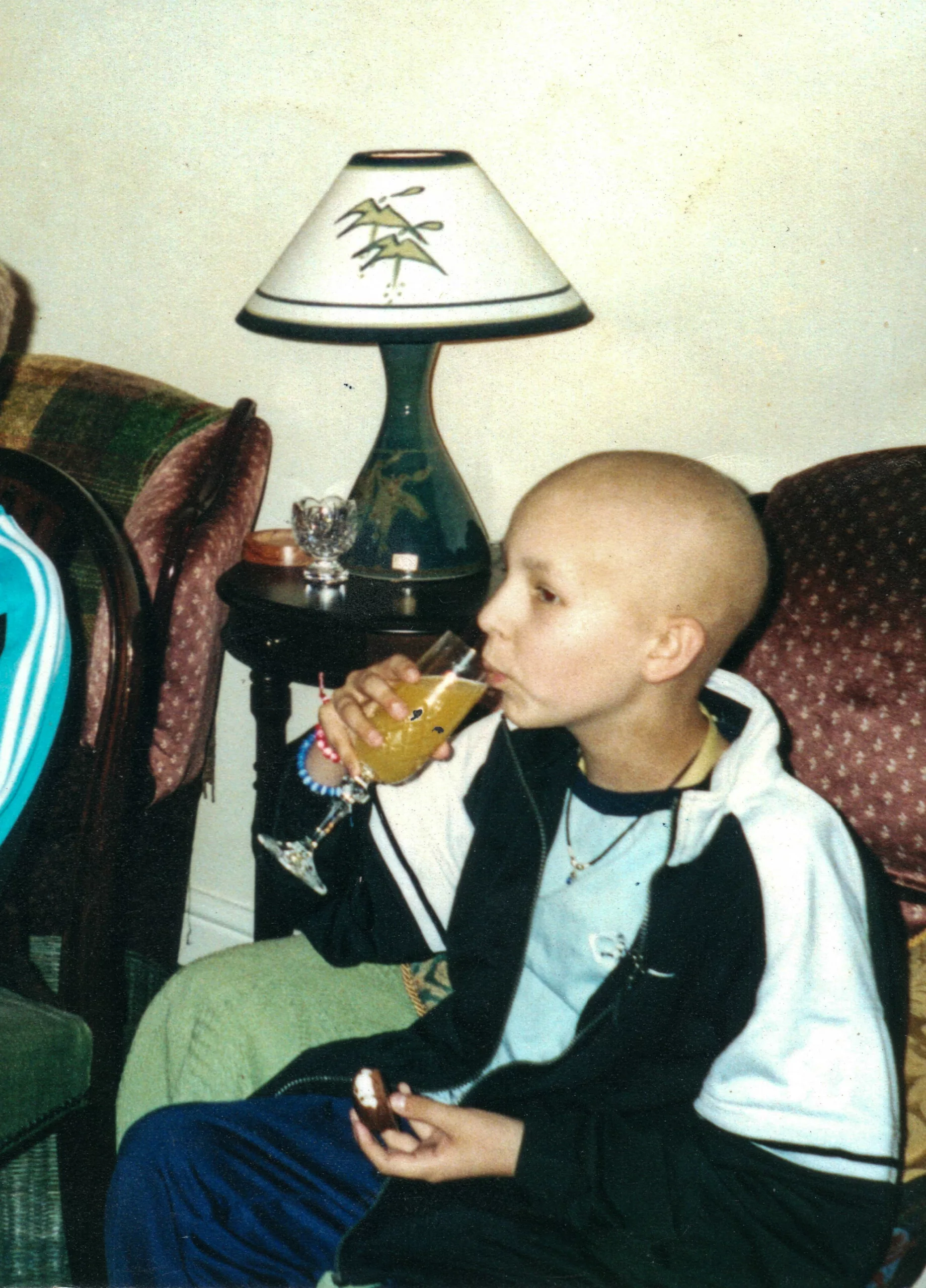 "Robert survived AML and our whole family are grateful to Doctor Ajay Vora and the staff of M3, the children's cancer ward at Sheffield Children's hospital, and for medical science which has led to the improvement in treatment and survival rates for this disease. The staff on M3 were an incredible group of people, working in a challenging area of medicine. They were so skilful in getting those very sick children to tolerate extremely hard procedures and symptoms. On ward rounds they always spoke to the child first to give information on treatment and progress. They always told the truth – 'this will hurt but not for very long' – and the children trusted them. A very special relationship existed between the staff and children, including the siblings of the sick children. It is a testament to them all that Robert's and his brothers' overriding memories of the place are happy ones.  
"We are also eternally grateful to the family and friends who, while we were at hospital during Robert's treatment, looked after our other two wonderful boys as if they were their own. My work place was also compassionate and understood that I couldn't leave Robert as his condition was never stable enough. Gary's work place was not. They told him he should be at work and leave it to the doctors and put pressure on him to return. Gary felt strongly that the right thing to do was to be with his sick child and family providing the much needed support and being a part of what could be Robert's final days or weeks.  I feel strongly that even now, so many years later, more should be done by the government in terms of workplace legislation to help parents in similar situations to ours to be with their child. 
"Robert was 35 in 2023 and we have so far had 24 precious extra years with our boy. He suffered heart damage, a side effect of the chemotherapy, and we all live with possibility of other cancers being triggered, as well as infertility, which we were warned about at the start. At the time we felt we had no choice and so few children survived this cancer. He received treatment for his heart condition from his late teens onwards. He still goes for yearly check-ups but is still in remission from AML and his heart now functions like a normal heart. He is now very happily married to Sarah and has been a teacher for 12 years. 
"I would urge parents to listen to their child if they complain of feeling unwell, particularly if this is alongside unusual symptoms such as mouth ulcers, extreme pallor, and sores or marks which do not heal. Seek medical advice straight away. 
"Robert and I still do our little finger sign today, a tiny gesture with a lifetime of meaning.  Robert still remembers with fondness his dad reading to him when he was so ill. At school when he is reading to his students in their English lessons, he always does all the voices. He is looking forward to reading his favourite books to the two children he and Sarah will hopefully be adopting into their family in the next few months."