08 Nov 2023
Brave Jacob's four-year fight against ALL
Jacob Benson lost his four-year fight against leukaemia 16th October 2010, aged just 12.  This is a verse from a poem written and read by Jacob's Mum, Debbie, at his funeral.  
Your life was too short; there was not enough time.
But oh, what a privilege to have had you as mine.
Time is a measure of 'Was', 'Is' and 'To Come'.
But no time can divide you from me as your mum. 
Jacob was born with Down's Syndrome on 16th April 1998. Parents Debbie and Simon were initially shocked, but their feelings rapidly turned to celebration when Jacob was born an intelligent, highly functioning, permanently happy little boy. His infectious smile and sense of humour drew in everyone who met him. Jacob thrived in mainstream education, attending the local primary school and enjoying a huge circle of friends.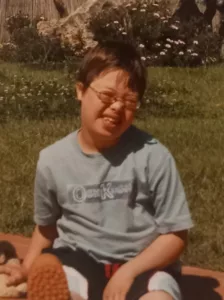 But in 2006, when Jacob was eight, his mum noticed he had become lethargic and was having night sweats. He also had a pinprick rash on his legs. A visit to the local GP resulted in Debbie being told it was probably a virus.   
"Do you not think the way he is presenting, and the rash on his legs, are related?'" said Debbie, then aged 39.  "The GP said 'Absolutely not'. But I then spent hours that evening trawling the internet and eventually stumbled across Leukaemia UK's website. Almost every symptom listed hit a chord. I also read that children with Down's Syndrome had a 25% greater chance of having leukaemia. The penny dropped. I convinced myself that was what Jacob had." 
Debbie called the NHS out-of-hours service later that same night, and Jacob was sent to the Great Western Hospital in Swindon. 
"It was one of the longest nights of my life," said Debbie. "Simon and I had separated at this point, but we stayed together with Jacob all night. The next morning we were told that Jacob had acute lymphoblastic leukaemia (ALL). They asked us to drive him straight to John Radcliffe Hospital in Oxford, where a bed was waiting for him on the children's cancer ward." 
Jacob was immediately put on the strongest chemotherapy regimen available due to his high white cell count.   
"We were nervous and overwhelmed," said Debbie. "The consultant at Swindon had told us what to expect – children with no hair and lots of equipment around – but we were so warmly welcomed by the staff, which made the settling-in period much easier.
"It is an odd thing to say, but a children's cancer ward can be a very uplifting place in many ways. Younger children tend to cope with things in a different way than I imagine teenagers do. There was a wonderful playroom and two incredible support staff to keep the children occupied."
"Jacob was in his own room for the entire two months. When he was feeling very ill or weak we would stay in his room with him, watch TV, read books, do colouring or just curl up and hug. On better days Jacob would walk himself and his drip down to the playroom to meet other children or to play with his siblings when they visited. He accepted he had to stay in hospital. One of us was always with him overnight and during the day for the full two months. We used to do it in shifts, one day on, one day off, so we could look after the other two children."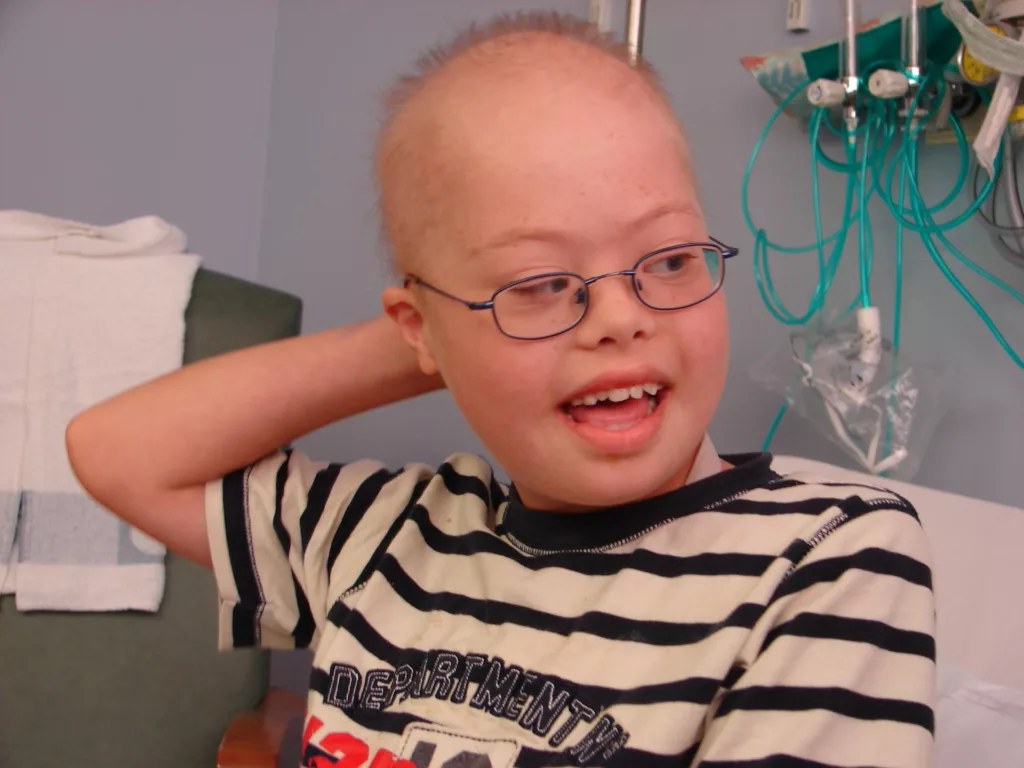 "On occasions, 'special' people would visit. One day this was an Olympic rower. He sat by Jacob's bed and told him about rowing.  At the end he asked Jacob if he had any questions. Jacob's response was 'when is lunch?'!  Needless to say, Jacob enjoyed his food!" 
After eight weeks in hospital, Jacob's parents were able to take him home. A two-year treatment programme was ahead of them. Jacob had regular chemotherapy through his Hickman line, which was given sometimes at home and sometimes in school by a visiting specialist nurse. There were also other drugs to administer, and regular lumbar punctures.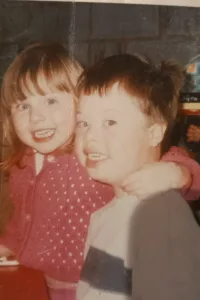 "We used to go to Oxford for this every few weeks as a day patient," said Debbie. "He was often seen running down the ward to the treatment room where he was put to sleep for the procedure.  The most exciting part was afterwards when he always asked for a bag of cheese and onion crisps! 
"There were times when Jacob's walking was affected by the treatment because of the weakness of muscles. I had to piggyback him upstairs to the bathroom, and sometimes we had to use a wheelchair when he was particularly weak.  
"Of course, there was always the worry that he would pick up an infection. If he seemed off-colour, I would check his temperature and, if it was over 36, this would often mean a few days or few weeks in hospital. 
"The whole four years was gruelling for us as parents. We spent half of our time in hospital, but it became my safe place. Irregular sleeping was hard going over a long period of time, particularly as going home for one night meant getting a clean set of clothes, having a hot meal and bath and spending some time with the other two children although Simon and my parents were always there to help." 
The two years flew by. The family, including Jacob's younger brother Oscar, four, and sister Daisy, six, lived life to the full including taking trips to Lapland, Scotland and Ireland – all arranged by organisations supporting families of children with terminal and life-limiting illnesses.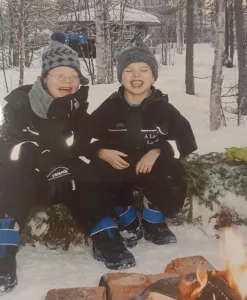 "At the end of the two-year maintenance treatment, Jacob, who was ten by then, was formally in remission," remembers Debbie. "What he called his 'wiggly', his Hickman line for administering chemo, was removed and he had returned to school full time. He was also planning his future – he said he wanted to be a chef in an Italian restaurant and become a teenager! 
"That Christmas was magical. We thought there was light at the end of the tunnel. Simon and I spent the Christmas together with the children and my parents. Because his Hickman line was out, Jacob could swim and have deep baths, his appetite was as normal and he was full of energy. He had repeated Year 6 at school and only had two terms left."
But only two months later, the family received the devastating news that Jacob had relapsed.  
"This was in Feb/March 2009 and Jacob was displaying similar symptoms to those he had when he was originally diagnosed but was also generally under the weather," said Debbie. "We thought it would be another bout of infection but when he went to hospital, blood tests were taken and it was confirmed his leukaemia had returned. The same type and the same strength. 
"There was no stronger chemotherapy treatment available. Jacob would be put on treatment to keep the leukaemia at bay but could not be cured. We were told he could have six months or, if lucky, two years to live.
"We were determined to make the absolute most of what time we had left with our gorgeous boy whilst at the same time protecting Oscar and Daisy from the inevitable truth. They just believed that the chemotherapy treatment, and all the other medicines that they helped with at home, were going to make their brother better." 
The family organised a once-in-a-lifetime trip to Sicily with the grandparents where Jacob could eat as much Italian food as he wanted, and everyone could make memories.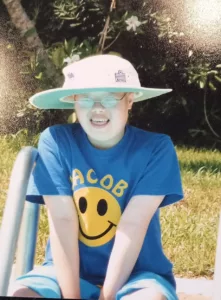 "Jacob didn't complain when sitting on the edge of the pool unable to get in the water because of his newly inserted Hickman line. Just being with everyone, having fun and eating was what made his world go round!" 
Regular trips to hospital when Jacob had an infection were part of everyday life. But then in the middle of October things seemed different. Debbie took him to hospital as he had become unwell, was in pain and wasn't himself. The following day his parents were called into a private room and told he may not make the night. They were utterly devastated. 
Jacob died the next morning, October 16th. He was exactly 12 and a half. He never made it to being a teenager. 
"The hole he left in everyone's life was immense," says Debbie, who is now 56 and lives at Old Burghclere in Hampshire. "But our determination as parents was to help our other two children cope in the best way possible, strengthen their resilience and hold on to everything they had learnt from their brother. Jacob was never defined by having special needs. He was defined by the special effect he had on everyone around him. That was his legacy. A legacy that still lives on today." 
Jacob's parents raised money for Leukaemia UK as well as for a teenager room on the children's cancer ward at The John Radcliffe, a room that Jacob would have loved. 
And his memory is still helping to benefit others. Jacob's friend from primary school, Matt Rowell, 25, is running the London Marathon for Leukaemia UK in 2024 in memory of Jacob.
"Throughout everything Jacob went through, his smile and bravery never faded," said Matt. "He remained the amazing person that so many of us knew and loved. I wanted to do something in his memory and to raise money for a charity supporting people going through similar battles to Jacob's." 
You achieved so much more than one could have thought.
Through your hardships and illness, you fought and you fought.
And achieved, yes you did, and for that I am proud, to
Have had you in my life. You stood out from the crowd.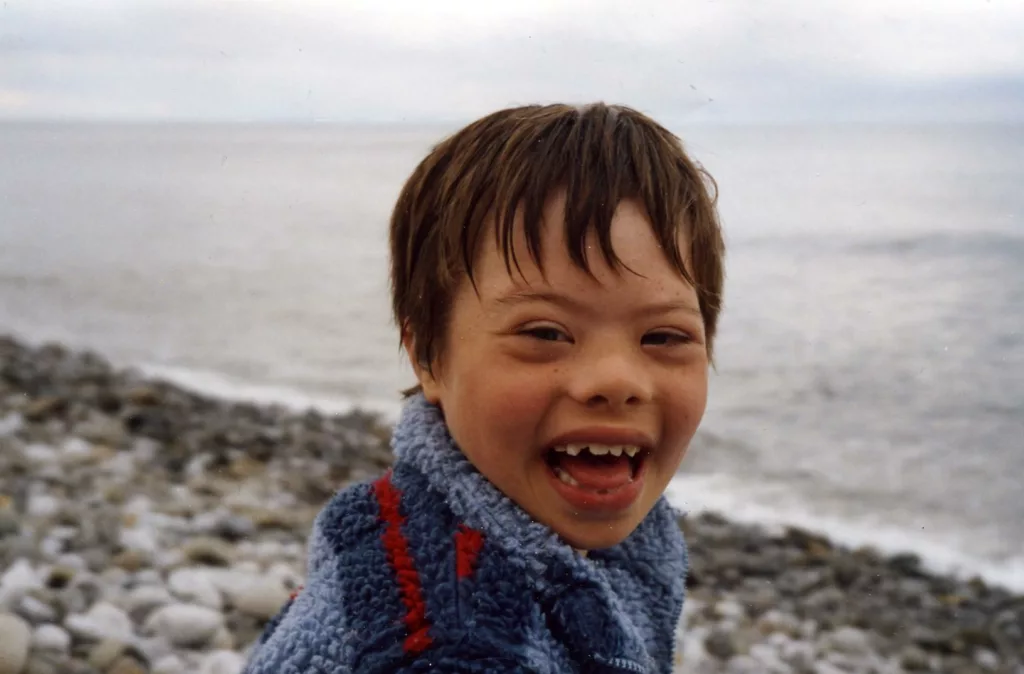 Donate to keep families together in the future.
Related posts
Inquiry highlights the impact of COVID-19 on blood cancer services
Inquiry highlights the impact of COVID-19 on blood cancer services
A new report has recently been published, following an inquiry by the All-Party Parliamentary Group (APPG) on Blood Cancer and the APPG on Stem Cell Transplantation and Advanced Cellular Therapies, on the impact of Covid-19 on blood cancer services in the UK.