04 Jun 2016
Amanda: my husband Phil's chronic hairy cell leukaemia diagnosis
Amanda's husband Phil was diagnosed with chronic hairy cell leukaemia. Following his treatment, they wanted to turn a negative into a positive by organising a fundraising event to support our cause. Here is their story in Amanda's own words.
My husband Phil was unfortunate enough to go profoundly deaf in his right ear in November 2018. The deafness came only 10 days after we had moved to a new area as he had to relocate to keep his job. The deafness was instant and turned out to be permanent.
He underwent blood tests and MRI scans to check why this happened but nothing was found apart from an irregular blood test. He was on medication for dizziness caused by the deafness and his consultant wondered whether this was effecting the tests so Phil was advised to stop taking the medication and go back for blood tests approximately 6 weeks later.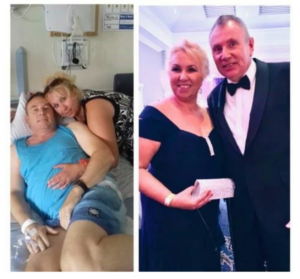 Eight weeks passed and the results were the same. We received a call from the consultant advising to urgently consult our GP as something was amiss. The GP came up with the same results and Phil was referred to a haematologist. The haematologist confirmed the results and advised a bone marrow biopsy the next day. Two weeks later and the result of the biopsy confirmed my husband had chronic hairy cell leukaemia.
A few weeks after that Phil started chemotherapy, unfortunately when he was neutropenic and at his most vulnerable he developed a high temperature and was rushed to hospital. The hospital confirmed he had an infection and began a regiment of iv antibiotics, Phil underwent every kind of scan and test you could imagine to try and find the infection but they were unable to identify it. This meant they had to try different types of antibiotics find the correct treatment.
About 10 days had passed with no luck and Phil was beginning to deteriorate also having up to 4 rigor fits a day, everything came to a head one evening when we weren't sure if Phil was going to pull through when the family decided no matter what the outcome we were going to arrange a charity fundraising event to turn a negative in to a positive.
Fortunately the next day Phil's temperature started to drop, he stopped having fits and his blood count started to show improvement, the doctors had hit on the correct antibiotic and he rapidly improved.
We held the fund raising event at the Belton Woods Hotel on the 7th March 2020 (Just before the coronavirus lock down). The event was hugely successful and not only raised £3,397 for Leukaemia UK but also raised further funds for the cancer ward where Phil was treated. The generous £3,397 has been donated specifically towards Leukaemia UK's Helping Hand project, with a further £1,230 was kindly raised through match funding from HSBC and also Facebook Fundraisers, bringing the total raised to an incredible £4,627!
The best news of all is that Phil is now in complete remission, he says now he just has to adapt to his deafness.
We are truly grateful to Amanda and Phil for their kind and generous support and extend our gratitude to those who attended the charity event and made it such a success. We wish Amanda and Phil all the very best for their future!
If you have been inspired by Amanda and Phil's story and wish to support our cause, look at our range of exciting initiatives you can get involved in.
Read more stories from our community.
Related posts
One Cancer Voice 10-Year Cancer Plan Consensus Statement
One Cancer Voice 10-Year Cancer Plan Consensus Statement
We have joined with 53 cancer charities to speak with One Cancer Voice and publish 10 tests that the Government's new 10-year Cancer Plan must meet if it is to be successful.