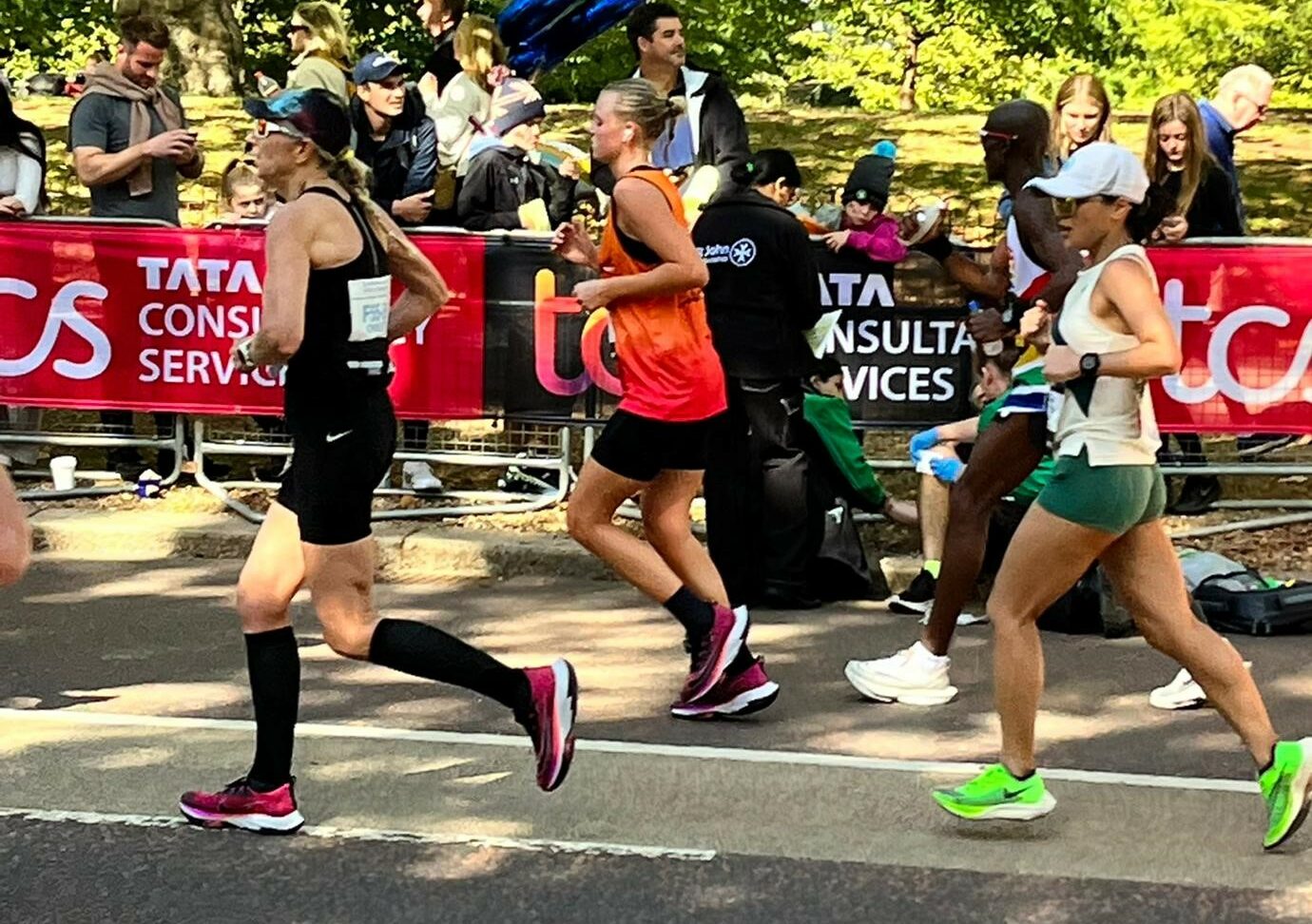 21 Sep 2022 Fundraising
A record year for Leukaemia UK London Marathon runners
62 runners put their best feet forward for Leukaemia UK
A record 62 runners are taking part in this year's London marathon to help fund vital research into leukaemia diagnosis, treatment and care, and raise awareness of a disease that sadly kills nearly 5000 men, women and children each year.
The runners have already raised over £73,000 for the charity Leukaemia UK, with much of their fundraising still to come. It's hoped their efforts will ultimately raise over £100,000.
They'll be proudly wearing the charity's orange shirt and coming together to raise money to help Leukaemia UK save and improve the lives of those impacted by leukaemia by accelerating progress in diagnosis, treatment and care.
Fiona Hazell, Chief Executive of Leukaemia UK, said:
"This is a record year for London Marathon entrants for team Leukaemia UK. We are incredibly grateful to each and every one of the 62 runners who are taking part in order to accelerate progress for those who receive a leukaemia diagnosis. Thanks to their fantastic fundraising efforts, together the runners aim to raise over £80,000. This money will be used by Leukaemia UK to fund life-changing research to stop leukaemia devastating lives.

Earlier this year we launched our new strategy and brand, featuring the distinctive orange that is the international colour of leukaemia. It will be an amazing moment to see the runners coming together in their orange shirts, and we hope their incredible efforts will raise not just money but awareness of leukaemia as well. Each and every one has a personal reason for running, and we wish them a very successful day."
Every day, 27 people in the UK –  almost 10,000 every year – receive the devastating news that they have leukaemia. Over 40% of all new leukaemia cases in the UK occur in people aged 75 and over.[1] Despite decades of incredible progress, only half of leukaemia patients live longer than five years after their diagnosis.[2]
Erin Ruxton from North London
Erin Ruxton, 32, is running in memory of her Dad Andrew Ruxton, originally from Brighton, who was diagnosed with Acute Myeloid Leukaemia (AML) in 2016.
"I first came across Leukaemia UK as soon as he was diagnosed because I wanted to know more about leukaemia and blood cancers generally. Their website provided me with helpful info about the disease, which I previously knew very little about."
Andrew, 61, was diagnosed after suffering from extreme fatigue during a family holiday to Cornwall during Christmas 2015.
"We thought this might be due to general tiredness," said Erin, who works as a music lawyer. "He was a teacher so it's quite normal to 'crash' after the end of term – but when he attempted to do simple things, like go for a short walk outside, he was becoming extremely breathless. Eventually on one occasion he was so breathless that we went to a local emergency medical centre as we were worried it was a heart problem. He was advised to see a doctor urgently when we got back from Cornwall and from there diagnosis and treatment progressed very quickly.
"Looking back, there was a period of time before Christmas where my dad thought he had flu and felt generally run down. It wasn't until we were away at Christmas time that it became something that seemed out of the ordinary and that gave cause for concern, which led him to his diagnosis."
After being told he had AML in January 2016, Andrew went into hospital and was there for the entirety of his treatment. Treatment for AML carries a high risk of infection and so he spent long periods in isolation from other patients and visitors. He initially felt better after several blood transfusions, but the chemotherapy which followed was more taxing. Sadly after three rounds it was clear Andrew was not going to go into remission.
Tragically Andrew lost his battle with leukaemia in only a few months on 1 September 2016.
"Losing a parent at a young age is a difficult thing to go through and with the speed and intensity of how it happened, I think I was in a state of shock for a long period of time afterwards. It has taken a few years to fully accept what happened and I am very glad to be at a point now where I feel ready to take on a big challenge which will have a direct, positive impact on the lives of others going through what my dad and our family went through.
"Training has been quite challenging this year as I've had a lot going on including getting married and moving house! I lost a few weeks because of Covid and injury but it has ultimately been a very positive thing for me both physically and mentally and I am now feeling ready for the big day. Long training runs are tough and quite lonely, so I am particularly looking forward to the support and sense of togetherness on the day. On a training run one recent weekend I saw someone else who was also training for the marathon and that gave me such a lift. I can only imagine what it will feel like on the day with so many others taking part and supporting!"
Sonya Bedi from Crystal Palace, South London
Sonya has had to work extra hard at her training schedule as she's juggling it in between looking after her two children who are just three and one years old. She's been motivated by raising money for Leukaemia UK in memory of her beloved father-in-law Ralph Windle.
Ralph, from Oxfordshire, died in 2019 at the age of 88. He had been diagnosed a few years before with Mylefibrosis, an uncommon type of bone marrow cancer that disrupts the body's normal production of blood cells.
"Ralph was a wonderful and loving man, a great father, grandfather and great-grandfather, as well as being an internationally successful business consultant and a noted satirical poet, conversationalist and man of letters. This was the first time cancer touched the life of someone in my family – and it has since opened my eyes to just how many stories of diagnosis, treatments, survival and loss there are around us."
During his illness, Ralph was treated at the John Radcliffe hospital in Oxford by blood cancer specialist Professor Adam Mead as part of a trial program of experimental treatment and new research. The treatment worked well for a few years but sadly the medication eventually stopped controlling his red blood cell count.
Sonya, 40, said: "It's been a lifelong dream to run the London Marathon. I'm especially proud of myself as I have two young children, aged three and one, which can make carving time out to train a challenge! However, I have just completed my longest training run of 20 miles, and am slowing down now before the big day on October 2nd. I am really looking forward to taking in the celebratory atmosphere, running past the iconic London landmarks that I love, and hopefully hearing lots of cheering along the way. I love the discipline and power of running and it suits me well as I am a very goal-oriented person who craves alone time more and more as I get older!
Ellie Spark from Baughurst in Hampshire
Ellie is running as a tribute to her Dad Oliver Spark who was diagnosed with leukaemia in 2015.
Oliver was 50 and extremely active and fit when he noticed bruising on his body – one of the four key symptoms of leukaemia which also include bleeding, infections and fatigue. But he had no other signs and had been running on the morning before he saw his doctor.
Oliver's GP referred him for tests and he was diagnosed with Acute Lymphblastic Leukaemia (ALL). Oliver had four months of chemotherapy and was then given a bone marrow transplant. He is still on medication but is now thankfully in remission.
Ellie, 22, who's in her final year of a business and management degree at Exeter University, said: "From someone who was incredibly fit, when Dad came home to use on Christmas Eve he couldn't walk up the stairs. It was a very quick adjustment for our family as it all happened overnight. My dad got a call one night and the next day he was in hospital for six months. The doctors and nurses were amazing, but it was all a bit of a strange experience at the time. For a year afterwards it was very hard of our family – I've got four siblings, the youngest of which whom was eight at the time. And Mum and Dad had just started having a complete rebuild of our home which had been knocked down. It was chaos. We couldn't hug him and if we had a cold we had to stay with a friend."
After his treatment was successful, Oliver left his job as Managing Director of a sofa and bed company and started his own business. He also volunteered as Treasurer of Leukaemia UK from 2018 to 2022 and worked for other charities to publicise the importance of becoming a bone marrow donor.
Ellie added: "Since my Dad has had his bone marrow transplant I have run a few events to get people onto the bone marrow data base. We are forever indebted to my dad's donor. Running the marathon is another way I can fund this valuable work and also hope to raise awareness.
"I have always done a lot of sport, but more like netball and athletics – nothing with this much endurance training. I am really looking forward to the atmosphere, it will be a lot more fun than the long training runs on my own. I hadn't even really heard of blood cancers before my Dad became ill. Now I want to do all I can to raise awareness about the work of Leukaemia UK and the importance of research."
Laura Barritt from Loughton, Essex
Laura is running in tribute to her beloved grandmother Doreen, who died in 2020. The marathon will take place on Doreen's birthday.
Doreen, at 91, was diagnosed with Chronic Lymphocytic Leukaemia (CLL) in 2017. Prior to her diagnosis she had no symptoms. She had moved house and joined a new GP surgery which carried out a new patient health check. She believed herself to be fit and active for her age and the diagnosis came as a shock to her and her family.
"When my Grannie was diagnosed my family researched the condition to understand what she was going through and how we could help," said Laura, who works with vulnerable adults with learning difficulties. "As part of the research, we came across Leukaemia UK. We have supported the charity in memory of my Grannie ever since, greatly valuing the amazing work it does in aiming for better treatments and care for those affected by leukaemia and other blood cancers.
"As a lifelong ambition I have always dreamed of being allocated a place in the London Marathon and am very grateful to Leukaemia UK for giving me this opportunity. The training has (fingers crossed) been going very well. Of course there have been some challenges, but I have tried to stay positive and overcome these with a smile on my face. I have valued advice from previous marathon runners, gradually increased the distance on my training runs and have taken part in the Big Half as a pre-marathon practice."
Doreen received various treatments, including chemotherapy and blood transfusions. Sadly she passed away two and a half years after she was diagnosed.
Laura said, "I was absolutely devastated when my Grannie was diagnosed and of course heartbroken when she passed away. She would always inspire me to follow my dreams, fulfil my life ambitions and never give up, which has definitely motivated me to take part in the London Marathon 2022 and raise funds and awareness for such an amazing cause."
If you are interested in taking part in an event to raise money for Leukaemia UK, please visit our fundraising pages. We would love you to join Team Leukaemia UK!