12 Jul 2023
"Dispatches from the front": Hazel's Story
"For a year before my diagnosis I experienced intermittent extreme tiredness which was not consistent with the energy I was expending," said Hazel, who was working as a dance teacher in schools at the time. "Some days I felt like death warmed up even after a good night's sleep. Two months before diagnosis I noted what were probably swollen lymph glands, and a purple triangular bruise on my skin. At the time of diagnosis, I'd had a sore throat for five weeks that would not heal along with numerous other small problems. In reality I was actually facing a complete breakdown of health." 
Hazel, who lives in East London, eventually sought the advice of her GP and was sent home with prescriptions for five minor ailments and a promise that if her symptoms didn't clear up in two weeks she would be given tests. But three days later and feeling worse, Hazel decided to go straight to A&E at Homerton Hospital.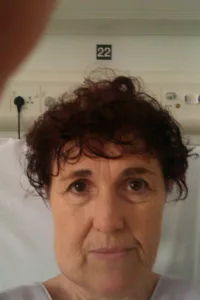 "A&E had said they could give me a blood test for my sore throat, but that 'it wouldn't show anything'," said Hazel. "That seemed a good idea and I took up the opportunity. After the test I was told to go home and ring in two hours for the results. In the event the doctor came out of A&E to find me! I was in fact still on the forecourt of the hospital, having by this point failed to be able to walk to the bus stop. This was despite having driven from Oxford that morning before getting myself to the hospital, as well as running four hours of dance workshops in a school near Birmingham the day before. In fact, in the six days before going to A&E I'd driven over 500 miles for work and a friend's birthday house-party, all while feeling like 'death warmed up'. Later I was told that I could have collapsed at any time 'including when you were driving'." 
In October 2014 Hazel was diagnosed with acute myeloid leukaemia at the age of 62. A&E shared that they'd seen leukaemia cells, a fact confirmed by a later official diagnosis. She was immediately transferred to St Bartholomew's Hospital in central London and began chemotherapy six days later.  
"Settled in my quarters and in the light of day, the thought occurred to me that there was a chance I could die," said Hazel. "I looked online and saw age-wise I only had 'a chance' of living. 'That can't be right!' I exclaimed, and decided not to look again. 'There is the chance of a cure', the consultant said – and I thought I'd go with him! 
"Imagine entering a country you never opted to visit – and during a war! This was how I experienced sudden arrival in hospital with a leukaemia diagnosis. I did no fighting myself, I left that to the doctors, but accepted it could go either way and put myself in the hands of God." 
Hazel was given three rounds of chemotherapy and a stem cell transplant. She was in hospital for five months in total, with time at home between rounds, and dealt with her grueling treatment by talking about it in her own humorous way in emails to her friends and family. After they told her how much they'd enjoyed her messages, she decided to compile them all in to a book. Leukaemia: Dispatches from the Front is now available on Amazon, as well as on audiobook and Kindle.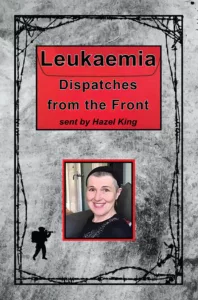 After Hazel was officially in remission, had received a stem cell transplant, she was well enough to visit Ethiopia for a friend's wedding, travelling alone afterwards to explore the rock churches in the North, and to attend a music festival in Zanzibar again going solo. She continued running dance workshops in schools with the help of other teachers. Hazel retired a couple of years later, taking on the shared role of caring for her elderly parents in Wales with her sister. 
Hazel, now 71, added: "My father passed away at 93 and my Mum is now 96. I hope to outlive Mum, and have a new purpose for a few years. Someone asked 'what I had learnt' through it all. Well – apart from a lot of medical jargon, and that nurses and doctors are far more interested in their patients than in each other (my previous impression from TV dramas) – I guess I learnt to increase that 'ability to dwell in uncertainty', which gave me an advantage in the later Covid crisis over others whose lives were impoverished by predictability!" 
Hazel also has a very clear message for anyone with unexplained physical symptoms that won't go away such as tiredness: "Don't tell your friends you feel tired, they'll say they feel tired too – tell a doctor. A strange, unaccountable tiredness needs a blood test!" 
Read more stories from people affected by blood cancer.
Related posts
Why I became a Leukaemia UK Trustee
Why I became a Leukaemia UK Trustee
Caroline Evans – Leukaemia UK Trustee and Projects Consultant – reflects on why she became a Trustee and what drives her in the role.