02 Apr 2019
Claire: My 10 marathons challenge
For many, running a marathon is a challenge of a lifetime, something to tick off a bucket list. Running 26 miles is a huge feat requiring months of preparation, determination and time. We were delighted to have Leukaemia UK supporter Claire in our London Marathon 2019 team. She took the marathon challenge to a completely different level. Here, in her own words, is her inspiring story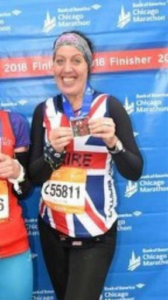 In 2014, I decided it would be a good idea to run a marathon, despite never running before. Then the reality hit home and I realised I needed to start learning how to run. On my first run, I only managed 200 metres before I had to return home gasping for breath and a having turned deep shade of red.I persevered and slowly built up over the five months prior to marathon day – during this training I wondered how I would cope on the day. Friends and family thought I was crazy for this challenge, but supported me all the way.
The first marathon was Brighton in 2014. I recall it being a lovely sunny day and friends had travelled to support and cheer. It was hard but also immensely good fun. The cheers and shouts you get from the crowd certainly lift you when you feel you have no more to give. It's a good idea to get your name printed on your charity vest as you tend to get louder cheers and good wishes!I finished my first marathon in 5hrs 6mins. Crossing the finishing line was emotional and the realisation that I had just run a marathon hit home!
All the hard work was worth it and a well deserved bottle of fizz was had!The next day was a different story when every bone hurt. I could hardly walk and stairs were a problem. I swore to myself, my friends and family that I would never run another! Then two weeks later I applied for Marathon number two. I had caught the running bug, it appeared.And then the challenge was set……I decided to run 10 marathons before I reached the ripe old age of 50!
Since 2014, I have completed in eight marathons including Brighton, Berlin, Paris, Rome and New York and was lucky to run Chicago marathon in October 2018. My dream was to run my last ever marathon in London.
Every year I have been unlucky in the ballots so this year I decided to apply for a charity space – after all my last marathon and a place to run the most famous marathon in the world is worthy of some fundraising thrown in for good measure!
I chose Leukaemia UK due to a close friend losing her father to leukaemia in 2017, and I know other families that have suffered loss from this disease too.
I lost my own mother to cancer at a very young age and have fundraised for various cancer charities. I wanted to fundraise for another form of cancer and therefore picked Leukaemia UK. I know I, Leukaemia UK and those they support will be grateful of any sponsorship that you can spare.
And I promise…no more requests after London for sponsors! I am done with running marathons after my 10th and even reached my dream with a few years to spare before the big 50!
I am employed as a Paramedic by South Central Ambulance Service, which involves shift work and unsociable hours, so my training has to fit in around these and it's a common sight to see me pounding the local streets after a 10-hour night shift to fit that long run in before I can retire to my bed.
I still find time to socialise with friends and family. It's a juggle with the hours in the day, but to any newcomer to marathon day I would say just enjoy every minute! It's an amazing day and you never know, it may be the start of your own marathon challenge!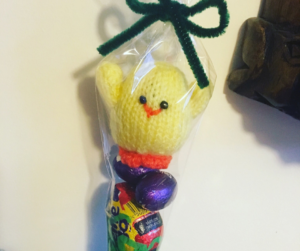 Fundraising is a challenge in itself. I fully appreciate that times are hard for people and money is tight in many households, so I decided to find the time to make homemade chutneys, pickles, pickled onions and these were sold for £2 a jar.
Placing a "payday" sponsorship request on social media always gets a few extra sponsors and now I have managed to bribe a few friends to help with the knitting of the Easter chicks which are sold for a small fee and all helps in the fundraising.
A work colleague has also kindly offered to make the name badges and donate proceeds to Leukaemia UK. I feel if you offer people something to purchase, they feel they are also receiving something along with supporting this very worthwhile charity – and if worse comes to the worst I will happily work a shift or two on overtime and donate that wage to the fundraising pot.
We thank Claire for sharing her story and for all her amazing support. We extend our gratitude to her family and friends who are supporting her with London Marathon efforts. The funds raised will help us make a difference to families affected by blood cancers.
If you've been inspired by Claire and wish to take part in a fundraising event for Leukaemia UK, visit our events and challenges page.