25 Mar 2018
Clair: I'm so proud of my marathon run
When Clair crossed the London Marathon finishing line, she was thinking about the brave five-year-old boy who inspired her fundraising campaign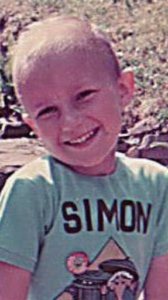 Clair's cousin Simon, pictured, died from leukaemia in 1977 at the age of five, and it is in his memory that she ran the London Marathon in aid of Leukaemia UK.
She told us: "This meant a huge amount to me as Simon was a very, very special boy. Everybody who knew him loved him. I'm so proud to have finished the marathon, which was incredibly tough, and know the money I've raised will help to ensure other families don't have to experience what my auntie and uncle had to go through."
Clair completed the 2018 London Marathon – the hottest on record – and raised a whopping £5,100 for Leukaemia UK.
She said: "Conditions were so tough, but the crowds were just awesome. Every time someone called out my name it gave me a lift and kept me going. People were giving us jelly beans and doing high fives.
"It was fantastic to get to mile 18 where Leukaemia UK had its cheering point. Hearing their shouts of encouragement really helped. I feel a massive sense of achievement and am so proud to have finished the race and to have raised so much money for Leukaemia UK."
Clair's husband Bill and the couple's four children were also cheering her on, and her parents were waiting at the finish line where, despite her exhaustion, she managed a sprint finish.
She said: "So many people were dropping out because of the heat that I decided early on my time didn't matter. I plodded round, enjoyed the crowd, had a boogie at a DJ station, did a selfie outside Buckingham Palace and tried to enjoy it.
"But at times it was very hard. I'd put together a WhatsApp support group and when it got tough I looked at my friends' encouraging messages and it really kept me going. I was proud of my finish though – my last 200 metres were the fastest of the race!"
Preparing for the marathon through the harsh winter was particularly hard and Clair had to contend with high winds, rain, freezing temperatures and snow, which made the contrast with the scorching conditions of the race all the more difficult.
With a full-time job and four children to look after, finding the time to train was not easy. She cycled to and from her local railway station (and round trip of 11km) before and after work to keep her fitness up and left extremely early in the morning so she could run from Victoria Station in London to Moorgate before starting her working day.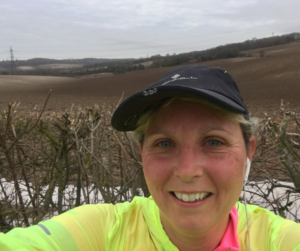 She said: "It was very difficult to fit all my training in, but having completed the race all the pain and discomfort was worth it. I do feel very proud of what I've achieved."
Clair, pictured during a training run, was born 10 months after Simon's death and was always aware of his picture, which was kept in pride of place in her nan's home, but it was only as an adult that she fully understood the impact of his death on her family.
She said: "I became very close to Simon's mum, Lesley, who turned her grief into something really positive by fundraising tirelessly for leukaemia charities. In 40 years, she's played a significant part in raising £300,000, which is incredible.
"It is thanks to her and others that so many advances have been made in the treatment of leukaemia. If Simon had leukaemia now, he'd probably be cured.
"Losing a child is something you never get over, and as a parent myself, I just can't imagine how traumatic that must be.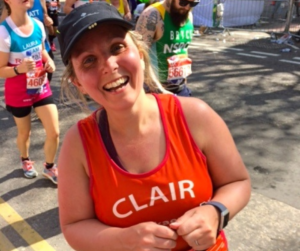 "Preparing for the London Marathon has been a hard, personal challenge, but I'm so glad I did it. One of the things I like about Leukaemia UK is that, in a small way, it can help people financially if they are struggling. If any of the money I've raised can be used to take the pressure off people dealing with blood cancer, it will all have been worthwhile."
We are really grateful to Clair for all her hard work. We're really proud of her dedication and grateful for all the money she has raised for such an important cause.
You can donate to Clair's London Marathon 2018 fundraising here.
If you've been inspired by Clair and wish to take part in a fundraising event for Leukaemia UK, visit our fundraising events and challenges page.