13 Oct 2023
Harnessing the power of the body's natural killer cells to treat leukaemia
Immunotherapy uses the body's own immune system to eradicate blood cancer. The immune system is designed to defend against harmful substances, such as viruses, bacteria and cancer cells, with the ultimate goal of keeping us healthy. However, cancer can survive unchecked in the body because the immune system doesn't always recognise cancer cells as being different, or can stop working effectively.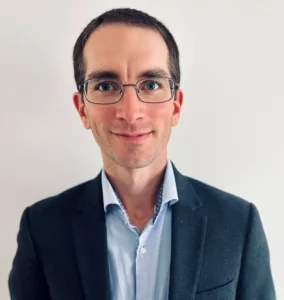 We asked Dr Matthew Blunt from the University of Southampton, a bit about immunotherapy for leukaemia and his work looking specifically at harnessing the role of natural killer cells – specialised immune cells that can rapidly kill cancer cells and promote long-term anti-cancer immunity.
Is immunotherapy already used to treat leukaemia?
Immunotherapy for leukaemia has proved extremely successful so far. For example, rituximab is a type of therapy which activates the immune system against leukaemia and since its approval has significantly improved the survival of patients.
Stimulating the immune system against cancer provides us with an ideal way to selectively destroy cancer cells, as well as to induce long-lasting protection.
Immunotherapy is an incredibly exciting area of research, with stunning recent clinical trial results published for novel immunotherapies in leukaemia, and these results will only keep improving with further research.
What about natural killer cells?  
Our research focuses on natural killer (NK) cells, which are a type of immune cell that can rapidly kill tumour cells and also promote long-term anti-cancer immunity. Importantly, clinical trials are demonstrating that NK cell therapies have an excellent safety profile in patients and do not induce the severe toxicities that can be associated with other types of treatment.
Our research is focussed on improving the function of NK cells so that they can more effectively kill cancer cells. To achieve this, we study NK cell activation against leukaemia samples that have been isolated from patients attending clinic at the University Hospital Southampton. We also work closely with haematologists to ensure that our research has the best possibility of helping patients.
What have your key findings been so far?
We have recently discovered that the ability of NK cells to kill chronic lymphocytic leukaemia (CLL) cells is greatly reduced within the lymph nodes of patients. The lymph nodes normally help our immune system to fight infections however in CLL the lymph nodes are the critical tissue site for cancer cell growth, survival, and drug resistance.
By overcoming this resistance, we have found that NK cells can destroy CLL cells much more effectively and this finding may therefore allow for new immunotherapeutic strategies to be developed, which are better able to eradicate tumour cells in patients.
What's next for your research?
Currently, a major focus for us is to determine the most effective strategy to overcome resistance to the immune system in patients with leukaemia. We aim to then evaluate this in a clinical trial in collaboration with a pharmaceutical company.
In addition, we are expanding our NK cell research program to other types of blood cancers and have recently generated exciting new data on NK cell activation against multiple myeloma and non-Hodgkin lymphoma cells.
Could you give us a bit of an insight into your life outside of the lab?
On the weekends I will be with my two children usually either playing football in the park or on a bike ride in the woods near our home. I am also currently working hard not to be beaten by my PhD student Jack for a third year in a row in our departmental fantasy football league.