22 Aug 2023
Coping with sudden changes in my body
Ricky Lee Kennedy and his wife Sam were thrilled to get the keys to their first home in August 2022. Little did they know, as they shared the excitement of moving in, just three weeks later Ricky would receive a devastating leukaemia diagnosis that would leave him fighting for his life.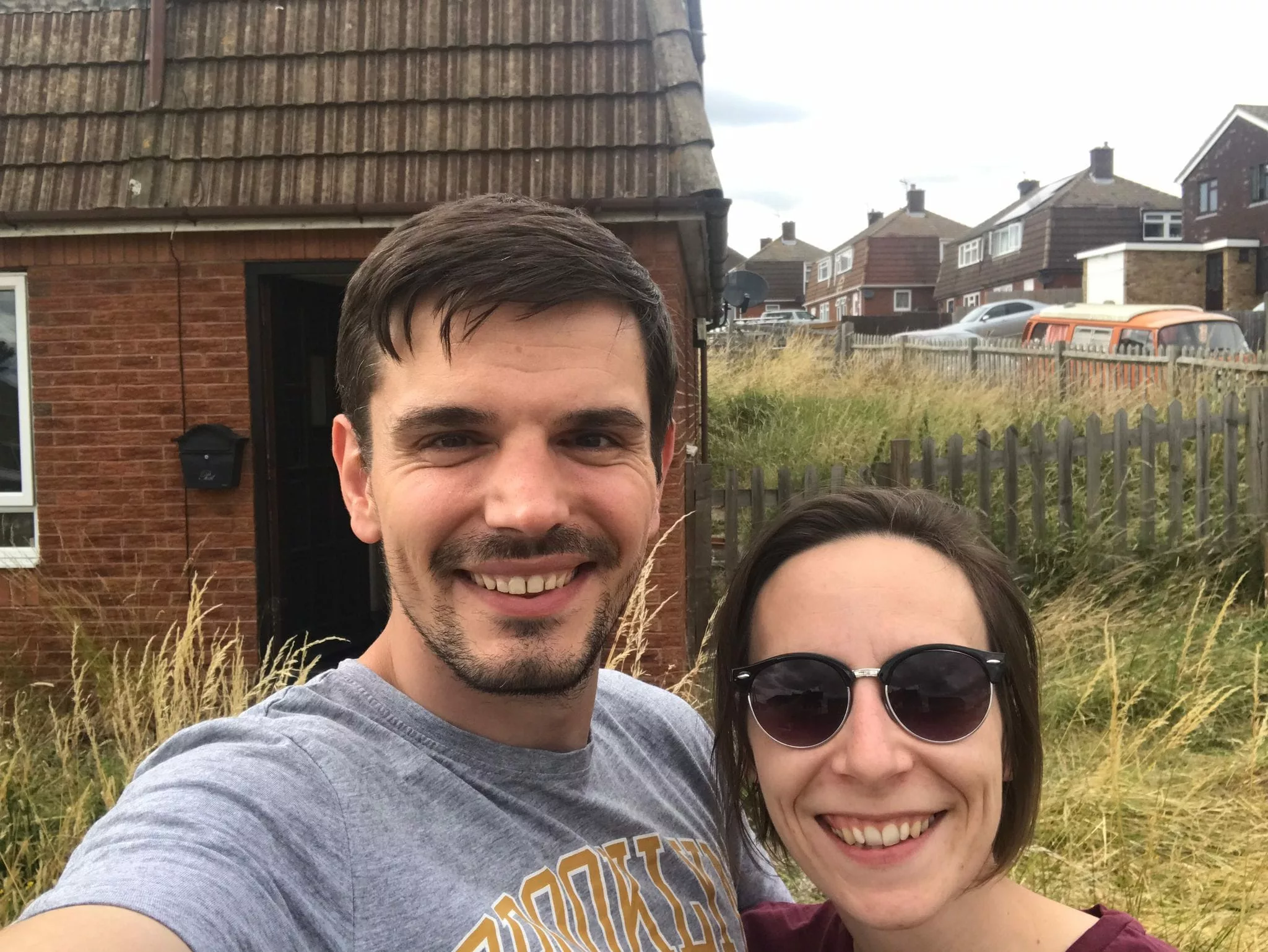 "I first noticed what I now realise were symptoms of my leukaemia about a month before," said Ricky who was working in a construction business building timber frames on new houses at the time.
"I was getting fatigued quite easily and losing my strength. Before this I was hitting the gym several times a week so I knew something wasn't quite right when I started to feel weaker and tired. I also had a constant pain in my left side that felt like a bad stitch after running, and I was covered in bruises that weren't healing as well as having night sweats. But I just put it down to working a very physically demanding job and it being summer time too. It wasn't until my wife and I started to work on our do-er upper house that I began feeling worse and one day I almost passed out. I wasn't registered to a GP at the time as we had only just moved and hadn't got round to it so I called 111 and told them my symptoms and how I was currently feeling. They told me to go to A&E straight away so we did."
Ricky spent 20 hours in A&E at Medway Maritime Hospital waiting to be seen. Doctors carried out a blood test and spotted his white blood cells were very high. They immediately admitted Ricky as an in-patient.  
"I was originally told that I could just have a nasty infection so they started me on antibiotics but I wasn't getting better," said Ricky. "A day or so later they performed a bone marrow biopsy." 
On the 10th August 2022 at the age of 31 Ricky was diagnosed with CML – chronic myeloid leukaemia in blast crisis, with positive Philadelphia Chromosome. He was sent straight away to the specialist blood cancer unit at King's College hospital in London to start treatment the next day. 
"I arrived at King's with my platelet score being 6 – a healthy person's score is around 150 minimal – severely anaemic and with a spleen that should have been around 9 to 12cms but was enlarged to around 18cms. I had gone rapidly downhill at this point and felt really unwell. I was given a 50/50 chance of the chemo working and had to face the fact that there was a very real chance I could die. They also explained that I would need stem cell transplant if I made it through the chemo." 
Ricky spent three months in hospital receiving at total of three rounds of chemotherapy and then on 7th December 2022 was given an allogeneic 12/12 perfect match stem cell transplant from a donor on the Anthony Nolan register.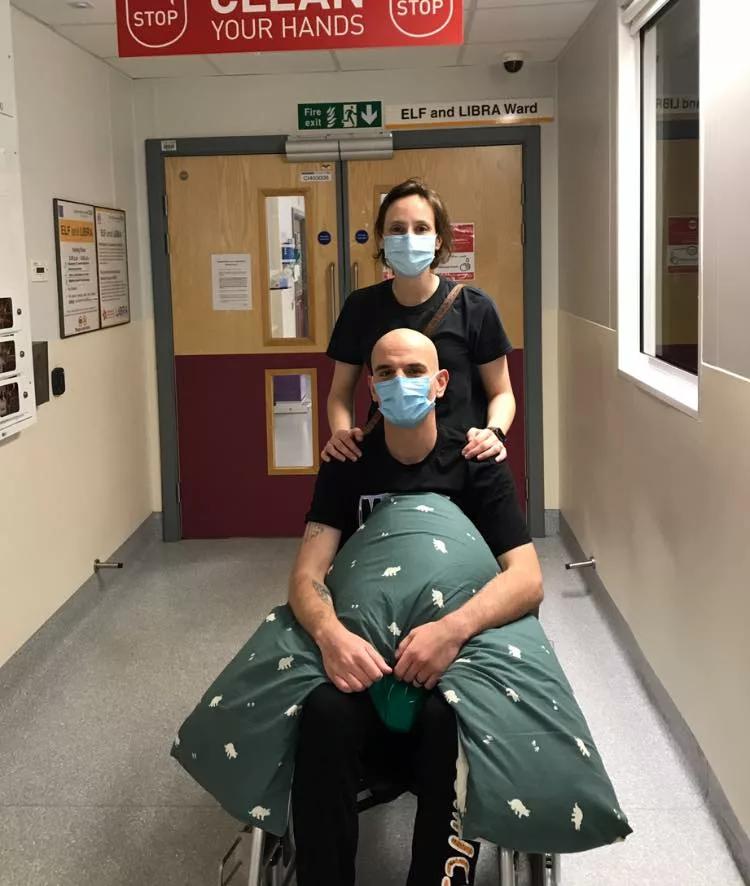 "On a daily basis I was given fluids, platelets and blood transfusions as my disease plus chemo was really tanking me hard," said Ricky. "At times it was very much touch and go. I developed skin rashes in reaction to drugs as I was given, along with appendicitis, colitis, and mucositis but I wasn't fit enough for any kind of surgery so they literally threw the kitchen sink at me in terms of various kinds of antibiotics to make sure I pull through these extra issues. 
"This was such difficult time for me mentally and physically, I wasn't coping well with all the sudden changes in my body, I lost all my hair and I went from being 94kg in shape to 78kg underweight with barely enough energy to get out of bed to go to the toilet. The complete loss of my dignity was so overwhelming and embarrassing but my wife was there supporting me every step of the way, along with such an amazing, compassionate team at King's caring for me.
"Every ache, pain and discomfort I had was investigated straight away by the team, literally no stone was left unturned. This massively put me at ease on my journey and every question I had was answered with real action and compassion – I knew what to expect, when to expect it. I also had a wonderful dietitian called Maeve who helped me with my eating and keeping the weight on when I was struggling to eat and drastically losing weight. Without her help or the rest of the team at King's I would have been at serious risk of losing more weight or worse but with all their skills, knowledge and being real super heroes, things eventually got easier and I coped a lot better.
"Thankfully though I managed to just pull through and on December 23rd, two days before Christmas I was home with my wife. It was the best Christmas present for us both that year."
Ricky is now officially in remission. He will need to take chemotherapy tablets called Asciminib for two years, have monthly blood tests, and undergo painful bone marrow biopsies and intrathecal (through a spinal theca) chemotherapy every three to six months.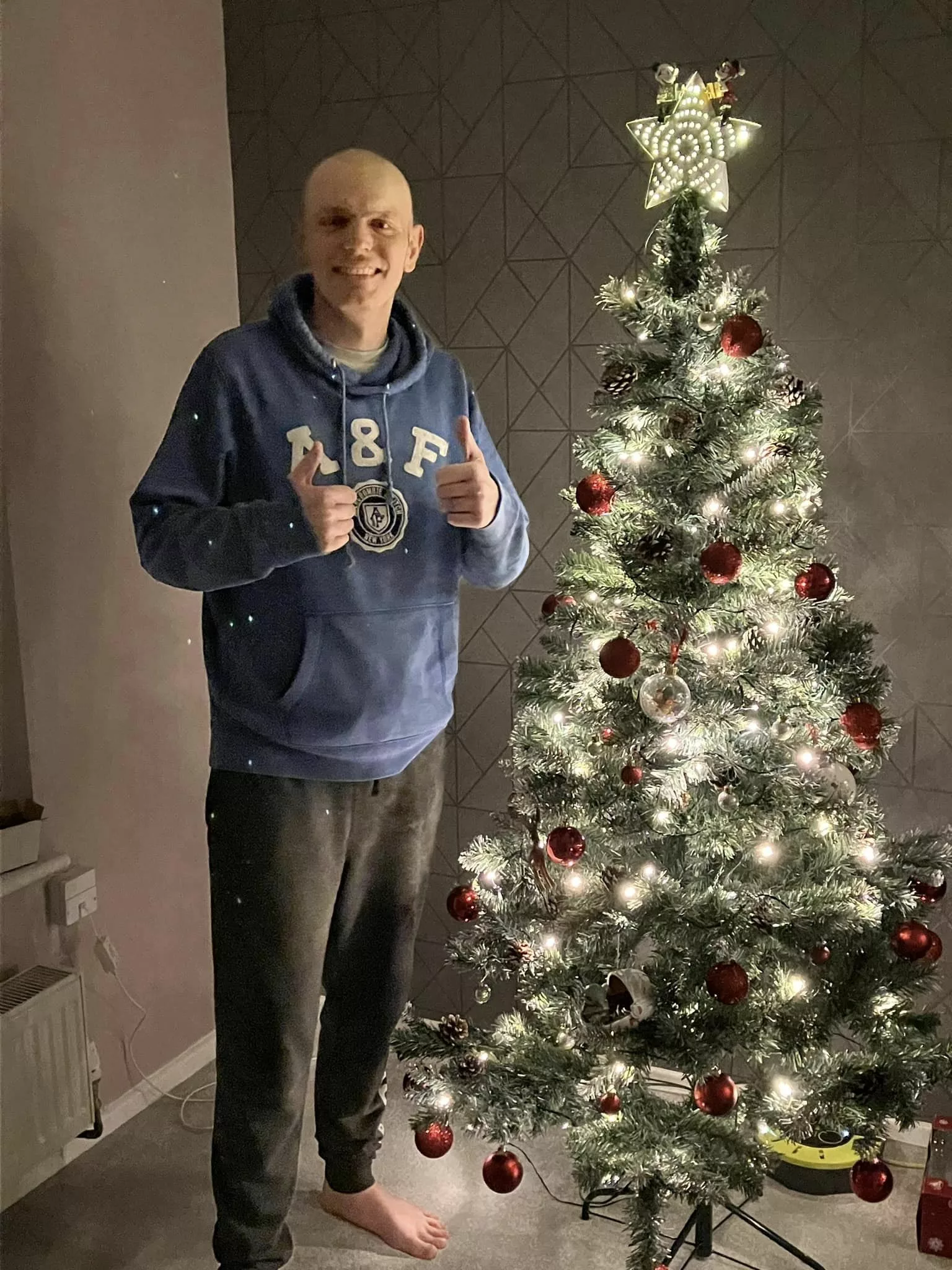 "My doctor says that I've "started the marathon well"," said Ricky. "King's College hospital haematology team saved my life and every nurse and doctor who cared for me were so fantastic, I will never forget them." 
But leukaemia has had a bigger impact on Ricky's life than just on his health. His wife Sam lost her job as Support Worker in a charity as she decided to devote her time to caring for Ricky, spending every day with him in hospital. And the construction company Ricky was working for sadly went into liquidation as he was going through his treatment. 
"Rachel, my social worker at King's College Hospital and Joanna my clinical nurse specialist helped us out so much and as a result we were able to be blessed with grants and extra financial support through this journey," said Ricky. "Not only that, my old boss Keith set up a GoFundMe page where they raised money to help us with our house renovations. Family, friends and old work colleagues all chipped in to help us physically and financially on the house which meant I could be safely discharged home to recover and have been here ever since.
"So many of our family, friends and colleagues helped us out so much on this journey, we never once felt alone and having a deep-rooted faith as a Christian that I also share with my wife was a huge encouragement to us both too. It gave us the strength to get this this awful time." 
Incredibly, Ricky has managed to turn the struggle of his treatment into a positive. He was studying for a career change into counselling before he was diagnosed. Now his health has improved he's restarted his final two years of study, with a new passion to eventually help and support people with a blood cancer diagnosis.  
To mark the one year anniversary of his diagnosis, Ricky held a fundraiser at his local football club. Over 300 people attended, raising an incredible £2,300.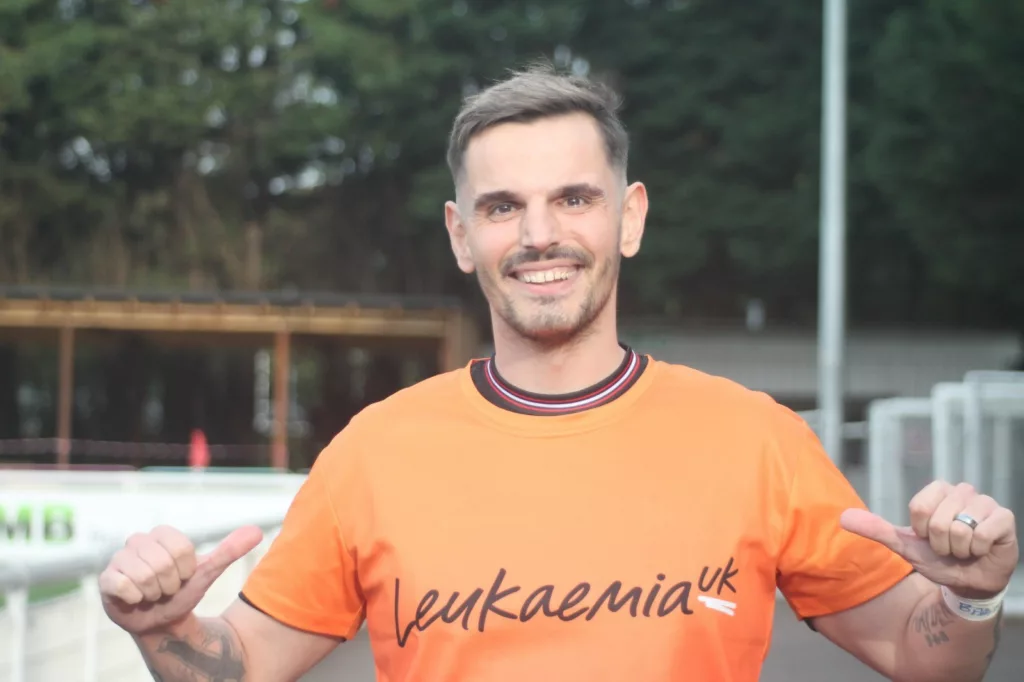 "It was a fantastic event," said Ricky. "And we really hope we got the message across about Leukaemia UK and the importance of research into leukaemia. I also wanted to raise awareness about the symptoms of the disease. Like so many patients, I didn't seek treatment for my symptoms until I was really ill and being diagnosed with leukaemia was a complete shock.
"The things that I've learnt in this journey is to listen to your body and don't make excuses not to get checked out. If you're experiencing fatigue, night sweats or if you notice that your bruises aren't healing, please don't be afraid or hesitate to get a blood test. Just one simple blood test can reveal a lot of things, and I only wish now that I was kinder to myself at the start of all this."
Read more stories from people affected by leukaemia.