12 Dec 2017
Kathryn's story: diagnosed with Hodgkin lymphoma at 22
Kathryn was diagnosed with Hodgkin lymphoma at the age of 22. She received psychological and clinical support at the Teenage and Young Adult clinic at Guy's Hospital in London, which was set up with funding from Leukaemia UK. Following her treatment, Kathryn shares her story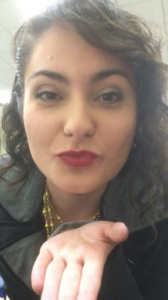 Finding out I had Hodgkin lymphoma was like a whirlwind, but at the same time it felt like everything had slowed right down. I had never heard of lymphoma, so when the doctor told me, I didn't fully understand – I thought it was some sort of immune disease. When he said it was a cancer I was in shock – it hadn't occurred to me that I might have cancer.
When I went to the Teenage and Young Adult clinic there was a big team – I met the specialist cancer nurse, the dietitian, the fertility expert and the psychologist, among other people. I'd never had so much help before. To start with, I didn't think I needed it, but I did. It was really challenging and you really do need it.
Putting my trust in my clinical team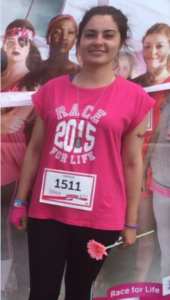 To start with, I was more worried about my fertility than my prognosis. The fertility team at the clinic were fantastic. I was able to freeze my eggs and they helped me with my fertility worries.
I put my trust in the team – I did whatever they told me to do because I was just focused on surviving, taking care of myself and getting over the next hurdle, then the next.
I started talking to my psychologist, Clare, more regularly when I was having chemotherapy because I was really anxious about being sick as a result of the treatment.
Losing my hair was also really difficult. I'd had long, thick curly hair for years and it was part of my identity. When it started to fall out I really did feel like physically I was losing control.
When you go through this gruelling treatment, you don't know if it's working and you've got to deal with that. Talking to Clare about it really helped.
Facing the emotional impact of treatment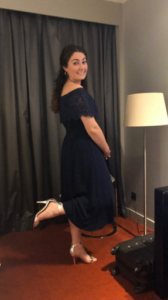 When I was told I was in remission, it felt almost like an anti-climax. I cried a lot – sometimes out of happiness and sometimes out of sadness. I felt overwhelmed and even angry. I had a bit of depression at that stage. I'd always been quite resilient and goal-orientated, but now I felt I'd lost confidence.
Discussing this with my psychologist made me realise I wasn't alone, that the different emotions I was feeling were normal. I learned I had to let go of what had changed or been lost as a result of cancer. It was traumatic, but I've built a new normal and I'm happy with how life has turned out.
I'm really lucky to have a very supportive family and friends who I could talk to, but I think they sometimes felt powerless, because all they could do was listen. It really made a difference being able to discuss absolutely anything with Clare, I knew that she would understand and help me find coping strategies.
I've been through some dark periods, but I've come to accept that we're all human and you've got to look after yourself. When you are dealing with cancer it is OK to feel you can't take it all in and to accept some help.
How my life has turned around
Now, almost five years after diagnosis and treatment, I've recently passed my master's degree in psychology with a distinction. Since the summer of 2019, I've been working for the NHS as an assistant psychologist with CAMHS Brighton & Hove. I'm working with young people and it's great to be able to give something back.
I've also applied to do a doctorate with the aim of becoming a clinical psychologist.
When I had cancer I realised how important psychological and emotional support is for people during and after treatment. It's just as important as physical treatment. I saw the difference the doctors and nurses were making to peoples' lives. My experience changed my life and I've made these career choices because I want to help others too.
Another really positive change I've noticed is that I'm definitely more open to embracing opportunities. I thought finding love was going to be hard following treatment, but I met my boyfriend through a colleague at work. He's really caring and loving and enriches my life. I was worried how people would react to my experience but he's been wonderful and very patient.
My advice for others with my diagnosis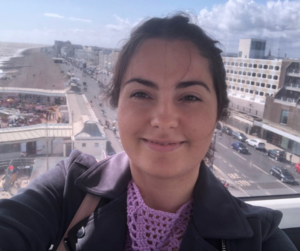 The truth about a diagnosis like this is, honestly, there will be difficult days and it was tough to get to where I am now, but there are lots of positive things you can do to stay strong.
My advice to anyone with a blood cancer diagnosis is to look after yourself. Meeting other people who'd been through the same experience as me was really helpful and I made some wonderful friends.
If your clinical team offers you support, including emotional care, do consider it as it can be hugely important. My mind was strong throughout treatment and the fact the team at Guy's and St. Thomas' were really there for me was a big part of that. I realised I needed them, it was OK to reach out and they were there to help. I'm really grateful to Leukaemia UK for funding emotional support like this.
Make sure you keep doing things that give you meaning and purpose. Before treatment I loved dancing, and I resented the fact I'd stopped that during treatment. So I developed new hobbies such as knitting and crocheting, and now I'm delighted to be picking my dancing back up too.
The last thing I'd say is just go for it! Before, I would have been scared to push myself out of my comfort zone but I see things differently now.
We're really grateful to Kathryn for sharing her story and we wish her all the best for the future.
Leukaemia UK hopes to help more people like Kathryn through our innovative Mind & Body project which offers emotional support alongside clinical support to people living with blood cancers. Find out how to donate here.