Our
impact
Since 2015, we have funded over £8 million worth of leukaemia research and care in the UK. This research pushes boundaries, makes vital discoveries, and leads to bold scientific advances that create hope for kinder and more effective treatments for leukaemia.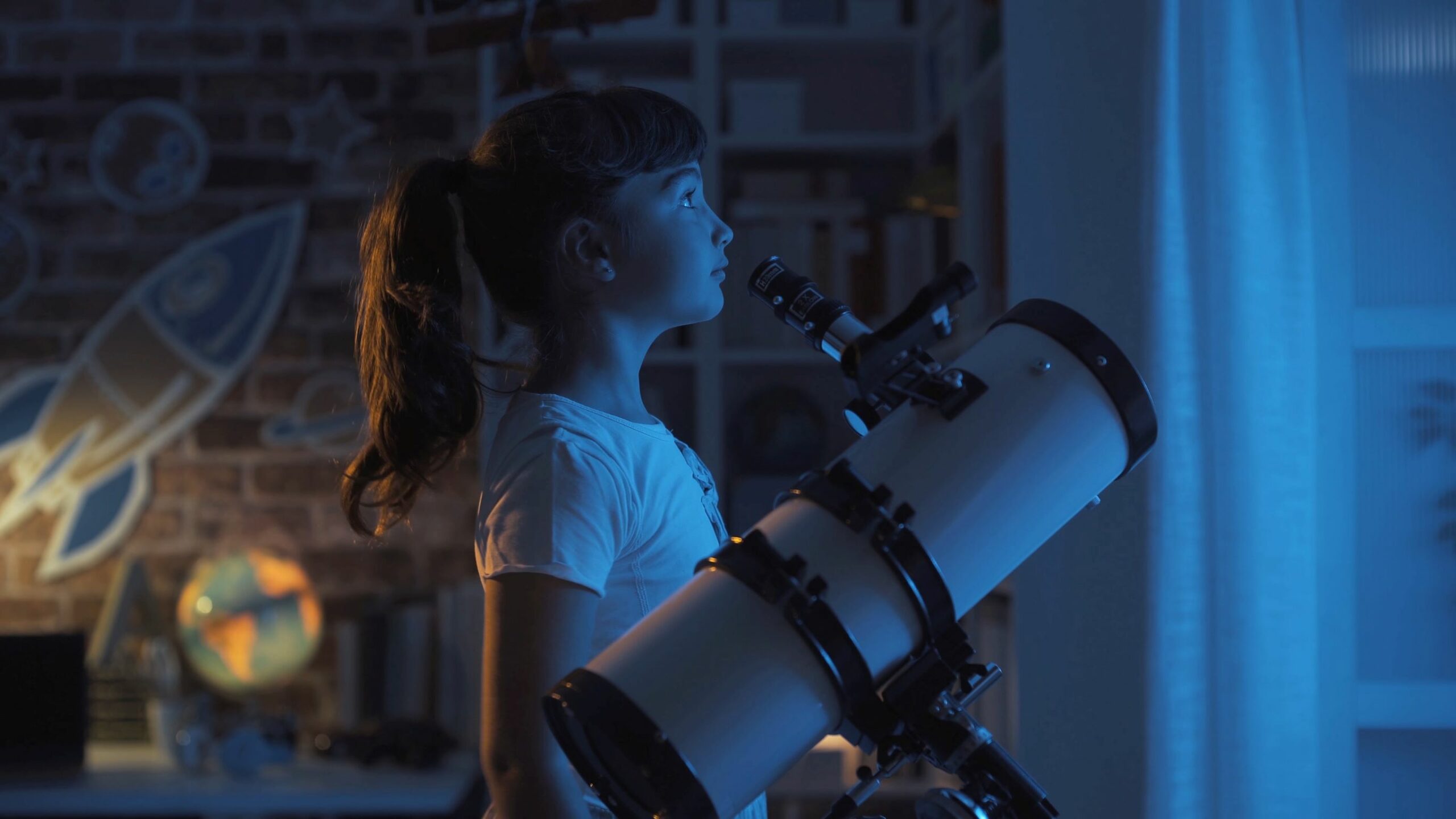 A new class of cancer drug
What if inhibiting the action of one protein could eliminate cancer – with minimal side effects? During his Leukaemia UK John Goldman Fellowship, Dr Kostas Tzelepis discovered something amazing. Investigating the METTL3 protein, and its role in how AML cells develop, Dr Tzelepis identified a new targeted treatment drug with the potential to treat AML.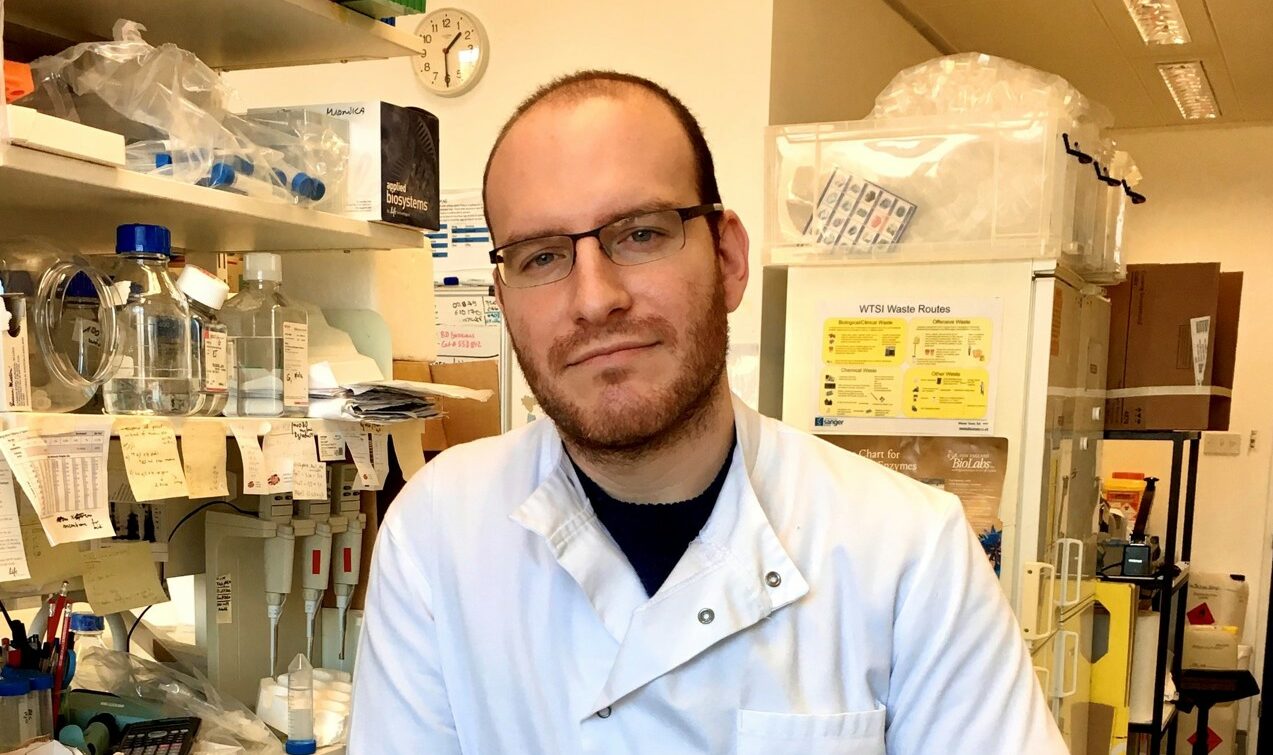 Play Video
Now, Dr Tzelepis and his colleagues at the Wellcome Sanger Institute and STORM Therapeutics, are continuing to develop the potential drug, STM2457, which can inhibit the action of METTL3. Clinical trials are due to begin in 2022. If successful, Dr Tzelepis' breakthrough will go on to provide a vital new treatment option for AML patients.
Around 3,100 people each year are diagnosed with AML in the UK and current treatments continue to be incredibly harsh on the human body. Dr Tzelepis' research brings hope that patients diagnosed with AML will have more treatment options in the future. It shows how a bold idea from a curious researcher in the early stages of their career, can translate into scientific advances and into clinical practice in the future.
Combination immune gene therapy
Research breakthroughs don't happen in isolation. It is the small milestones and developments, the lightbulb moments from one scientist that can spark a process that leads to further discoveries and eventually to new treatments that will save the lives of others.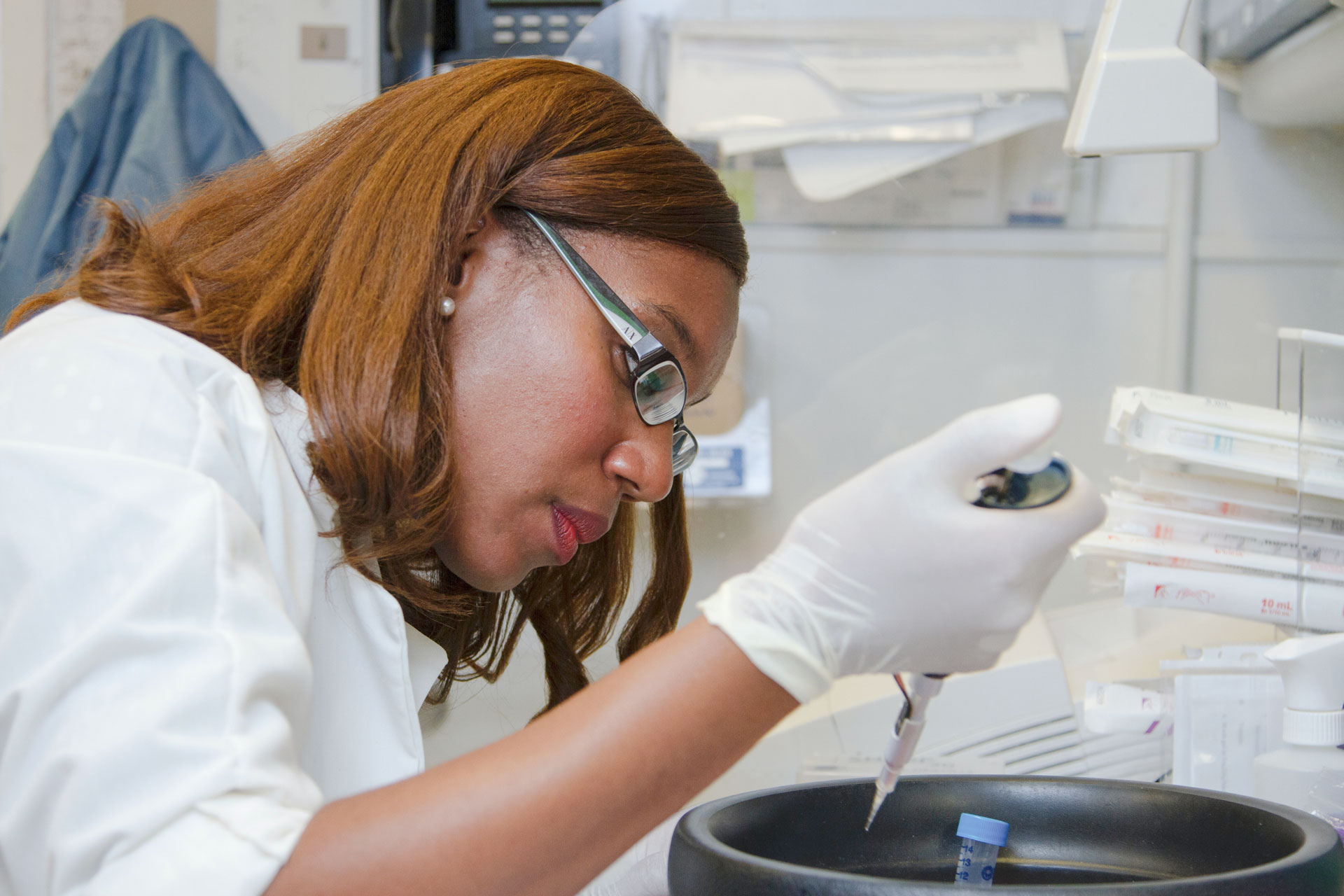 In 2010, Leukaemia UK funded a substantial research project at King's College Hospital which allowed researchers to carry out one of the world's first trials of combination immune gene therapy to treat leukaemia patients who had reached the end of conventional treatment options.
The research projects that we fund now can lead to the significant breakthroughs that will have a life-changing impact to leukaemia patients in the future.
Stem cell transplant clinical trials
A stem cell or bone marrow transplant (SCT) is a vital treatment for many leukaemia patients, yet for acute leukaemias the five-year success rate following transplant remains at less than 50%.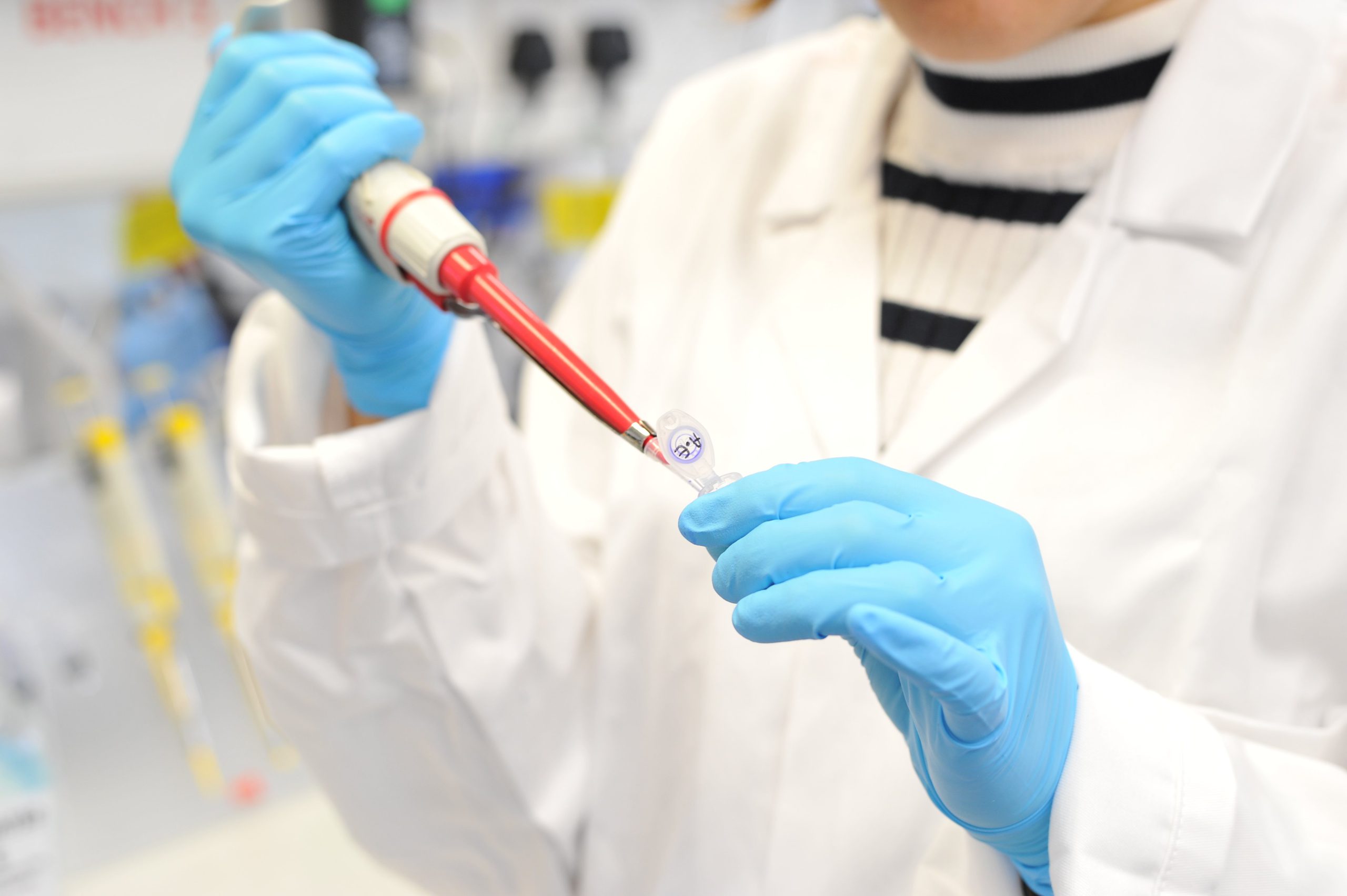 The sooner we can get new treatments to patients, the more lives we'll improve. So, together with Anthony Nolan and NHS Blood & Transplant, we became a key funding partner for IMPACT (the Partnership for Accelerated Clinical Trials) in 2017, investing £1 million to fund 11 research nurses in hospitals across the UK.
IMPACT is an initiative focused on trialling advances in stem cell transplants, made happen by researchers, healthcare professionals, patients, and data analysts working together. These clinical trials play a crucial role in forming the evidence base for new approaches to treatment and are essential in increasing patient survival rates following an SCT.
Since 2018, eight IMPACT trials have been successfully approved and by October 2021 over 700 patients had been recruited, providing crucial evidence for new approaches to treatments and ultimately helping improve outcomes for stem cell transplant patients.
Our holistic support initiatives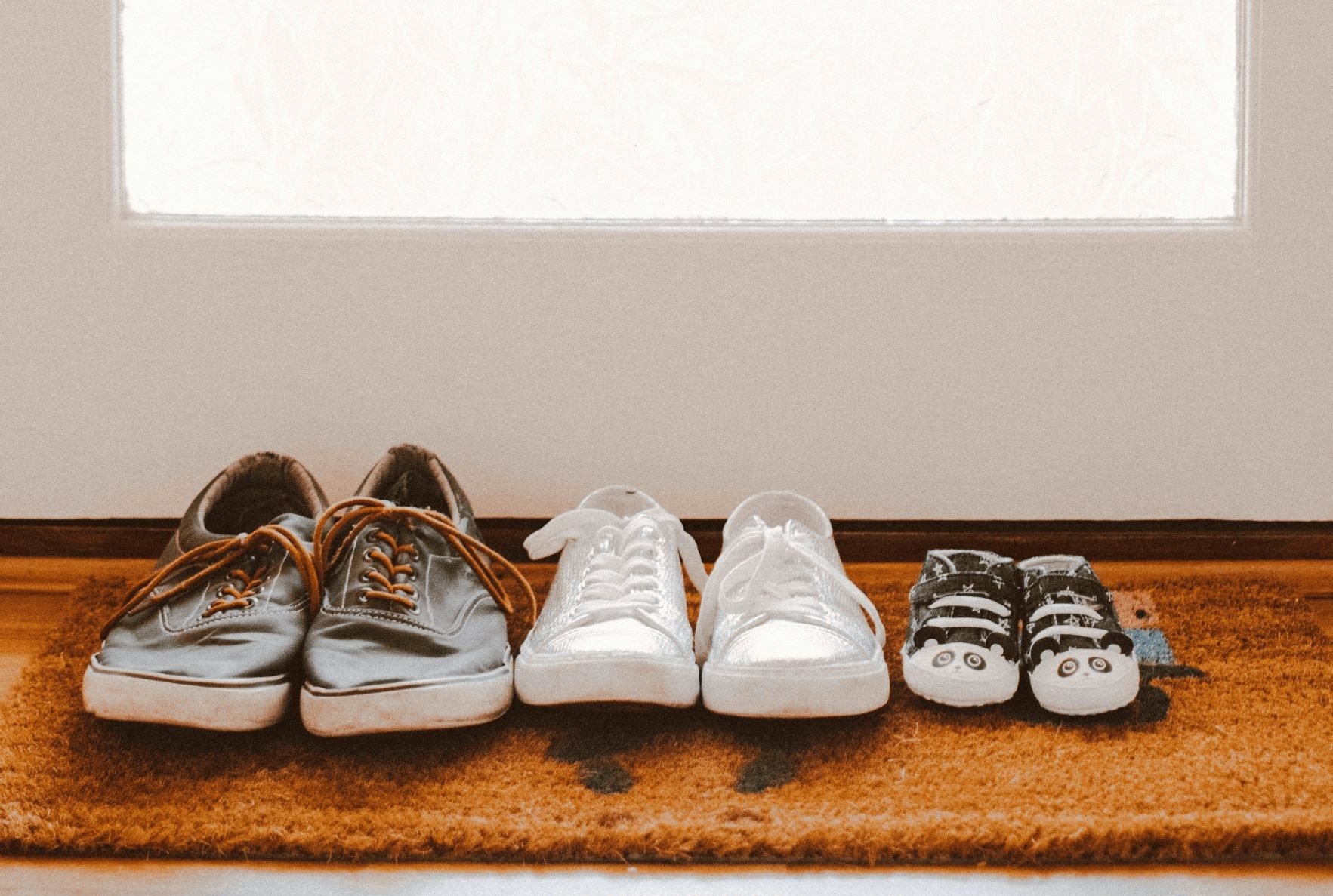 Leukaemia UK's Helping Hand Fund
A leukaemia diagnosis already brings a heavy toll emotionally and physically. But what about the significant financial strain it puts on many UK families?

Whether this is costs associated with travel for treatments or diagnosis, time off work and loss of household earnings, or the financial balancing-act of trying to support all family members whilst someone is receiving treatment and needs extra care during recovery.

Leukaemia UK's Helping Hand Fund has provided financial support to families since 2018, to help in a small way as they work through these challenging times together. To date, Leukaemia UK have awarded 287 Helping Hand awards to families across the UK.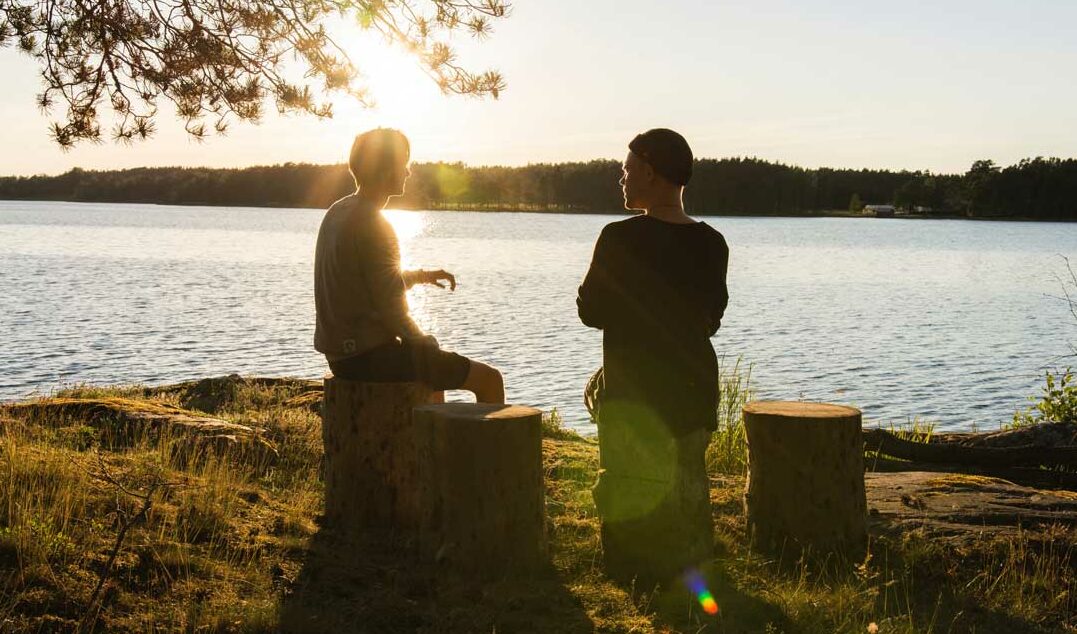 The Mind & Body Programme
Leukaemia UK funded an innovative pilot project at King's College Hospital to address the psychological impact of a blood cancer diagnosis and treatments – both for those living with blood cancer and their families. Designed to support people across their entire treatment journey, the pilot scheme provided holistic support from a team of counsellors, psychiatrists, clinical psychologists and social workers from diagnosis to remission.

The project has helped to improve access to specialist services and made a tangible and positive difference to the lives of patients involved in the pilot. It has positively influenced plans for the future, including plans for a state of the art new Haematology Outpatient Services Centre featuring dedicated mental health support facilities alongside physical treatment spaces. The ultimate aim is for a similar holistic approach to be introduced as the standard of care for all blood cancer patients across the UK.
Our centres for treatment
To date, thousands of leukaemia patients have been treated in centres funded by Leukaemia UK, enabling them to access the most cutting edge treatments and ground-breaking care available.
The ELF and LIBRA Ward
Since it was opened in 2015, the ELF and LIBRA Ward at King's College Hospital has provided vital specialist treatment for blood cancer patients. Every year hundreds of patients pass through its doors, helping them on the road to recovery.
The Leukaemia UK Ambulatory Care Unit
What difference does keeping a hold on normal life make to your treatment journey? With the positive impact of this in mind, the Leukaemia UK Ambulatory Care Unit at King's College Hospital was set up in 2018 to enable people to stay in the comfort of their own homes whilst undergoing treatment. By offering stem cell transplants and chemotherapy in an outpatient setting, it empowers patients by helping them to retain a degree of normality and daily routine as they go through their treatment journey.
The unit is a pioneering approach to delivering stem cell transplants which, as an inpatient, has traditionally involved long stays in hospital with limited contact with the outside.
The Dacie Ward and The Catherine Lewis Centre
The Dacie Ward, at Hammersmith Hospital, is a dedicated haematology ward. It has treated hundreds of patients with leukaemia and other cancers since 1986 – when the charity funded a major redevelopment. The Catherine Lewis Centre, a three-storey specialist leukaemia centre, was opened in 2002. It is now managed by the Imperial Healthcare NHS Trust. This Centre provides specialist treatment to leukaemia patients. This includes a facility for processing transplant blood and bone marrow stem calls. They also have a dedicated Clinical Trials Unit that studies new global drugs and therapies.
Leukaemia Treatment Suite at King's College Hospital
A brilliant Leukaemia Treatment Suite at King's College Hospital also exists – thanks to one of our founders, Derek Mitchell. It originally opened as the Derek Mitchell Transplant Unit in 1992 with a grant of £250,000. Our supporters have helped to fund a network of centres, like this one. These centres bring life-saving treatments to those who receive a leukaemia diagnosis.
Jimaine, who was diagnosed with acute myeloid leukaemia (AML) as a teenager, received life-saving treatment at King's College Hospital as part of his courageous and life-changing journey that he went through with leukaemia. Following a worldwide search for a stem cell donor, Jimaine went from a 1 in 900,000 chance of survival to now living a happy, fulfilling life.