08 Nov 2023
Challenging, not untreatable – finding new ways to target an aggressive form of leukaemia
Former Leukaemia UK John Goldman Fellow, Dr Maria Teresa Esposito, University of Surrey , told us about her pioneering research in pursuit of new ways to target KMT2A-rearranged leukaemia – an aggressive form of the disease.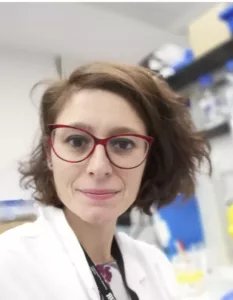 In June, I presented the results of the research funded by my Leukaemia UK John Goldman fellowship at the annual congress of the European Association of Cancer Research in Turin. This is work I started with a PhD student and a postdoc in 2017 at the University of Roehampton.
Since we started, I had my second baby, there was a pandemic and I moved to a new house. Challenging. Well, did I mention the name of the symposium where I presented my research? Challenging drug targets. So, a challenging time, to which many can probably relate, and a challenging drug target, that seems a bit more obscure.
So, what is a challenging drug target? 
Patients affected by leukaemia or other cancers might have DNA, RNA and proteins that do not work properly. Identifying a drug target means understanding which of these we should fix to stop the disease and cure the patient.
Think about a flood in your home. You might try to let the water drain, you might try to dry the floors, but the best decision is to get yourself to your home's shut off valve. In leukaemia, once the target is identified, you need to arm yourself with a tool – a drug – to stop the disease – like the shut off valve in our flood scenario.
Targeting an aggressive form of leukaemia 
Patients affected by an aggressive form of leukaemia, called KMT2A-rearranged (R) leukaemia or mixed lineage leukaemia, carry nasty mutations in the gene KMT2A. In these patients, several proteins, called kinases, are overactive and stimulate the leukaemic cells to grow and survive.
Research has shown that targeting these kinases individually halts the growth of the leukaemic cells. However, if you stop the activity of one kinase there are others that are still working. You are sealing a water leak, but there are other broken pipes and the water continues to leak.
Controlling the activity of kinases
Could we switch off these kinases simultaneously? Well, our cells have their own tools to deal with this, but the regulation of the activity of kinases is not fully understood.
PP2A is a protein that regulates the activity of several kinases. Unfortunately, it is often hijacked, meaning that it does not work properly. For decades, PP2A has been considered undruggable. But things are slowly changing. We are moving PP2A from the lists of undruggable to the list of challenging drug targets.
Back in Turin, I presented my research on the impact of PP2A and a little protein, called SET, in KMT2A-R leukaemia. SET is an inhibitor of PP2A that is overexpressed in KMT2A-R leukaemia. The bad news is that the patients with high level of SET have smaller chances of survival.
Can we drug KMT2A-R leukaemia? 
There are already some drugs that can be used to target SET, one of these is FTY720 (Fingolimod), a drug prescribed to patients affected by multiple sclerosis. We discovered that it halted the growth of KMT2A-R leukaemic cells and made them more responsive to standard chemotherapy. This is important as KMT2A-R leukaemia is often resistant to standard treatment.
Could this be used to cure the KMT2A-R leukaemia patients? Sadly, this is unlikely. FTY720 suppresses the immune system, something that we do not want for patients that have an immune system already compromised by the leukaemia itself. So, it's unlikely that this drug will be a cure, but there are other versions that could be tested and other ways to drug SET.
What's next? 
I will be forever grateful to Leukaemia UK for funding this project. The results are now available in the journal Oncogene.
We need further research to understand exactly what SET does in the context of this leukaemia, what we should do to develop a drug against SET, and whether this could take us closer to a cure for patients. Could SET be our water shut off valve? Watch this space!
Related posts
World Blood Cancer Day interview with Dr Pramila Krishnamurthy
World Blood Cancer Day interview with Dr Pramila Krishnamurthy
On 28th May the global blood cancer community comes together to mark World Blood Cancer Day, this campaign calls for support of those with blood cancer and encourages people to become stem cell donors.